To gear up for a return to in-person events (finally!), Eventbrite hosted Reconvene. This online summit brought together independent event creators, artists, authors, producers, entrepreneurs, and thought leaders for two jam-packed days of dreaming big about the future of events.
To drum up excitement and pack the (virtual) halls — in other words, boost our marketing —  we decided to give Eventbrite Boost a test-run. Boost, Eventbrite's all-in-one marketing platform, had launched just weeks before Reconvene. While we had run performance marketing on Facebook and other channels at Reconvene's announcement, Boost gave us a shot at one last promotional push. 
 "We thought it would be great to dog food our own product and make use of this great tool," says Eventbrite's Community Director Vivian Chaves. "We also thought it would be a nice thing to showcase to our attendees so we could say to the event creators in attendance, 'Look we actually use this product.'" 
Even event experts need help with event marketing. In a scenario that will probably be familiar to event creators everywhere, our Boost marketing campaigns were built as things got down to the wire and as we juggled multiple projects like making last-minute changes to the Reconvene speaker roster, launching a new marketing platform, and running business as usual.
Still, the Reconvene campaign on Boost launched in time for the last-call stage of the event. And as Boost's Head of Customer Success Sam Jameson shares, "We were running the right type of campaign, but one of the challenges was it was a free event. It was online, no capacity issues." 
That said, 18,582 registrations and 3,367 attendees later, we saw our cost-per-registration decrease by almost $5. And we had insights, insights that we believe all event creators can benefit from. After all, events promoted using Boost marketing tools get nearly 2.5x more listing views*.
We spoke to Chaves and Jameson about their takeaways from using Eventbrite Boost to market a free, online event. Whether this is your first rodeo or you're masterminding an event emporium, these tips will help you sell more tickets, see more registrations, grow your brand, and better understand marketing. 
1. Have a clear, multi-channel strategy
Whether it's via Facebook, Instagram, email, or the Eventbrite homepage, event goers discover events all over the internet. Event creators should factor that into their marketing plans. 
"Having clear channel strategies is something that I think is really important for marketers of any kind," says Chaves. "We did a ton of promotion across channels: email marketing, social media marketing (both organic and paid), in-product advertising. Even if not all these things are usable for creators, getting on as many services as possible, and having a clear PR strategy and casting the net wide was a big takeaway for me — and why I think we saw such great registration numbers. We really blasted this message from the rooftops from a number of different angles."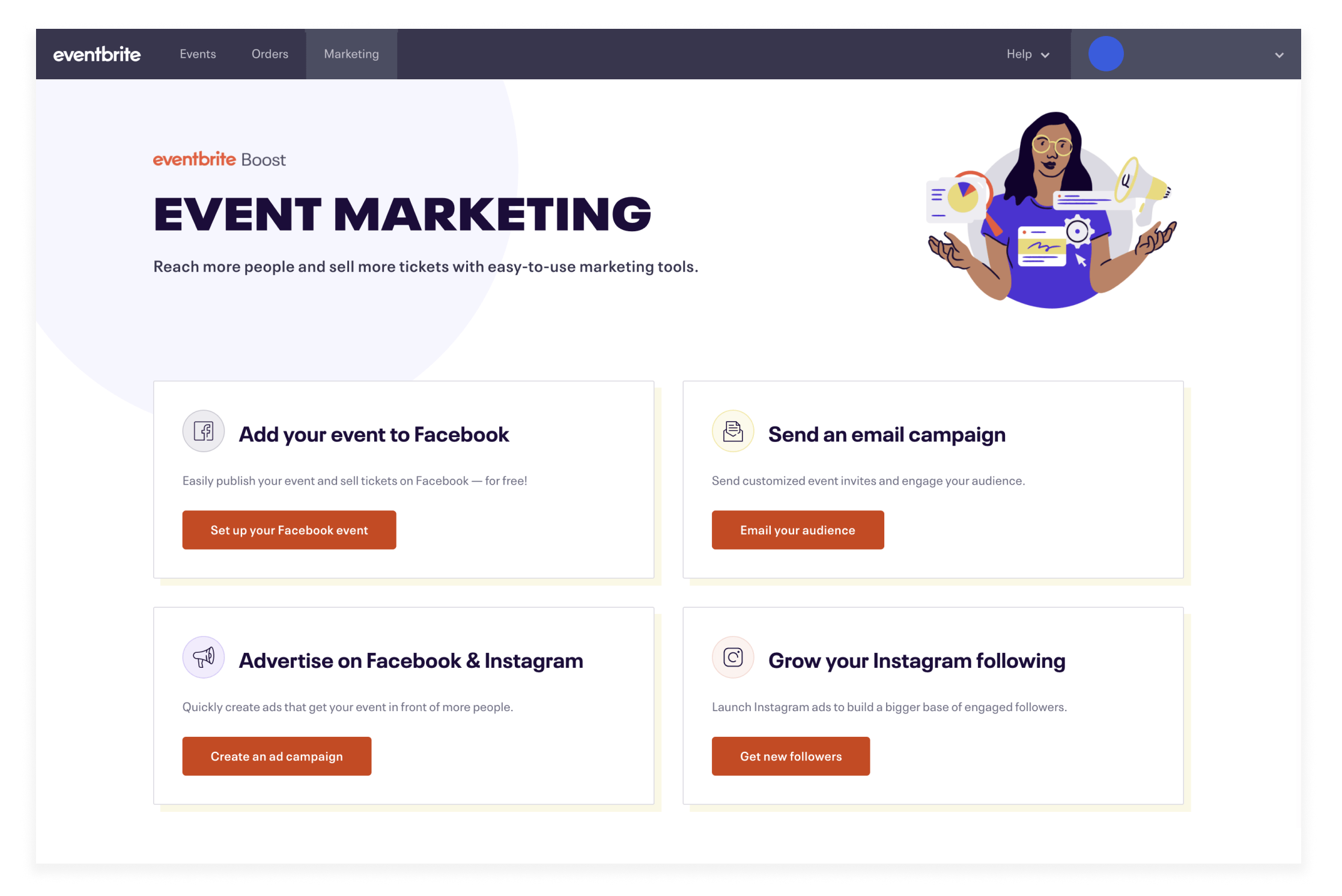 2. Time your event marketing
Be sure that your event marketing — and your event marketing tools — is in place well in advance of your event. (Fun fact: The Reconvene team built a Boost campaign while Boost was in the process of launching – a testament to the user-friendliness of Boost!) Now that Boost is up and running, Chaves plans to use the tool for webinars and in-person events.
3. Utilize your data
As the Reconvene team admits, they had "a ton of power behind the Eventbrite brand in terms of our email lists and our organic social media followings." To really showcase what Eventbrite Boost can do, draw on any data you've acquired about your event attendees and authentically share the brand you've built. 
4. Let Boost teach you event marketing 
For event creators who don't want to pay for Facebook ads or feel unsure of what their event marketing should be doing, Chaves recommends Boost for how it "ties all aspects of marketing together and gives them insights. For people who don't have a marketing expert on their team, who are supposed to be their own marketing expert, Boost gives you that power without years of experience and training." From customizing a strategy to setting up your campaign, Boost guides you through every step in marketing your event.
5. Build your best ad creative (with Boost's A/B testing)
Not all ad creative is created equally. With Boost, you can customize the video, images, and copy of your ads – and learn which version audiences like best. You can even see a side by side comparison of your ads' performance, making A/B testing a breeze.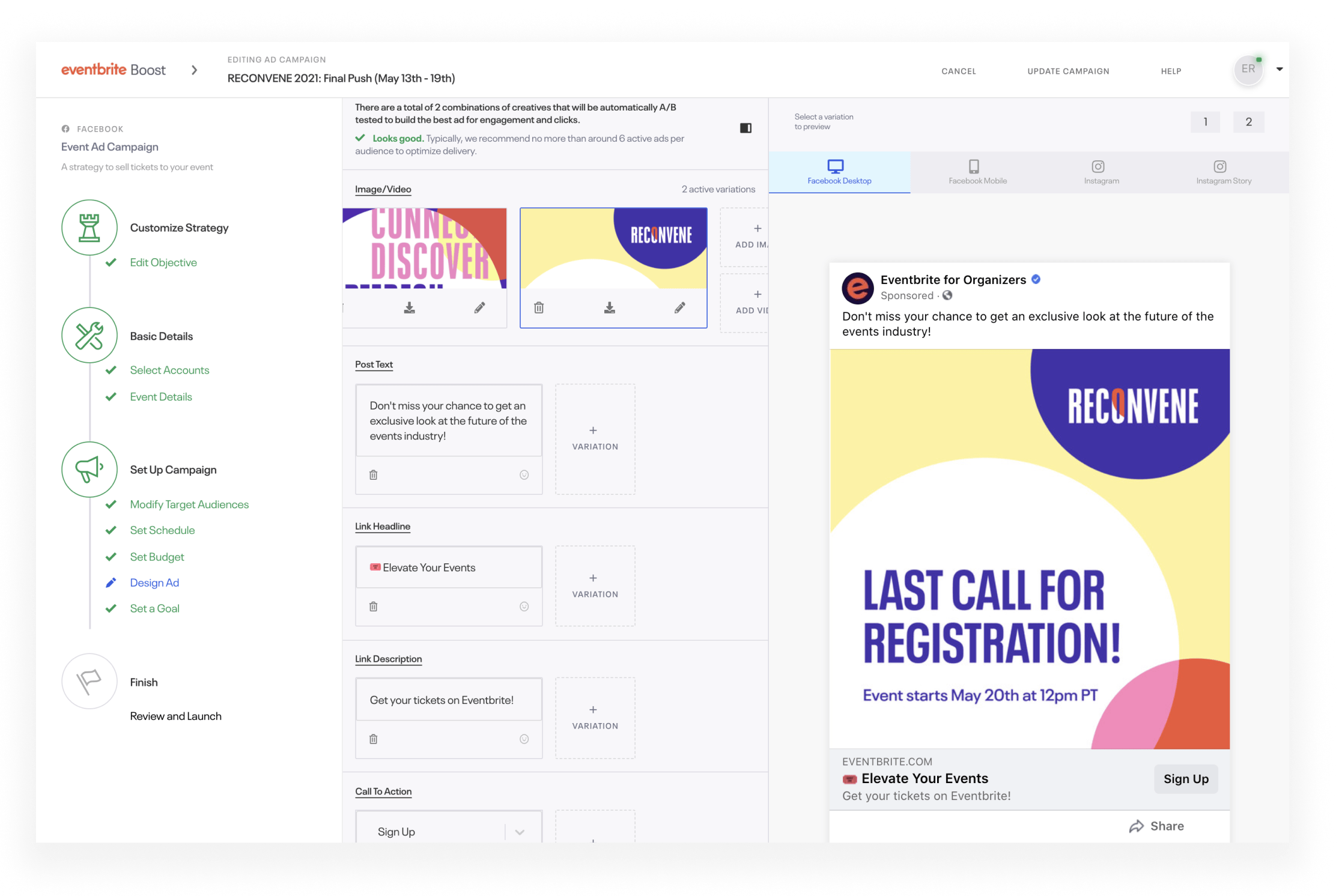 6. Geek out on the audience targeting capabilities
Boost makes it easy to look back at your past purchasers and build audiences of people that look like them. To market Reconvene with Boost, the team used more than five distinct audiences. "We ended up adding in a lot of other audiences from our past buyer data or people that had previously registered to help us go after new people," says Jameson. "We were hedging our bets a little more evenly." 
The importance of multiple audiences can't be overstated, but even if you don't have loads of data at your disposal you can easily create audiences on Boost. Rather than canvasing whoever Facebook says is interested in your type of event, Boost lets you refine your targeting and focus on what already works.
7. Market your brand even when you're not marketing your events
Chaves admits that her event creator friends in the DIY performing arts world have been frustrated with paid ads and performance marketing that track clicks and ticket buys and nothing else. "That's the only metric they're looking at," she says.
With Boost, event creators can run campaigns to nurture social growth, overall impression rate, and content engagement. "Using Boost," even when you're not marketing an event, "gives you long-term insights across multiple promotion channels." And with Boost's sales curve campaign recommendations, you'll always know which kind of campaign to be running when. Time to benefit from an always-on event marketing strategy.
8. Take advantage of free event marketing tools
Everyone on the Reconvene team touted Boost's Add to Facebook feature. "If people wanted to find out more information on an event or more info about our brand or organization," says Jameson, "after they saw the ad, they could have clicked to the event right in the top left and gone to get that information." Syncing an Instagram account to the Facebook account would've made that Facebook add even more powerful.
For Jameson, "the workflow and convenience aspect" is what makes Boost integral to event marketing. "It would have taken us so long to build that exact campaign, especially if we were not prepared. Given the new changes to Facebook and tracking, Boost gives me the best ability to understand my sales data." With Eventbrite Boost, event marketing has never been simpler.
 *Eventbrite data 5/1/2022 – 12/1/2022 comparing events promoted with Eventbrite Boost with any event that was not promoted with the same tool.