In 2015, we learned that 32 million people attend at least one music festival in the U.S. every year. That's a lot of humans, and they're coming from all over the world. As a festival organizer, how do you reach the people who matter most to your own event?
Consider this: 25% of traffic to ticketing and registration pages comes from social media. So, if you're not already using social media in your event marketing strategy, now is the time to get the ball rolling!
But some things are easier said than done, right? Twitter this; Pinterest that — we get it. For those just starting out, mastering the world of social media can feel like a daunting task. We're here to help!
We asked experienced festival organizers to share some of their daily social media habits. What tools do they use? How do they use them? What tried-and-true strategies fuel their success?
Check out these six simple yet effective practices and use them to boost your own approach.
1. Understand your organization's core values.
Jonah Haas is the Co-Founder and Marketing Director of Lucidity. Over the past six years, he has managed and developed the festival's social media channels. Today, the powerful community that exists around Lucidity is altogether passionate, united and engaged. To what does Jonah owe this success? It all started with a thorough understanding of the festival's core values.
Perhaps he'll post a tip on sustainability, or maybe an inspirational Instagram photo. Regardless of the content, everything Jonah posts for Lucidity reflects the festival's foundational principles.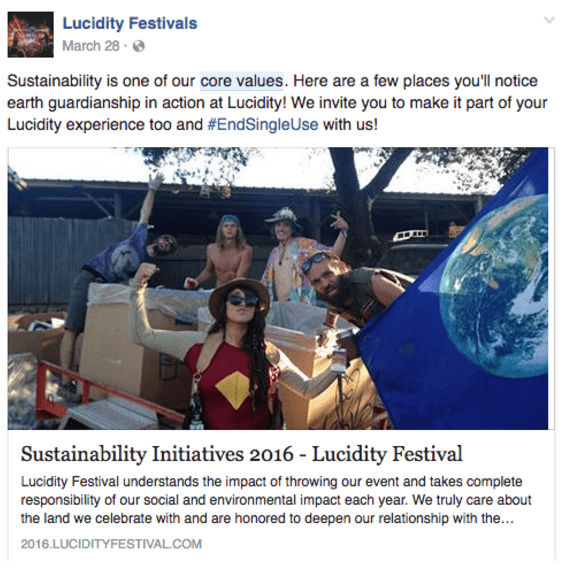 "Get clear on the core values of your organization." Jonah told us. "This is how to stay in integrity with the deeper intentions of your brand."
2. Make your community your #1 priority.
To build a powerful community of people requires a deep understanding of their needs. According to Mikey Lion of Desert Hearts, there's no surer way to do this than with frequent, open communication.
"These people breathe life into your festival," Lion said. "Engage with them. Find out what they like, what they don't like, and how you can improve."
Of course, there are endless ways to talk to your audience. What it all comes down is whether you're present for the conversations that matter to your brand. If people are tweeting questions about your festival, make sure you're there to respond.
Tap into tools that can help you dial in to these conversations. Apps like TweetDeck send you notifications when people are talking about your brand. Otherwise, it helps to set Google alerts for important keywords relevant to your industry.
Use these tools to learn what your community cares about. Then, harness those insights to create content that speaks back to them.
3. Post original content.
Your audience wants to know that your brand is unique and in-the-know. The best way to show you're not like everyone else is to post valuable content that you yourself created.
A great example is the Lucidity Mythos Oracle Dream Deck, a project Jonah has been working on over the years. He used the art from all 55 cards to create an animated GIF which stops on a random card when you click it.
"I created an opportunity for people to ask a question and pick a card, right in their Facebook feed," said Jonah. "The post went viral. Hundreds of thousands of people saw it. And as a result, that one post ended up selling decks across the planet."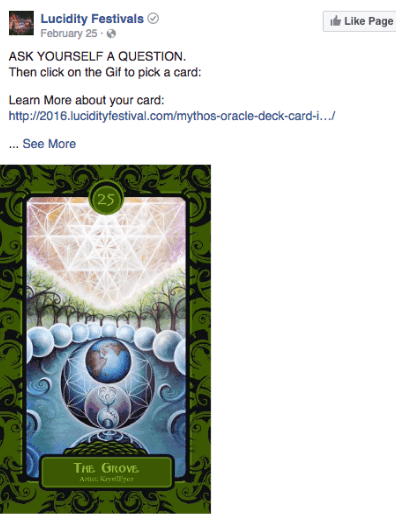 "Across the planet" is no exaggeration here, as sales reached far beyond the U.S. The Oracle Dream Deck sold in Croatia, Zimbabwe, Portugal, France, Australia, Germany and Mexico.
Jonah's example demonstrates the undeniable power of social media to reach the world. Yet, it also shows us that hitting that viral threshold requires thinking out-of-the-box.
4. Keep your content organized.
"Much of social media is organic and immediate," said Young Park, Director of Social Media for Euphoria Music Festival. "However, setting up the backbone structure for your strategy is key."
Young uses programs like Hootsuite and Buffer to keep her content organized.
"They help me mentally prioritize my posts, so I'm prepared for anything that comes my way."
At the beginning of each week, take 30 minutes to an hour to plan out your posts on each social channel. Set reminders, optimize for peak hours, and stick to a schedule that makes sense for your brand!
5. Keep your audience on their toes.
Britz Robins, the Social Media Manager of Shambhala Music Festival, uses the element of surprise to ignite interest within the festival's online community. One of her favorite social media practices is something she calls "Social Media Burlesque" – The Art of the Tease.
"When you're building a festival and introducing something new and exciting, you don't always want to give it away entirely before the event," Britz explained.
"'Showing a little skin', so to speak, without doing a full reveal, gives your fans something to talk about and fuels excitement."
6. Post feel-good content.
Sometimes it's the simplest piece of advice that resonates in the biggest way. When we spoke to Justin Brothers of Envision Festival, he touched on a simple truth. "Life is great," he said, "and everyone loves to be reminded."
Buffer's study on the science of viral content confirms Justin's sentiment. The goal of the study was to find out which emotions make people share. Their main finding? The images that go viral are ones that inspire positive feelings. When content makes people happy, they want to share it with the world.
Want more tips on social media at events? Download the free guide: 9 Simple Steps to Master Social Media for Events.
This has been a guest post from Everfest, the world's festival authority and largest festival community. Alongside their mission to connect revelers to the world's celebrations, they also provide organizers with tools to get more attendees to their festivals.