Kelli Carlson
I'm Kelli, and I'm a SUP-poser.
My first foray into yoga was in 2010, looking for ways to rehabilitate an injury and my unbalanced lifestyle.  Yoga helped me learn how to breathe, discover t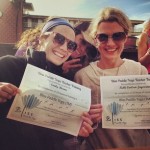 rust in alignment and find strength in balance.  That next summer, yoga brought me to the water – a place that she feared. Basically, I flunked about every swim lesson I ever took as a child and was terrified of doing more than a mean doggy paddle in the water.   I called upon newfound energy cultivated by yoga and calmness of SUP to unlearn my fear of water.  Fast forward to now, I can't get enough of floating on water.
I currently teach beginning yoga, Vinyasa flow and have recently completed my Paddle Yoga certification in San Diego, CA.   I play a Social Media Practitioner in the Financial Industry by day , practices yoga on the daily and lives to be a mom to two very active boys, 9 and 14, every minute I can squeeze in.