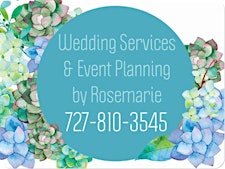 Event Planning by Rosemarie
Click here to subscribe to our text messages.
At Event Planning by Rosemarie, we ensure everything related to an event is taken care of, from idea conception to programming and day-of logistics.
We are about creating experiences and bringing visions to life.
We coordinate every detail of events, from beginning to end.
We can charge by the hour, a flat fee, a percentage of the party budget or for a one-day occasion. It depends on the services you need,the budget you have to spend on the event and what sort of event you would like to have planned. We work within your realistic budget.
We can plan all sorts of events such as:
-Dinner Dances                     - Golf Tournaments
-Trade Show                         - Conferences
-Business Conventions         - Vendor and Craft Fairs
-Tea Parties                           - Art Shows
-Acrylic Paint Pour and Crafting Workshops
-Craft Shows                         - Business Expos
-Carnivals                             - Theme Parties
-Casino Nights                      - Craft Workshops
-Weddings                            - Engagement Parties
-Fundraising Events for non profits, churches and schools
-Birthday and Anniversary Parties
We can plan any type of event.
Some of the services we offer:
Event planning, design and production within time limits and buget

Check out venues, finalizes food and beverage lineups, designs stage and event layouts, and negotiates prices, Meeting with clients, scouting locations, soliciting bids, managing vendor relationships and client communications, establishing and negotiating contracts, and managing budgets ,setting and managing clients and vendors expectations

Working with clients to identify their needs and ensure customer satisfaction.

Organizing facilities and details such as decor, catering, entertainment, transportation, location, invitee list, special guests, equipment, promotional material etc.
Give us a call at

727-810-3545

and we can discuss your event.