Hey, everyone!
Corey here, CEO and Founder of New York Adventure Club (website, Facebook, Instagram). We're an NYC-based tour and events organizer curating weekly in-person and virtual experiences geared for our audience of 50,000 adventurers.
What started out as a small Facebook group organizing a couple of events per month has grown into a full-fledged business that offers over 20 events per week.
Most people who see our upcoming schedule have a hard time wrapping their head around how we can possibly offer so many events, especially given that our team is so small — I'm the only full-time employee (me below on the left!).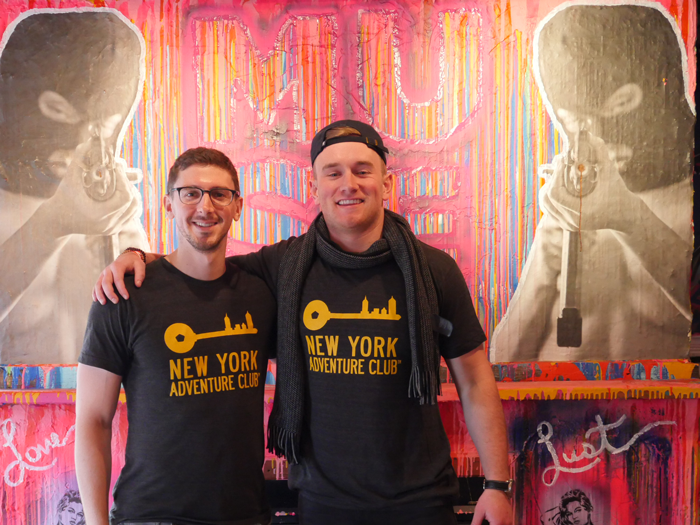 That's why I'm here to share the secret sauce behind how I'm able to organize such a high frequency of small-capacity events, so you, too, can do more with less.
My Secret Sauce Recipe for Scaling High-Quality Events
Find Trusted Event Partners
Devil in the Details
The Assembly Line
Reminder Emails Are Your Friend!
The Feedback Loop
Find Trusted Event Partners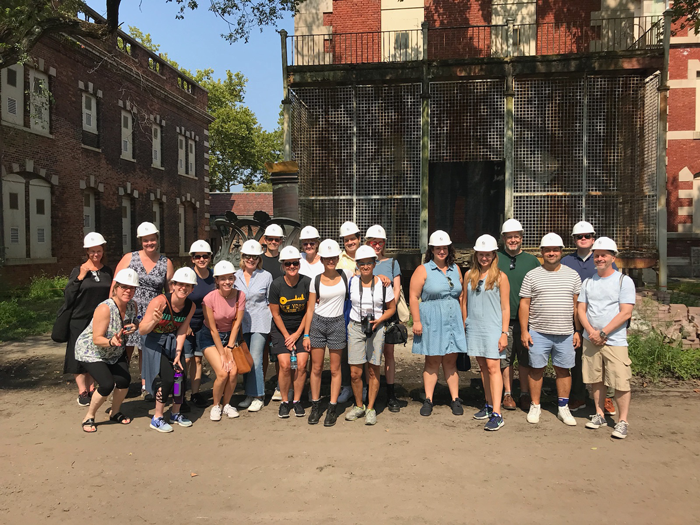 Let's face it — every event organizer is unique. The types of challenges you face with your events will be different than what other organizers face. But whether you focus on big festivals or small group tours, the success of your experiences will depend on the colleagues and partners whom you surround yourself with.
Because I don't personally lead any events for New York Adventure Club, the success of our events comes down to the person or organization leading them. When I identify an event partner that could be a good fit, I do my best to guarantee it's someone I want to work with.
Do they seem responsible? Are they experts in what they do? Are they excited to work together? It's core to our brand that every event is well-received, so the best way to ensure that is to work with people who share in your values. After all, you'll be working with these people on a regular basis, so it's best that you have a great relationship with them!
Devil in the Details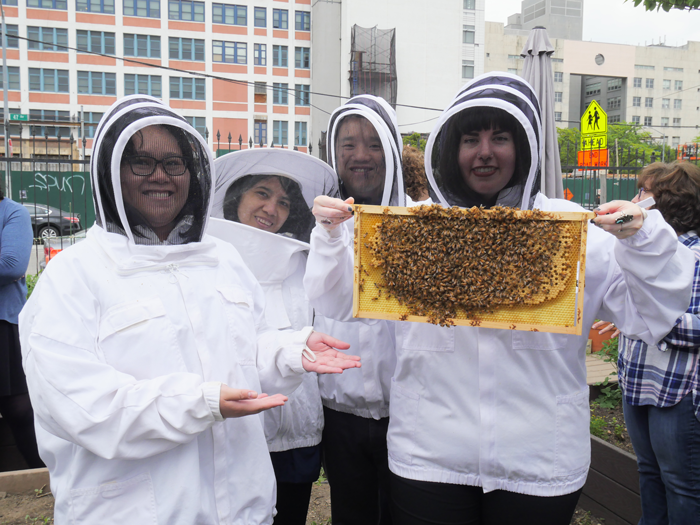 So you formed a great connection with a new event partner — now what? How can you guarantee that every time they lead the experience, the event will be a hit?
Throughout my 10-year career as an events organizer, one of the main sources of guest frustration is the mismatch between what was promised on the event page and what was actually delivered at the event. You could have the greatest event since sliced bread, but if you promised X, Y, and Z, but only delivered X and Y, get ready for some unhappy customers.
This level of detail doesn't just apply to how the event is promoted, but also to its logistics. It's easy to ruin the coolest event if guests are confused with how to get to the meeting location or aren't properly informed of special instructions.
Before a new event ever goes live, I work closely with the event partner to not only confirm that we can deliver on what's promised, but that all disclaimer and event confirmation email information is 100% accurate.
The Assembly Line
After you've figured out exactly what the event will be, and ensured the details are accurate, then it's time to promote the heck out of it! This typically means posting your event to multiple sites, social media platforms, and newsletters where your target audiences are.
I like to treat the event promotion process like an assembly line.
Once an event is published live, I'll distribute it to all of the digital outlets that could help bring in more customers. To make sure I don't miss a step, I have a "Standard Operating Procedure" document detailing the exact steps I need to take in order to promote my event properly. Having documents like this prevents me from getting overwhelmed, and makes it possible to hand off the process to colleagues, such as my remote assistant.
Because I'll push multiple events live at once, I'll advance the events together through the assembly line so I'm as efficient as possible. There are a lot of technological solutions to make this process more automated like Eventbrite's "Add to Facebook" feature and Zapier, so explore how you can make this part of the event cycle as seamless as possible.
On that note, I'm trying to figure out how I can leverage AI solutions like ChatGPT to level up my efficiency even further!
Reminder Emails Are Your Friend!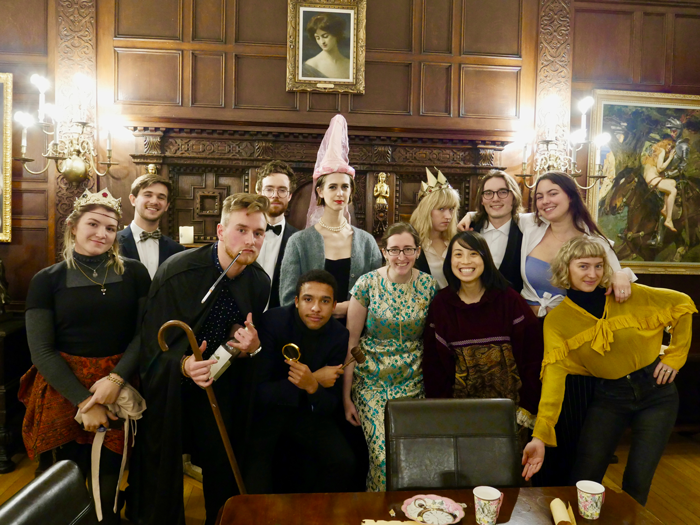 Now that your awesome event is pushed live, you can sit back and relax until showtime, right? Not quite!
If you organize events, you'll come to discover sooner or later that people don't read. It's not their fault — after all, when they see a cool event come across their desk, they excitedly jump to the order process without reading past the event title. So how can you prepare for people not getting the important information?
Eventbrite has helpful notification features like automated event reminders for attendees that every Eventbrite organizer should use. For New York Adventure Club, we take it even further and edit the email to spell out all of the special instructions in the confirmation email because it's very likely the details were missed.
If there are very important instructions that guests must follow in order to participate in the experience, we usually create custom questions in the order process to ensure they're aware of the details before purchasing a ticket.
Although reminding guests of the event is important, reminding the event partner is just as crucial! We usually email event partners several days beforehand to confirm they're all set. Our standard email template includes reiterating the event date/time, check-in instructions, etc. — everything they need to guarantee the event runs on autopilot.
The Feedback Loop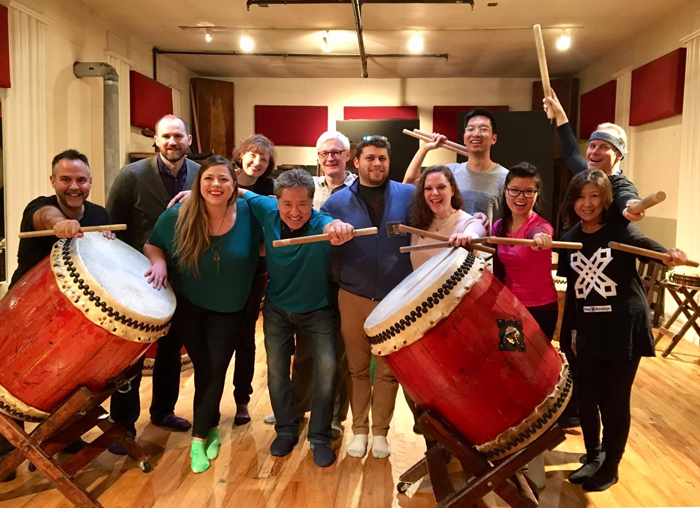 My final point is making sure there's a feedback loop in place to ensure that the promised experience lived up to expectations for both guests and the event partner.
We use the SurveyMonkey tool in Eventbrite to send guests a survey after each event, and review responses to ensure everyone had a good time and had no issues with the logistics. People will rarely tell you their honest feedback to your face at an event, so sending an online survey will garner their true feelings about the experience.
Although individual feedback should be taken with a grain of salt, the important thing is to observe comments across the board: 
Did most people comment that the event was much shorter or longer than advertised?
Was there an element of the event that they really disliked?
Were any of the event page instructions confusing?
Did they feel they didn't get their money's worth?
Surveys will help answer those questions and ensure that the next occurrence of that event is even better.
Final Thoughts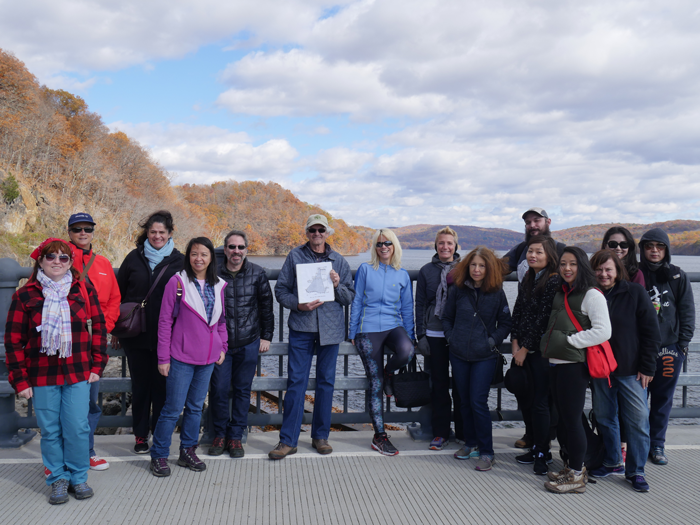 Hopefully, these tips were helpful to re-think how to not only approach creating events, but how you can effectively scale them without sacrificing event quality.
These points are ones I learned through trial and error over thousands of organized in-person and virtual events, but you can use these best practices, too, to make the scaling process more manageable.