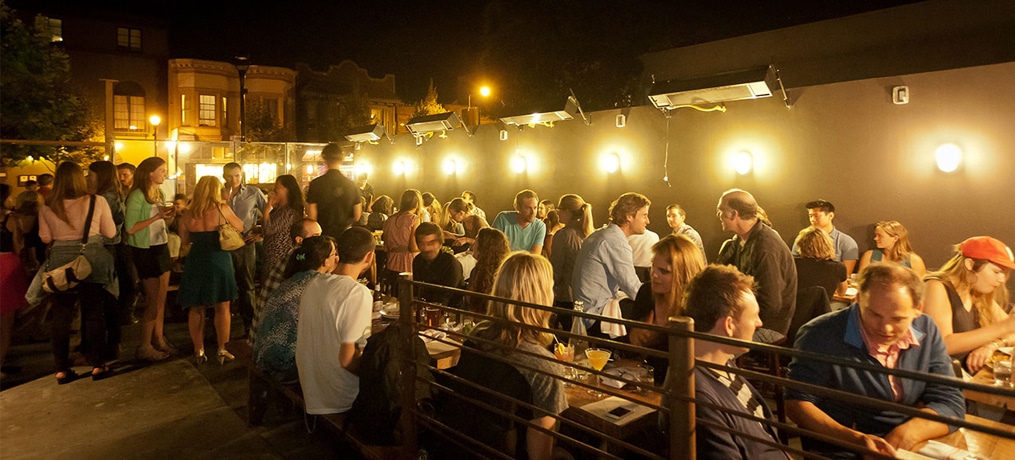 9 Tips for Hosting Private Events at Your Venue
San Francisco's The Chapel is one of the premier venues for live entertainment in the city. Their robust calendar includes anywhere from four to seven concerts a week. And when they're not holding concerts, The Chapel's sharp team is hosting private events, holding around 200-300 exclusive celebrations a year, be it a wedding or an election night viewing party.
How do they stay so successful? We caught up with The Chapel's director of sales RaeAnne Turner, and their marketing manager Paul Chalker to find out.
If you're not already, start hosting private events.
"Private events keep your business relevant," Turner says. Regardless of what your rental rates are, "the private events program for venues support business during seasonal lows."
Not only that, but it keeps people employed and supports the local economy. "Being able to have year-round events in your venue keeps the doors open and the lights on when your core business is otherwise quiet."

Use what you have and use it well.
Being a live music venue with a restaurant and bar, The Chapel is already equipped with a stage, staff, contacts, and an in-house food and beverage component. "It's really created a unique space that's a one-stop shop with super easy planning and accessibility," Turner says.
"The more you can provide, the easier it is," Chalker adds. "With a kitchen, [clients] don't have to run out and get a caterer."
A private events program at your venue can support your business during seasonal lows.
Make sure you have the right structure and resources.
There are a number of things clients look for when booking private events, according to Turner. A unique vibe and location are key, but so is creating a smooth, simple guest experience. "Resources help us make the process very easy for clients. We have food through The Vestry restaurant, we have the live-music booking team, we have full-service staff."
"From a planning perspective, it's incredibly easy for any type of event to come here and experience something unique to the city and the neighborhood," Turner says. Structure is also important. The Chapel is a larger property with multiple departments. There's a head of security, a bar manager, stage managers and production managers.
"We bring all of these departments together to execute events," Turner says. "It's a collaborative effort."

Any event space can be used for private events
"Live event venues are naturally equipped for events, celebrations, banquets, and so forth," Chalker added. "Most venues already have the tools they need, and a turnkey approach, to ensure that private events will run smoothly and be successful."
Use historical data to set pricing.
What to charge is up to you, but keep in mind that you're a business. The Chapel has minimums and utilizes historical data to inform their rates.
"We know what typical nights generate in revenue," Turner says. "We put together a cost analysis to figure out how much it is on the production side of things to orchestrate an event and we build our prices around the 'house nut' — the cost for us to open the doors. We take labor into consideration, food costs, floor costs, production costs. With all of it, we're able to create minimums based on time of year, time of day, day of week, and that's how we start."
Have checks and balances.
In many cases, you'll run into minor day-of issues — guests arriving early, timeline delays, etc. Make sure you're well prepared. Run through timelines and run-of-shows, and have a plan B. The guest experience should always feel seamless, Turner says. This is what makes live entertainment venues some of the best locations for private events: You already deal with similar issues on a nightly basis.
"That's where a lot of venues can utilize the staff they already have. That's a huge perk — having people who are just familiar with how events run," Chalker says.

Keep an open mind.
The Chapel hosts everything from corporate parties to tech conferences. One of their big markets is weddings. "The wedding season is a really big time. People like to have weddings in these intimate venues where there's a unique experience," Chalker says. Also keep an eye out for holiday parties — Turner often books them a year in advance.
Niche markets can be new opportunities.
"As the laws change, so do the realm of the events," Turner says. For example, changes in California regulations have resulted in marijuana being a legitimate industry now. Accordingly, The Chapel has found itself hosting events for cannabis organizations, from product launches to networking events.
Think of your venue as a community space.
"Any event people are sitting down to watch, you can think: Is this something we can take and add to the experience and make it easier for people?" Chalker says. The Chapel has hosted everything from sports event to political debate viewing parties. Other venues also host Game of Thrones viewing parties. "Using your real estate to bring people together through parties is always a good option," Turner says. "You come to us [and] there's no cleanup. You just come to have a good time and you're completely taken care of," Chalker adds.
If you're not already hosting private events in your venue, isn't now a good time to get started? And if you're wondering how you'll find the time to take this on with your already busy schedule, download The Event Organizer's Ultimate Guide to Productivity to learn how to stay on top of everything you need to do instead of feeling buried by it.