Home to more than 830 million professionals, LinkedIn is known as the "serious" social network. But it's also become a serious player in social marketing. According to Sprout Social, LinkedIn marketing generates leads 277% more effectively than Facebook. 
But as any seasoned networker knows, heavy-handed schmoozing doesn't make you many friends. No wonder the best performing content on LinkedIn aims to meaningfully connect with the intended audience. This means strategic organic social posting (read: free marketing) is king, especially as so many social media platforms are now "pay to play" and heavily limit your organic reach. Knowing what to post and when is key.
Still, trekking over to LinkedIn to draft each new post can be cumbersome. It's already stressful to wordsmith your posts and pick the right visuals. To solve this you could learn a whole new marketing tool — or you could do all of your marketing in a familiar place inside Eventbrite, thanks to Eventbrite Boost.
At the same time, you know you're missing out if you neglect LinkedIn marketing. If you know your potential audience is on LinkedIn (psst – they are), you're probably thinking about how automation could help you more easily accomplish your social media goals. 
It's time to make good on LinkedIn marketing. Here are three ways to spend less time producing, posting, and measuring your organic impact on LinkedIn.
1. Create professional posts with inspiring copy and imagery in a few clicks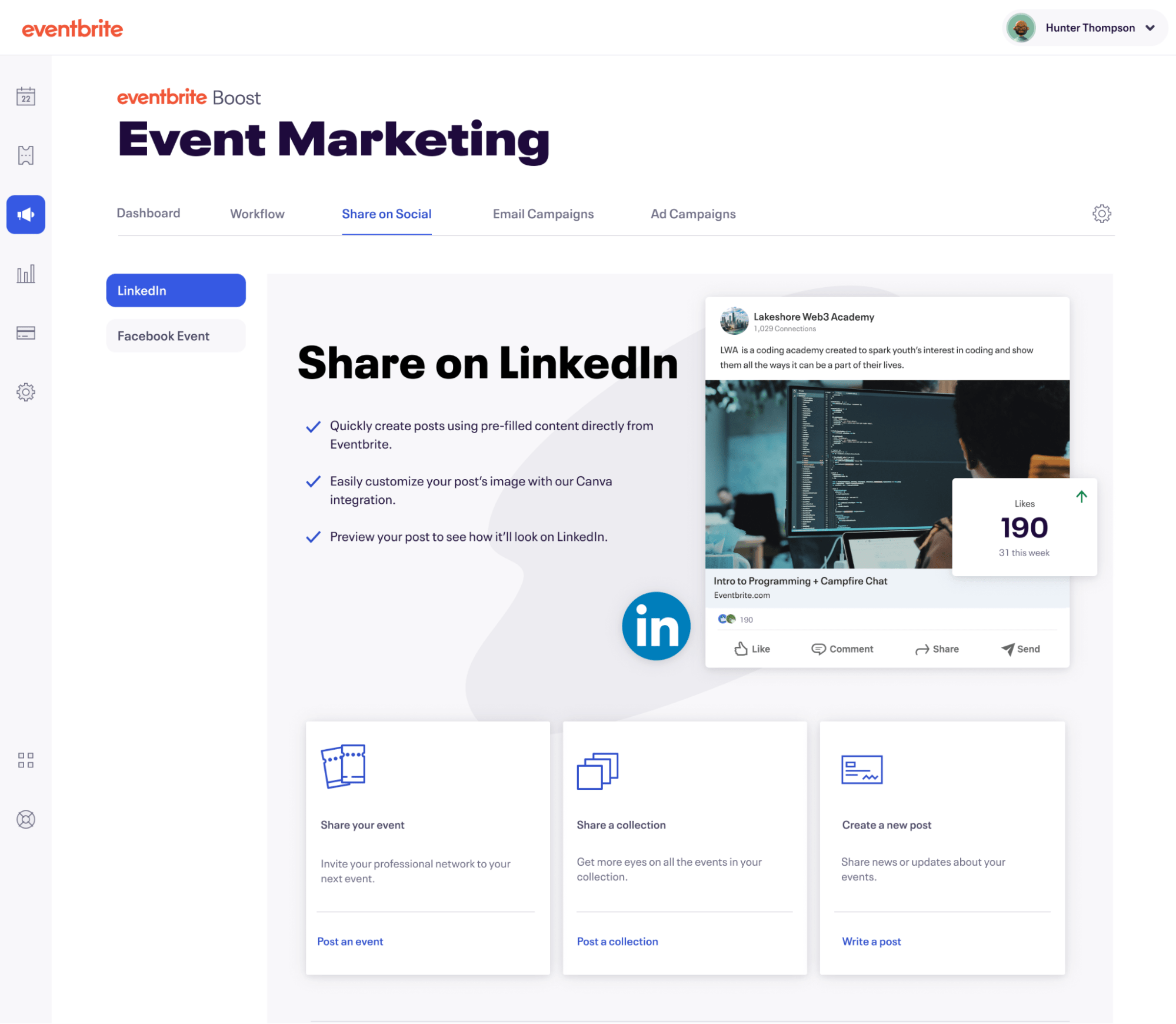 When you post high-quality content, you have the potential to seriously grow your audience. But what does high-quality look like? According to LinkedIn, including custom images in your post doubles the comment rate. A picture is worth a thousand words (or clicks). 
With Eventbrite Boost's Share to LinkedIn feature, a professional post — with images — is a matter of clicks, right from your Eventbrite account. We provide pre-filled text you can modify in order to quickly craft compelling social copy. And Picasso around with our Canva integration to choose a visual that brings your words to life. 
2. Stay top of mind with your audience thanks to consistent content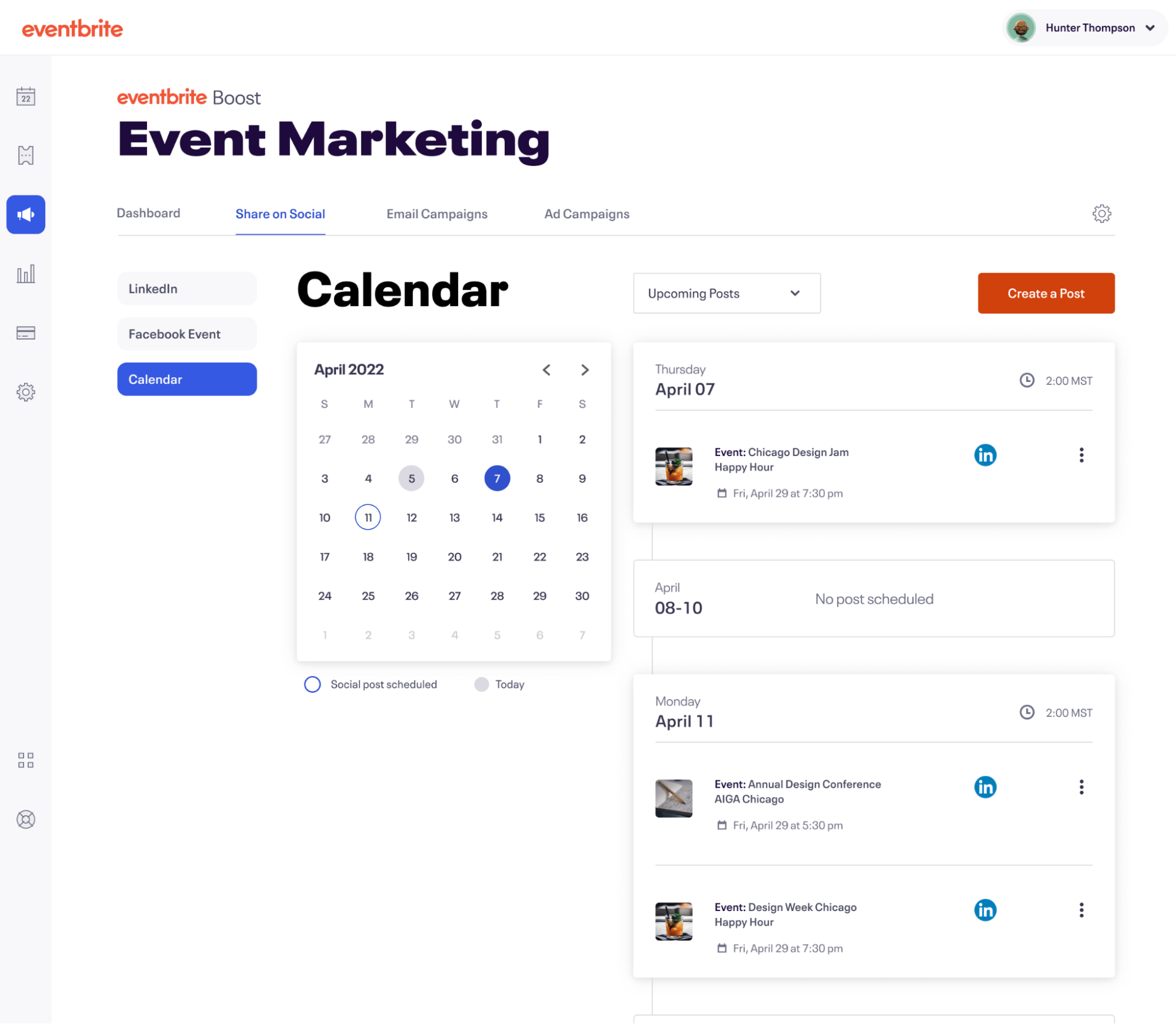 Consistency leads to confidence. Staying relevant and top of mind with the type of people who attend your events — whether they're networking happy hours or conferences — means showing up in their social feeds. And with a subscription to Eventbrite Boost, you'll get access to a calendar view that shows you which posts have been published and which are scheduled.

Another perk of keeping your content current? Publishing consistently will help you not only reach your current audience but new fans as well! 
3. Get ahead of your LinkedIn marketing with Boost's scheduling tool
Or schedule, schedule, schedule. With Eventbrite Boost, you gain access to the Schedule option, allowing you to pre-draft LinkedIn posts for the future — a feature unavailable on the native LinkedIn site. Cook up a batch of posts for the week or the month, and cross off "post to LinkedIn" from your daily to-do list.
An added bonus? Eventbrite Boost gives you the power to send email blasts that see open rates 59% better than industry average. Plus, events promoted using Boost marketing tools get nearly 2.5x more listing views*.

Say goodbye to stressing over organic social thanks to Eventbrite Boost. Now, straight from Boost, you can quickly create a LinkedIn post (or 20) and schedule it in advance. You'll be able to see what's scheduled when, so you can sit back and know you'll be staying top of mind and with your key audience.
 *Eventbrite data 5/1/2022 – 12/1/2022 comparing events promoted with Eventbrite Boost with any event that was not promoted with the same tool.