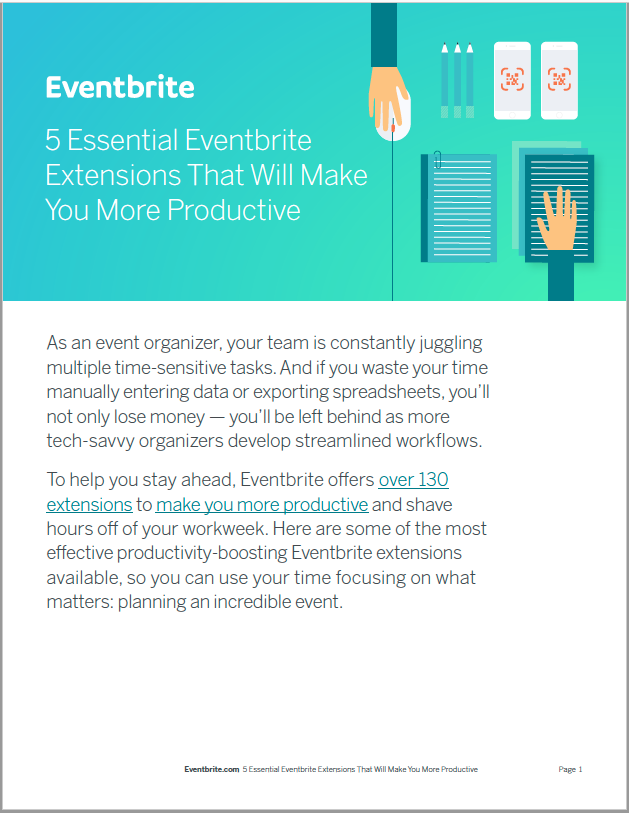 5 Essential Eventbrite Extensions That Will Make You More Productive
Make the most of your time and resources with these five essential productivity-boosting Eventbrite extensions.
Planning an event means managing a million moving pieces at once. Without a streamlined workflow, details slip through the cracks — and your team wastes valuable time (and money) on manual tasks.
Thankfully, there are a myriad of tech tools that can help you make the most of your time and resources. In this tip sheet, you'll hear about five of the most productivity-boosting Eventbrite extensions available.
Find out how you can use Eventbrite's free extensions to:
Quickly and easily send personalized, targeted emails
Expand your reach and sell more tickets by posting your event to Facebook
Manage all of your event's social media accounts from one dashboard
---
PREVIEW
As an event organizer, your team is constantly juggling multiple time-sensitive tasks. And if you waste your time manually entering data or exporting spreadsheets, you'll not only lose money — you'll be left behind as more tech-savvy organizers develop streamlined workflows.
To help you stay ahead, Eventbrite offers over 130 extensions to make you more productive and shave hours off of your workweek. Here are some of the most effective productivity-boosting Eventbrite extensions available, so you can use your time focusing on what matters: planning an incredible event.
MailChimp
Email is any event marketer's most powerful tool, but creating email campaigns can be a painful and time-consuming process. With MailChimp, marketing to potential event-goers has never been faster and easier. The tool allows you to send personalized, automated emails that help you sell tickets. If you're already using MailChimp, you can sync it directly with Eventbrite to send customized emails to targeted email lists.
SurveyMonkey
If you never ask your attendees for feedback, how will you ever know what's working (or not working) at your event? Thanks to SurveyMonkey, you can easily survey attendees to gauge their expectations before the event, and measure satisfaction after. The Eventbrite extension allows you to seamlessly integrate with event templates and import guest lists with a single click.
Facebook Official Events
60% of people discover events through their News Feed — that's easy (and free) promotion you don't want to pass up. By creating a Facebook Official Event using Eventbrite's Publish to Facebook tool, you can expand your reach by showing up more on Facebook's search and News Feed recommendations. And with our Buy on Facebook feature, you can sell more tickets by letting event-goers buy tickets to your event without having to leave the site.