A few times each year, Eventbrite's research team launches surveys to find out more about you — the people who organize events on Eventbrite and your event attendees. Your invaluable input guides us in designing features and offerings that are well-suited to your needs, and helps us better shape our plans moving forward.
We're excited to provide you with an overview of what we've learned about our vibrant community of organizers and attendees over the past year.
Thank you to everyone who completed one of our surveys in 2022 — we want you to know that the research team carefully read and analyzed all of your 10,000+ responses (1)!
Organizing Your Events
Tenure in the event organizing journey
Many of you have been organizing events for more than five years (39%), while others are just starting out (22%).
Who you organize events with
Half of you organize events in teams of two to five people (49%), some of you work solo (26%), and the rest work in larger teams of more than five people.
Eventbrite's role in your business
Of those of you who sell tickets to your events (i.e., tickets are not free), half are selling as one of multiple sources of income for their businesses (49%). Event organizers in this category also tend to have businesses that are pretty well-established, usually breaking even or having a consistent revenue stream.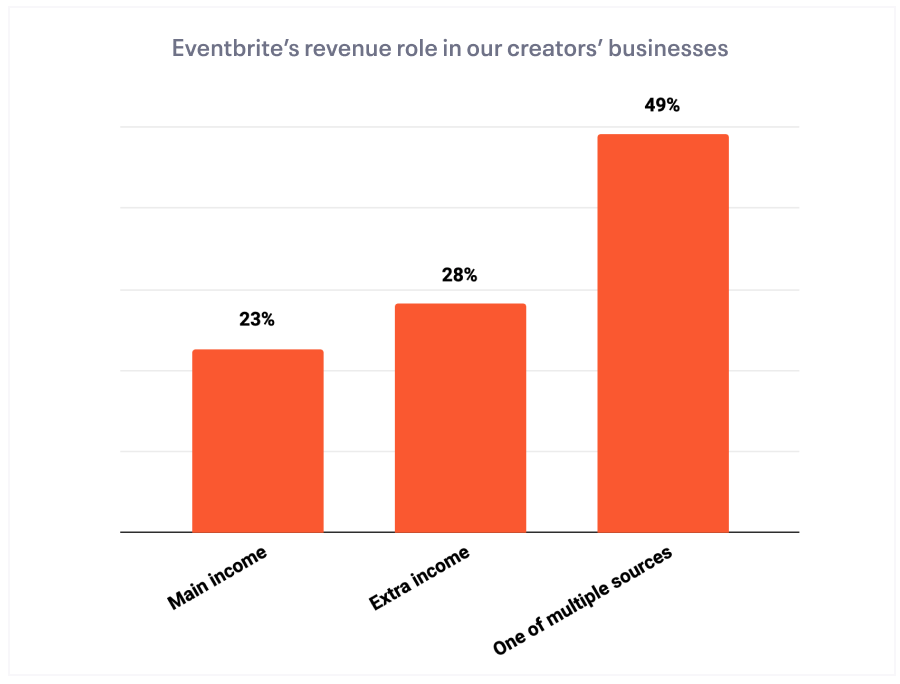 What your budget looks like
Event organizers who sell tickets also told us that, on average, most of their business's budget is spent on marketing and staff.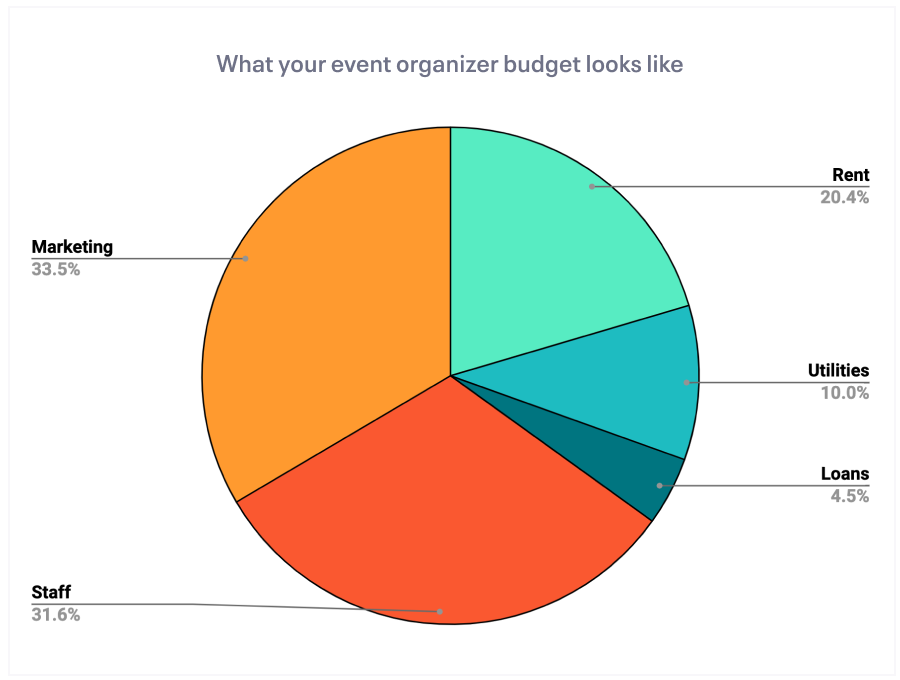 How you measure success
Unsurprisingly, you have repeatedly told us that you measure the success of your events directly by the number of tickets sold. However, besides ticket sales, making your attendees happy is your main secondary goal (43%).
You already gather feedback from attendees
With attendee satisfaction being one of your main goals in organizing events, it wasn't surprising that half of you collect feedback from your attendees (46%). Of those who collect feedback, most use online surveys or written feedback forms to ask their attendees three to five questions on average.
Marketing Your Events
We know that many of you spend a significant amount of your business's budget on marketing (see "What your budget looks like" above), so here's a look at exactly how our event organizers structure their marketing efforts.
How you market your events
About half of you say that your main marketing goal right now is to improve without investing additional resources (47%), and we're listening to that need. Through ongoing research, including these surveys, interviews with our users, and more, we are constantly seeking your feedback and using it to develop new ways to make marketing management easier.
This feedback allowed us to optimize our Eventbrite Boost social media marketing tools to enable you to sell 63% more tickets in 2022 (2), and we will continue to improve these tools in the coming year.
Tools you use
To help organize and market events, many of you use a variety of paid tools, from content creation (e.g., Canva, Photoshop) to third-party email (e.g., Constant Contact, Mailchimp). However, about a third of our event organizers are not paying for any of these tools (31%).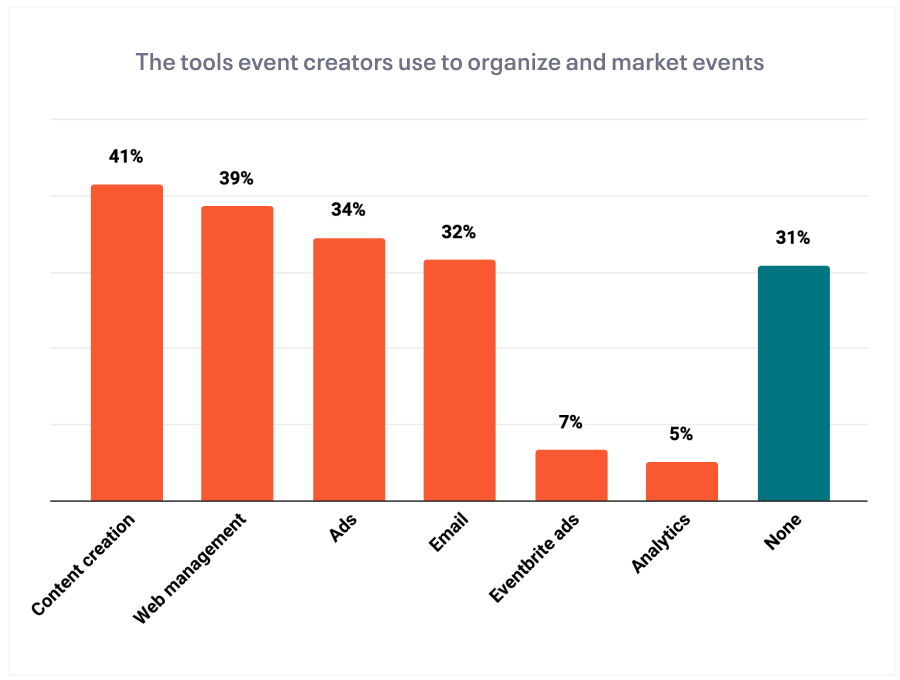 When you market your events
We learned that you start marketing upcoming events well in advance, typically three to four weeks (36%) or one to three months (36%) before the event happens.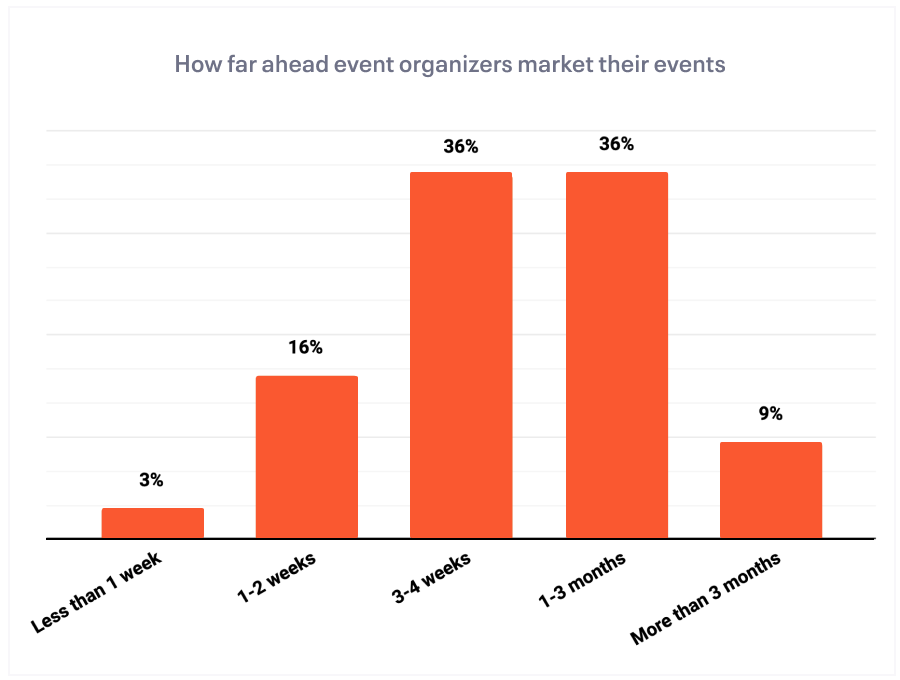 Most of you market multiple upcoming events simultaneously (80%), but you are split between conducting the same tasks across events and conducting specific tasks for each individual event.
What you need from us
In addition to asking us to help automate recurring marketing tasks, we learned that your main marketing pain points are around:
Understanding how to reach the right audience at the right time
Using email and social media marketing tools in an efficient way
You expressed a need for actionable data insights as well as updates and recommended next steps for promoting your events. Based on your input, we are continuing to develop solutions that provide you with timely marketing guidance and actionable insights.
Attendees Finding & Going to Events
How attendees find your events
Eventbrite is a great place to search and browse for events — attendees who search and browse on Eventbrite told us they feel like they see fresh, new content each time they visit. We also learned that they're particularly interested in receiving recommendations for new events to attend from event organizers (47%) and from Eventbrite (33%).
In addition to finding events on Eventbrite, most attendees find events by following specific organizers and venues on social media, websites, or blogs (77%) .
This matches your marketing preferences and expertise, as most of you have found that social media is the most valuable platform for communicating marketing messages (36%). Additionally, when asked about your experience with different types of marketing (i.e., social media, email, digital advertising), you told us that, on average, you have the most experience with social media marketing.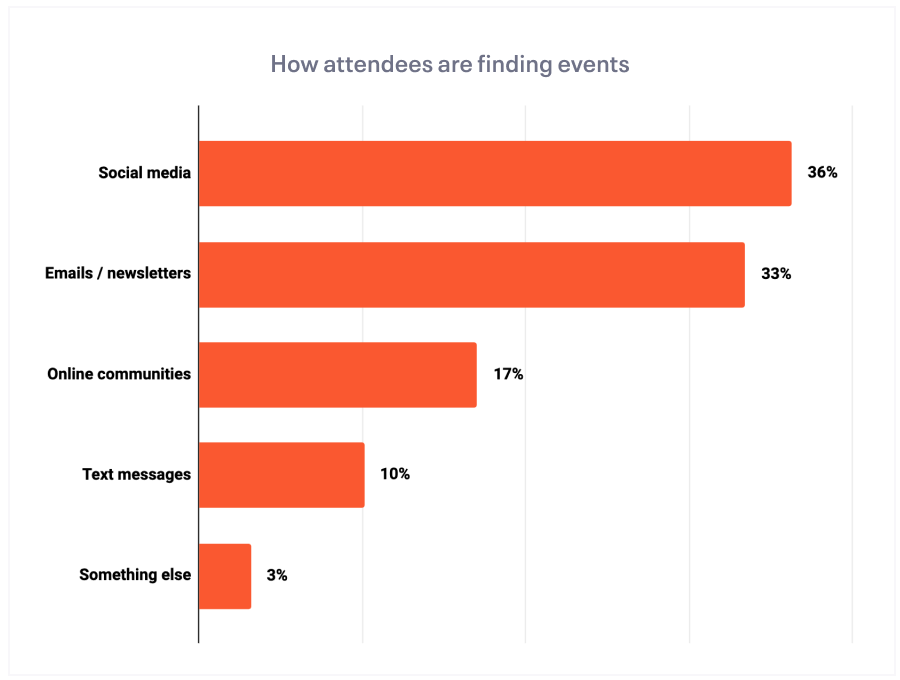 Attendees going to your events
Attendees typically go to live, in-person events with a goal of exploring and trying new things (48%) or supporting specific venues and organizers that they care about (31%). However, we also learned that amid economic uncertainty (e.g., inflation, personal finances), attendees tend to prioritize events where they can meet and connect with other people.
Most attendees go to live, in-person events with one to two other people (57%), while almost a quarter go to events alone (23%).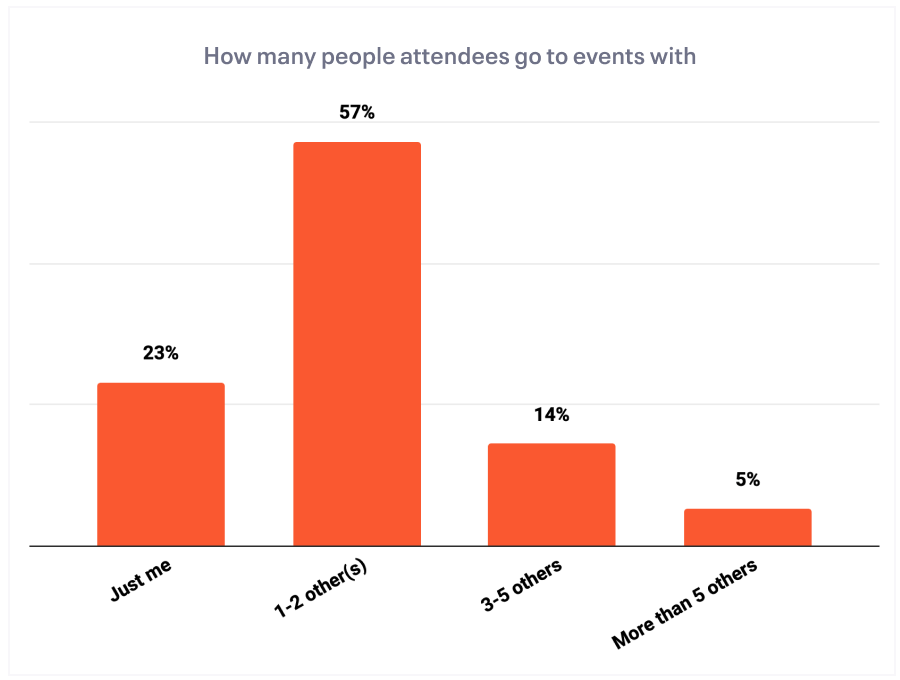 On average, attendees are willing to travel 11–20 miles (18–32 kilometers) to go to an event. However, attendees who look for events on Eventbrite more often and those who go to events to support a specific organizer or venue are both willing to travel further.
Monthly, our attendees typically budget $25–$99 (US dollars) for entertainment and spend 90% of that on live events. They also tell us that they spend over half of this budget on Eventbrite.
Thank you!
From everyone at Eventbrite, we thank you for your incredible partnership and are excited to see what you dream up next. To all who participated in these surveys or any of our other ongoing research projects: thank you! We hope that you can use these insights to continue to create unforgettable event experiences and better engage with attendees who want to explore new things, support their favorite event organizers (you!), and forge meaningful connections.
On our end, we're excited to use these learnings to shape our platform and priorities over the following year, so stay tuned!
Learn more about organizing events, and how Eventbrite can help you tap into attendee demand to sell more tickets. You can discover more event trends and best practices on our blog, Eventbrite All Access. Those interested in exploring the wide variety of unique, local events to attend should visit Eventbrite.com or download our app.
—
Eventbrite data from 8 surveys of active U.S.-based Eventbrite organizers who hosted events in 2022 (N=3,174) and attendees who attended events in 2022 (N=7,214). Respondents were surveyed between February 2, 2022, and November 7, 2022.
Eventbrite data from March 1, 2022–September 30, 2022 comparing events promoted both with and without Boost tools; creators must have hosted events with and without a subscription in the last 9 months.