CONCERTS
The Best Free Outdoor Summer Concert Series in LA for 2017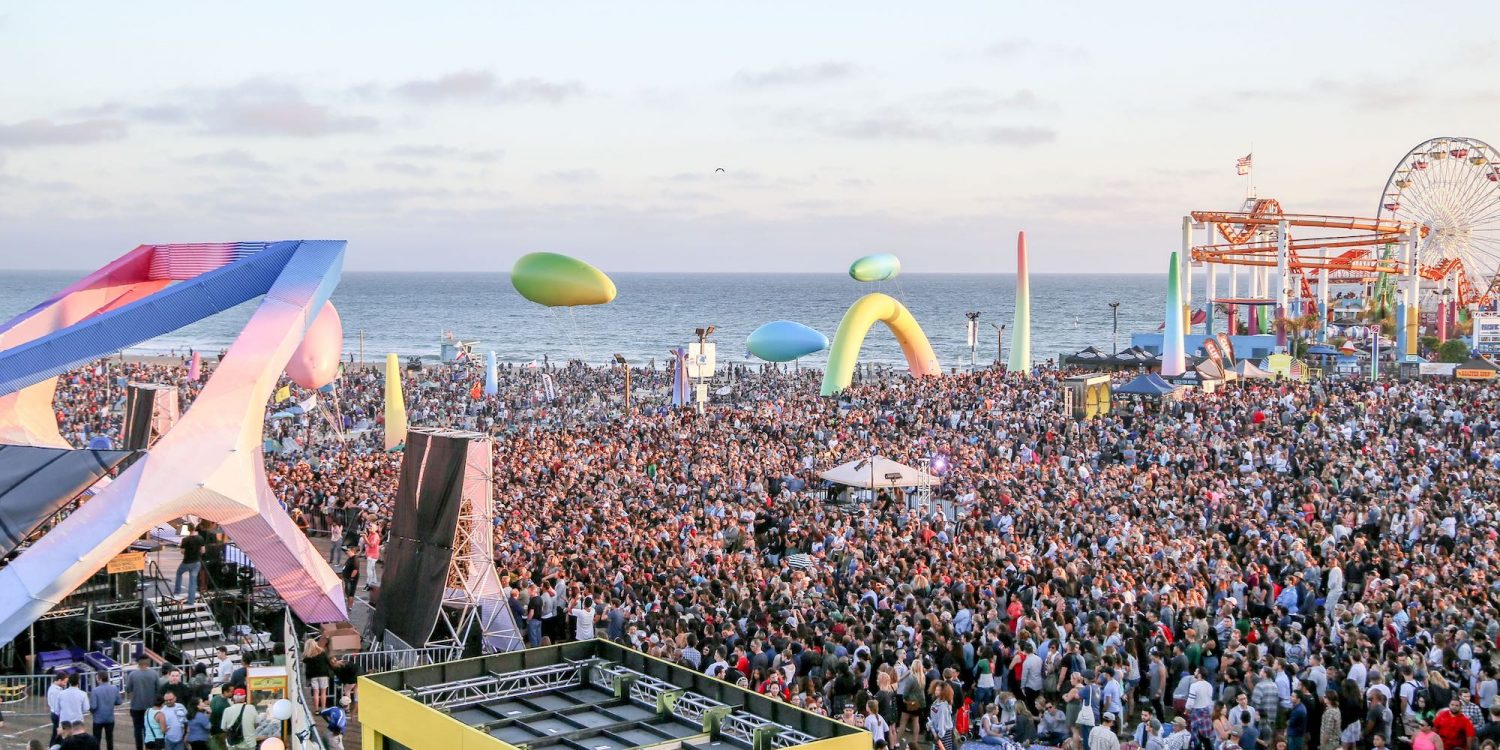 Between the unrivaled weather, outstretched sandy beaches, and community gatherings, there's a lot to love about LA during the summertime. But even amongst stiff competition, these free concerts—which are scheduled to take place at venues across the county—clock in at the top of our list of reasons for the season.
Embrace the spirit of summer with live jazz at the Los Angeles County Museum of Art, groovy tunes at the Getty Center, and soundtracked picnics in Warner Park. We'll see you on the open-air dance floor.
Jazz at LACMA Series
MID-WILSHIRE
Fridays, May 19 through June 30, 6 p.m.
Come Friday night, there's no better deal in town than LACMA's free jazz series. Held on the lawn near the BP Grand Entrance, the evening events bring a diverse set of classic and contemporary musicians to this local museum.
Highlights for 2017: Renowned jazz guitarist Wolfgang Schalk (June 16) and singer Angie Wells (June 30)—the latter's performance is just one stop along a tour to promote her new album, Love and Mischief.
Off the 405 at the Getty Center
BRENTWOOD
Select Saturdays, May 20 through August 26, 6 to 9 p.m.
The Getty Center's most beloved summer concert series returns for another year of open-air music and 360-degree views of the Westside. Since you'll have to take the tram up to the museum anyway, we suggest leaving your car at home—that way, you'll be free to indulge in the cash bar, which features local beer and agua fresca cocktails.
Highlights for 2017: The five-show lineup includes Nite Jewel (May 20), White Fence (June 10), La Luz (June 24), Steve Gunn (July 29), and Savoy Motel (August 26).
Friday Night Music at The Original Farmer's Market
FAIRFAX
Fridays, May 26 through September 1, 7 to 9 p.m.
This genre-spanning Friday night series takes place at The Grove, on the Original Farmer's Market's West Patio. This summer's lineup includes opportunities to groove out to Latin jazz, rock and roll, salsa, swing, blues, and more.
Highlights for 2017: The American jazz and swing band, Jennifer Keith Quintet (July 14), and Bad Haggis (August 4), a Celtic band with global flair.
Grand Performances at California Plaza
DOWNTOWN LA
Weekends, June 2 through September 22, 8 p.m.
Get down with your bad self at Grand Performances, the long-running concert series held on weekend nights through the summer. The California Plaza shows aim to highlight a diverse spread of talent and introduce attendees to new genres and styles of music.
Highlights for 2017: Miguel Atwood-Ferguson in tribute to producer-rapper J Dilla (June 24) and jazz genius Cameron Graves (August 18).
KCRW's Summer Nights
LOS ANGELES
Weekends, June 3 through September 2
The eighth annual KCRW Summer Nights series will take place Thursday, Friday, and Saturday nights at a series of venues across LA: One Colorado, Annenberg Space for Photography, Hammer Museum, Union Station, Chinatown, and, new this year, the California African American Museum. All events are soundtracked by KCRW DJs; the two Saturday night shows at Pasadena's One Colorado will also feature live performances from Chico Mann & Captain Planet and Chicano Batman. KCRW Summer Nights also hosts events in Anaheim and Santa Barbara.
Highlights for 2017: KCRW's first partnership event with the California African American Museum (August 19), which will occur on the 25th anniversary of the start of the Watts riots. Guests will be granted after-hours access to exhibitions, including the featured No Justice, No Peace: LA 1992.
Concerts on Canon in Beverly Canon Gardens
BEVERLY HILLS
Thursdays, June 8 through August 31, 6 p.m.
This Beverly Hills concert series offers locals two chances to catch a live set every Thursday night during the summer. Guests are encouraged to bring babies, blankets, and bites, or to snag a boxed dinner from one of the many adjacent restaurants.
Highlights for 2017: A night of doo-wop throwbacks with The Tokens (June 15), and New Orleans-style swing with the Big Butter Jazz Band (August 3).
Concerts on the Green at Valley Cultural Center
WOODLAND HILLS
Sundays, June 11 through August 20, 6 p.m.
Held at Warner Park's Lou Bredlow Pavilion, this local concert series showcases local cover bands and vocal talents on Sunday evenings in Woodland Hills. Pack a picnic basket—and blanket and chairs—and bring the whole family along for this weekly gathering on the grass.  
Highlights for 2017: Which One's Pink?, a tribute to Pink Floyd (June 25), and the Surf City All Stars, featuring original Beach Boy, David Marks (July 16).
The Twilight Concert Series at the Santa Monica Pier
SANTA MONICA
Thursdays, June 22 through August 17, 7 to 10 p.m.
After a star-studded lineup and new metro station drew huge crowds in 2016, the future of this legendary concert series on the beach was uncertain. Thankfully, the beloved tradition returns for another season of sun-soaked tunes, steps from the Pacific Ocean.
Highlights for 2017: Norwegian indie electronic-pop duo Lemaitre (June 29) and girl gang goals incarnate, Warpaint (August 17).
WeHo Arts Summer Sounds
WEST HOLLYWOOD
Select Sundays, July 9 through September 10, 5 p.m.
Kings Road Park and Plummer Park alternate in hosting the eclectic lineup of West Hollywood's Summer Sounds. Family and picnic friendly, these live shows are a foolproof way to stave off the Sunday Scaries.
Highlights for 2017: The upcoming summer series will feature Jack's Cats (July 9), Delta Nove (July 30), Atomic Jazz (August 20), and Benny Brydern's Blue Four (September 10).
Sunset Concerts at the Skirball
BRENTWOOD
Thursdays, July 27 through August 31, 8 p.m.
Inspired by the Skirball Cultural Center's current exhibition, Paul Simon: Words & Music, the upcoming season of Sunset Concerts will showcase a diverse range of artists hailing from around the world. Appropriately, the outdoor concert series kicks off with a celebration of Paul Simon's work before offering up an eclectic selection of Anglo-Nigerian electropop, Caribbean blues, and Cuban jazz.
Highlights for 2017: Kick off the season with the exhibition-inspired performance, American Tune Featuring Sean Watkins & Friends: A Singer-Songwriter Celebration of Paul Simon (July 27).