Rise Multiversity: The Milab Experience: Keys to Recovering our True Memory and our Origins

Saturday, July 25, 2015 from 3:00 PM to 5:30 PM (PDT)
Event Details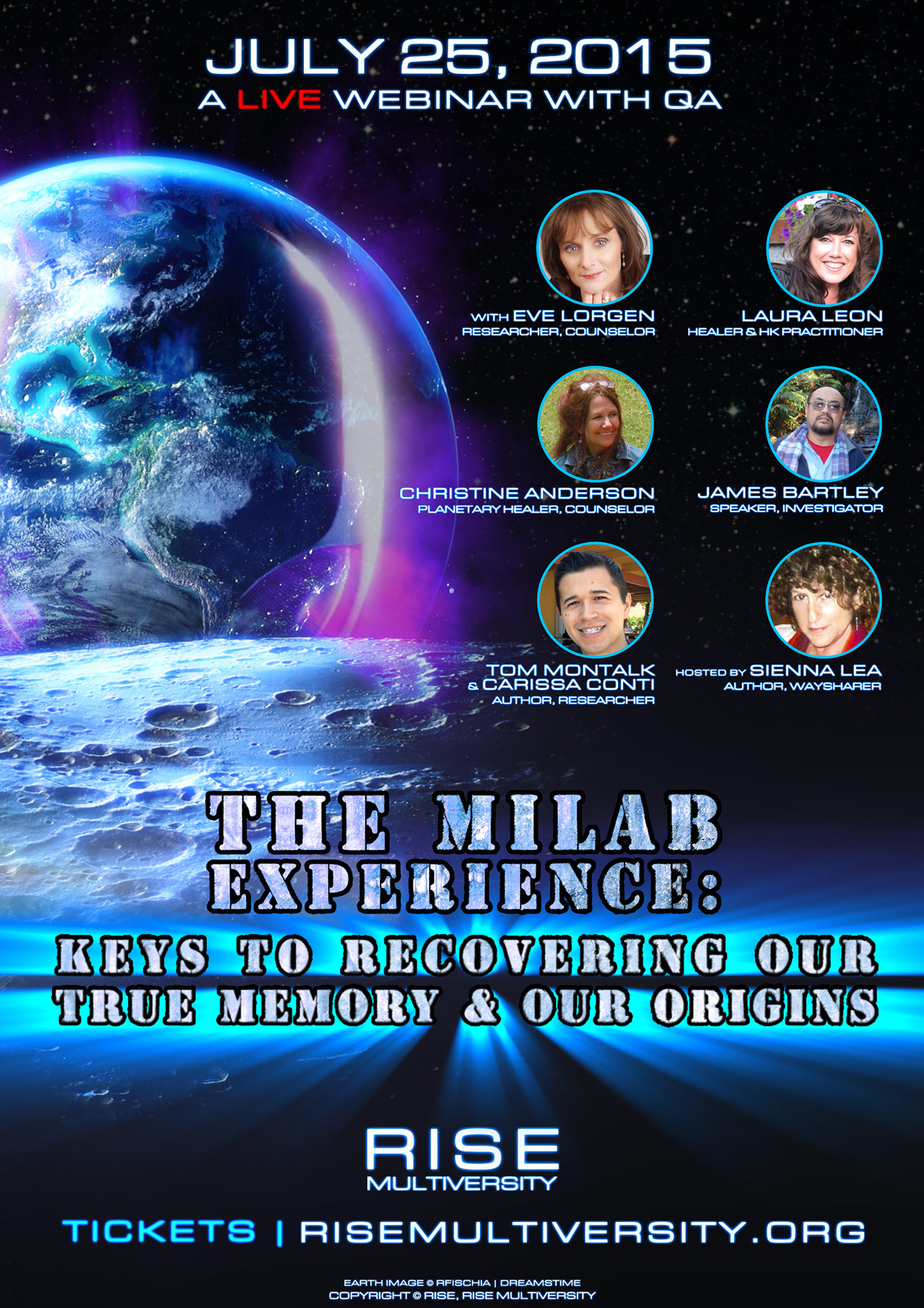 RISE MULTIVERSITY
PRESENTS A LIVE EVENT WEBINAR WITH Q&A


___________________________________________

___________________________

THE MILAB EXPERIENCE:
~ KEYS TO RECOVERING OUR TRUE MEMORY AND OUR ORIGINS

~
____________

_____________________
SATURDAY, JULY 25, 2015
3PM CALIFORNIA / 11PM LONDON / (26TH) 7:30AM ADELAIDE
(*MP3 REPLAY INCLUDED)
(*CHECK SYSTEM REQUIREMENTS BELOW)


____________

_____________________
Eve Lorgen with Sienna Lea, Laura Leon and Christine Anderson present a dynamic Milab Round Table webinar and discussion with a Q & A afterward.

How does comprehending the Milab (aka super soldiers, Montauk boys/girls, MK Ultra military and alien abduction programs) lead us to healing, recovery and true integration? How does the imposition of mc programs, alien and/or transdimensional races on the Human Being affect us? Why awareness of this phenomena, how and why it is perpetrated and by whom—is knowledge we need for our collective healing.

What we are discovering through our growing comprehension of the Milab experience, including MKUltra, intelligence agents, abductee, contactee, SRA (Satanic Ritual Abuse) and other anomalous trauma experiencers?

A history and description of the Milab, etc.

Common denominators of Milabs

Shared realities within the Milab community.

Recognizing family lineage/bloodline and the probable use of ritualistic sexual abuse and why that fact is commonly left  un-addressed.

Milab male, Milab female

Recall of our origins, why true self discovery and memory is important. Is it really about "bad karma" or is there other realities to consider?

How long ago did the programming start. Why it's important to know ones own history and family occult connections.

What is/was true earth human's original nature?

What makes the human such an easy target.

The original trauma, not original sin.

Holographic Universe, Laws of Lore that uncover why trauma is so essential for spiritual control.

How do we break free of these pernicious programs?

Techniques for deprogramming, healing and integration:

Reverse flow your abilities to data mine the controllers.

Centering and awareness.

Claiming your freedom and standing your ground.

Identify your self in a time space coordinate of now and don't lose that position.

Learn to recognize the precursors to you being taken.

Why stopping the victim mentality meme no matter how horrific your abuse was is key.

Don't allow fear in and if detected diligently work toward confronting it and not covering it up.

Be vulnerable, often your shields are keeping you from seeing your essential nature.

Find a partner and practice compassionate listening.

Stay in small (non-celebrity) groups building a trust field

Sabotage of groups through infiltration, how does that happen and what to do.

How does a group become infiltrated

What are the keys to detecting and stopping infiltration

Traps, distractions and ego trips. How this happens, why and what to do to avoid this.

Why Healing is so Important for Freedom

What are the markers of true integration

What is soul sovereignty and how to recognize your own soul's unique and true essence.
FEATURING:

IMPORTANT:
DISCLAIMER:
The views in this presentation do not necessarily represent that of Rise Multiversity or its individual members.


MICROPHONE & WEBCAM:
A microphone is required

only

to participate in the Q&A, although a webcam is prefered.


SYSTEM REQUIREMENTS:


> System Requirements for PC & MAC


*Linux not yet supported



> System Requirements for MOBILE & TABLETS




*Windows Phone not yet supported.





 ______________________________________________________________________
FAQ
(Visit our > FAQ page)


TICKET & EVENT REGISTRATION
Enter your same name and email on the ticket at the event for verification.
EVENT / GROUP SYSTEM REQUIREMENTS

For: > PC & MAC
*Linux not yet supported

For: > Mobile & Tablets
*Windows Phone not yet supported.
WEB BROWSERS

You can use > Firefox > Chrome > Safari or > Opera
TABLET & MOBILE DEVICES

*Windows Phone not yet supported.
Get the App: > AppleIOS > Android or > Blackberry
MICROPHONES & WEBCAMS

For Events:
A microphone is required only to participate in the Q&A, although a webcam is prefered.

For Groups:
A microphone is required to participate, although a webcam is prefered.

For help with microphones and webcams, read the following:
> Computer Microphone Guide > Computer Webcam Guide
EVENT RECORDINGS
Event Replays are issued to attendees. Replays are also available at our > Store.
*Groups are not recorded.

CONTACT
Please contact us > here.
Have questions about Rise Multiversity: The Milab Experience: Keys to Recovering our True Memory and our Origins?
Contact Rise Multiversity
Organizer
Rise Multiversity
www.risemultiversity.org | Live Events | Courses | Workshops | Groups

Rise Multiversity is a global education and research project created in response to the challenge of reclaiming what is Sacred with our Mother Planet. Rise is our response to the call for global metamorphosis. By pooling the knowledge, experience, and wisdom of mentors and community members from different countries and backgrounds, we unite in service, personal Sovereignty, human freedom, and Sacred Activism.