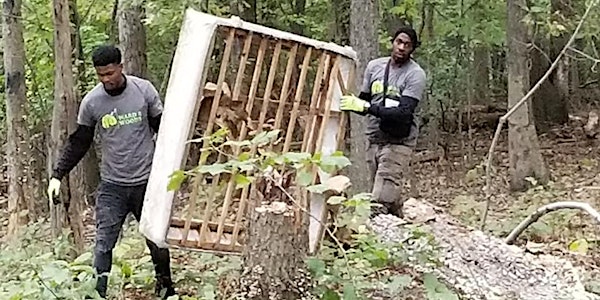 Ft. Stanton Park Volunteer Day
Help restore the health and beauty of Fort Stanton Park by removing trash and cutting back invasive vines that are smothering trees.
When and where
Location
Fort Stanton Recreation Center 1812 Erie Street Southeast Washington, DC 20020
About this event
Fort Stanton Park was created in 1926 to preserve the hilltops where the Union army constructed Fort Stanton and Battery Rickets to defend the Nation's Capital during the Civil War. These forts never saw battle, but their earthwork remains can still be seen the woods. The park's more than 150 acres of forest include dramatic hills and ravines, several stream valleys, and stands of towering poplar trees. Ft. Stanton is also home to a recreation center, an urban farm, a reservoir for DC Water, and the Fort Circle Hiker-Biker Trail. Sadly, years of littering and dumping have polluted the landscape. Invasive plants such as kudzu, bittersweet, Asian wisteria, and Japanese knotweed have destroyed whole areas of forest and threaten others. Action must be taken to save this special place before it is too late.
Wear boots, durable pants, and clothes you won't mind getting dirty. Bring a water bottle-refills provided.
-Documentation of community service hours provided upon request
-Photographs and videos may be taken during the event. Please advise us upon your arrival if you do not want your image to be shared.
-For questions contact Nathan at 202-520-2742 or nathan@ward8woods.org