About this Event
Welcome to the first ever furry convention of the weird and whimsical Asheville, North Carolina. Blue Ridge Furfare is a full weekend of dance competitions, live art demonstrations, fursuit photography, and chill Asheville vibes. Expect a few unique features like a Tea Social, Artist Olympics, and Talent Show. What other interesting features are cooking up in the mountains? Find out March 2020!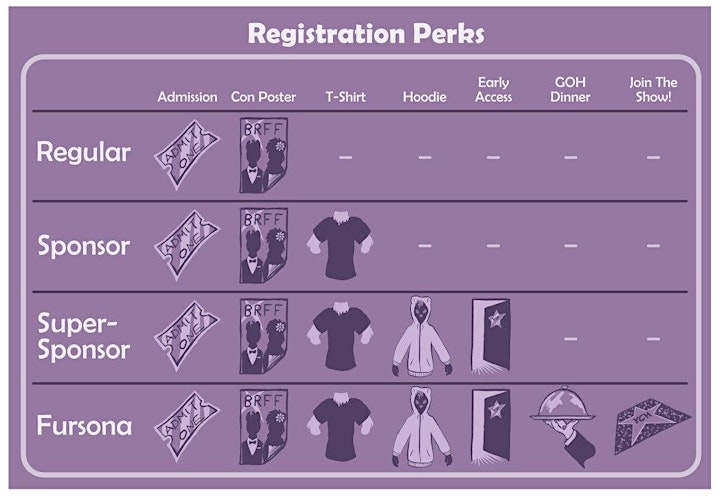 REGULAR
Full Weekend Admission
+ Convention Poster
SPONSOR
All Regular Perks
+ T-Shirt
+ Special Prom Gift
SUPER-SPONSOR
All Sponsor Perks
+ Hoodie
+ Early Event Entry
FURSONA LEVEL
All Super-Sponsor Perks
+ Your Fursona Featured In the Following:
- Life Sized Room Function Poster by GOH DedPassm
- Inclusion in Convention Group Poster by GOH Falvie
- BRFF Telegram Sticker by Snapai
- Inclusion in BRFF 2021 Animated Trailer
A valid Photo ID proving your identity is required to receive your con badge. Attendees must be present to pick up their own badges. Con badges cannot be loaned or re-sold.
ALL SALES ARE NON REFUNDABLE