5th Annual Illini Veterans Memorial 5K

Sunday, April 9, 2017 from 10:00 AM to 1:00 PM (CDT)
Event Details
5th Annual Illini Veterans Memorial 5K
Sunday, April 9th, 2017

Packet Pickup Times 
Friday, April 7th, 5-8pm 
Saturday, April 8th, 12pm-4pm 
Sunday, April 9th, 8 am-10 am at Foellinger Auditorium Forecourt (Race Day pickup will be at race location, NOT Center for Wounded Veterans) 

Packet Pickup Location (For April 7th and 8th) 
Center for Wounded Veterans in Higher Education 
908 W. Nevada St 
Urbana, IL 61801 

Race Day Information
Date: April 9th, 2017 
Packet Pickup at Foellinger Auditorium Forecourt on Main Quad: 8am 
Race Begins: 10am 
Place: Foellinger Auditorium 
Parking: Please see attached map 
Foellinger Auditorium Address: 709 S Mathews Ave, Urbana, IL 61801 

Parking Maps, Route Maps, other info...
http://www.illiniveterans.org/5k/race-info 

Updates
Guest Speaker
The Illini Veterans are pleased to announce Col. Royal Mortenson, USMC (Ret.) as our guest speaker. Col. Mortenson served with distinction for 29+ years around the world as a Marine infantry officer. Following his retirement from the United States Marine Corps, Col. Mortenson assumed his current duties as the director of the Illinois Fire Service Institute. Read more about Col. Mortenson's service and bio here: https://www.fsi.illinois.edu/content/information/staffDirectory/detail.cfm?people_id=126308

Top Finishers Prizes
For our top finisher this year, we have decided to make the prizes extra special this year. Each top finisher from each category will receive a race medal. Our race medals are something you can hold on to forever. You can add it to your trophy case or use it to prove to your kids/grandkids that once upon a time, you were fast!

Previous 5K T-Shirts for Sale
Missed out on past Memorial 5Ks? Or just want more of the shirts? Good News! The Illini Veterans will be selling 5k Shirts from past years to clear up some space and to drum up more proceeds for the Center for Wounded Veterans. T-Shirts will be sold for $10, cash preferred, credit/debit-accepted!

T-Shirt Design
We have finalized our race logo! For our 5th year, we wanted to do something different. Rather than use our standard logo as our T-Shirt design, we decided to feature a new design. Our Race shirts will be black with the gold/gray design on the front, a flag on the sleeve, and our sponsor's logos on the back.

New Location
Don't worry, the race route will still be on the main quad at UIUC! We have moved the starting/staging location from the McFarland Memorial Bell Tower to Foellinger Auditorium, right in the middle of the beautiful main quad! Using Foellinger Auditorium as a starting location allows us better access to restrooms, shelter areas, and improves our finish line procedures.

Sponsors
We're happy to announce a number of sponsors that share our passion for supporting student veterans in higher education. Since we have begun planning, we have received sponsorships from local veterans service organizations Marine Corps League Detachment 1231 and Veterans of Foreign Wars (VFW) Post 630, along with many businesses! Check out our "Sponsors" page from our menu on the left to see who is supporting us this year!


Severe Weather Disclaimer
The Memorial 5K will be held rain or shine. However, if the weather becomes more serious, to include, but not limited to, lightning, strong winds, heavy downpour, and flooding, the race committee may make the decision to cancel the race. If this is to occur, we cannot offer refunds or returns on race entries. All proceeds will still go towards the Center for Wounded Veterans in Higher Education.

Contact info :
Brent Blackwell
illiniveterans@gmail.com
Memorial 5K Race Director / Illini Veterans President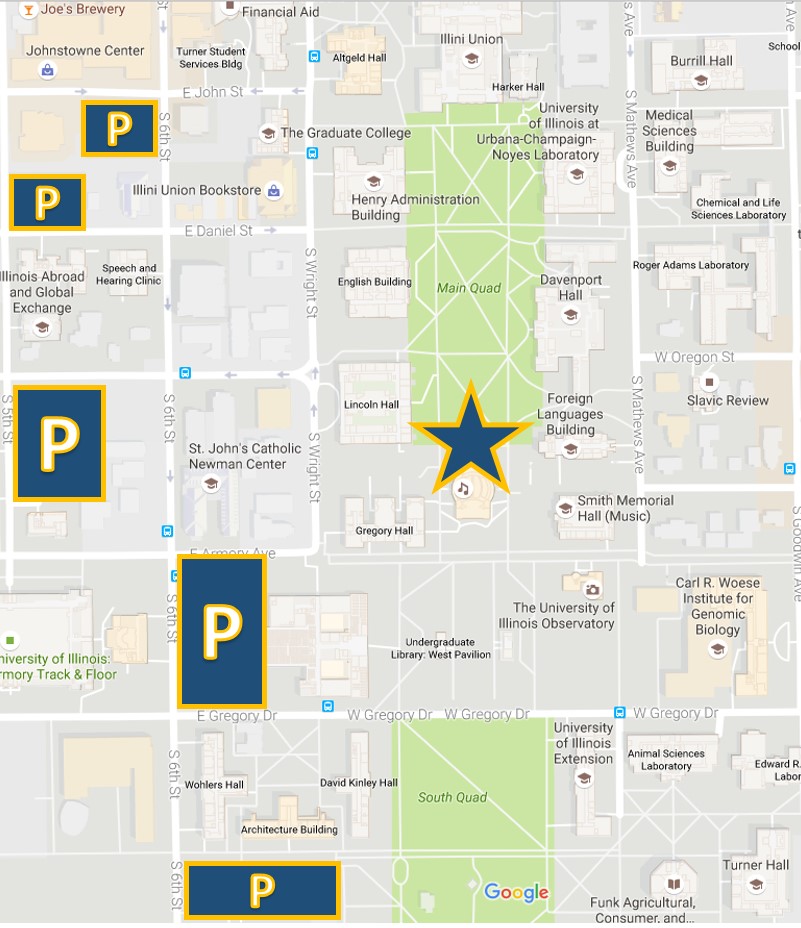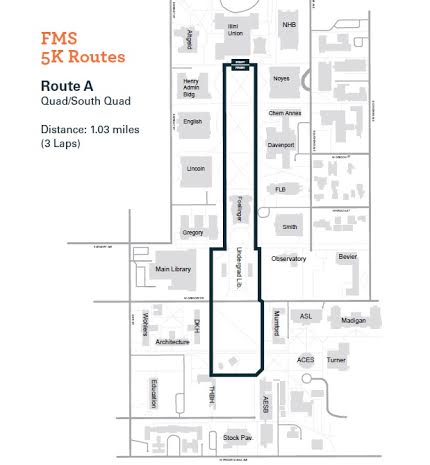 When & Where

Main Quad, University of Illinois at Urbana-Champaign
709 S Mathews Ave
Urbana, IL 61801


Sunday, April 9, 2017 from 10:00 AM to 1:00 PM (CDT)
Add to my calendar
Organizer
Illini Veterans primarily focuses on providing a network for veterans to meet and build on the military bonds we all share. We exist to bring veterans together and to assist veteran-students in the transition to student life, with an eye to preparing for post-college, post-military careers. Illini Veterans is a registered student organization.