Sales Have Ended
Ticket sales have ended
Sorry, tickets to this event are no longer available.
Sales Have Ended
Ticket sales have ended
Sorry, tickets to this event are no longer available.
Description
Congratulations to Mary Kay Henry of SEIU
In 2010, Mary Kay Henry became the first woman to be elected the President of the Service Employees International Union. Born in the late 1950s near Detroit, Michigan, she grew up deeply influenced by her religious faith in freedom for all and surrounded by a vibrant culture of fighting for social justice based in strong unions and effective community organizing. While in college at Michigan State University, she was a vol- unteer lobbyist for a grassroots group. Following graduation, she joined SEIU as a researcher in 1980.
For many years she served SEIU in the state of California helping the union to pioneer the use of card check agreements, non-traditional collective bargaining agreements, comprehensive campaigns and system-wide health care organizing strategies. With her leadership as President, the two million member union has won major victories by strengthening and uniting healthcare, property services and public sector workers in the United States, Canada and Puerto Rico.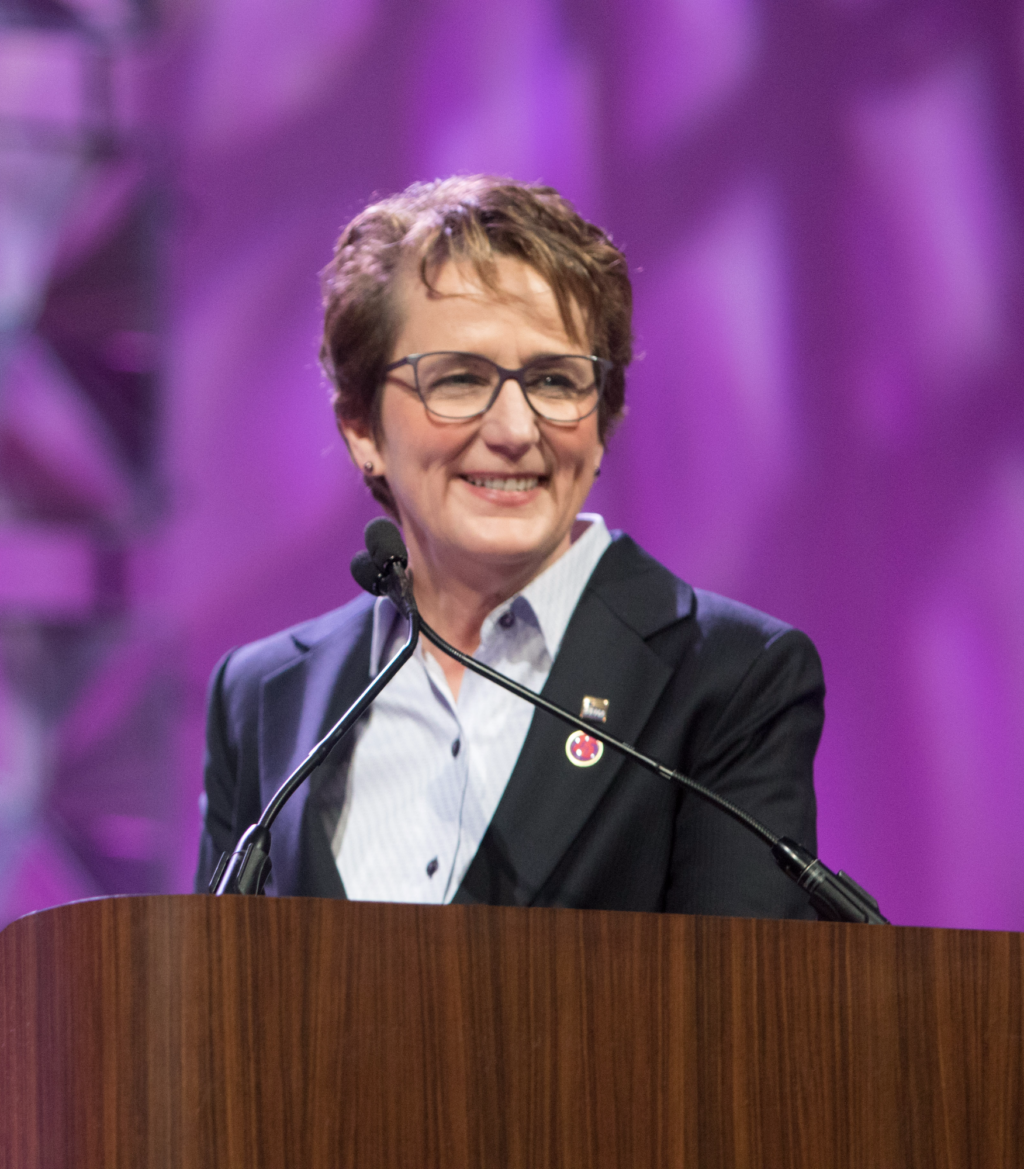 Mary Kay Henry will receive the 2019 Eugene V. Debs Award on behalf of SEIU
With a clear understanding that the best defense is a strong offense, Mary Kay personally prioritized the Fight for $15 campaign as a key component in resisting the ongoing attacks on the rights and benefits of all workers and especially those in the
fast food industry. Initially targeting the Mc- Donald's corporation, the Fight for $15 cam- paign is now a global movement of activists and organizers representing low wage work- ers in every economic sector in the struggle to obtain living wages and the right to form unions. The award plaque will be presented to Mary Kay by leaders of the Fight for $15.
Her courage, determination and accomplishments are hallmarks in perpetuating the legacy of Eugene V. Debs. With imagination and creativity, Mary Kay has broken down barriers in uniting those who struggle to achieve healthcare for all, to secure the rights of im- migrants, and to guarantee safety and justice for communities of color and of the LGBTQ movement.
The Foundation is pleased continue its tradition of highlighting those who are bold and effective in exposing and helping to correct the vast injustices heaped upon the overwhelming majority of those who live in the United States by a shrinking minority of corrupt, venal individuals. The time of reckoning draws closer every day.
---
---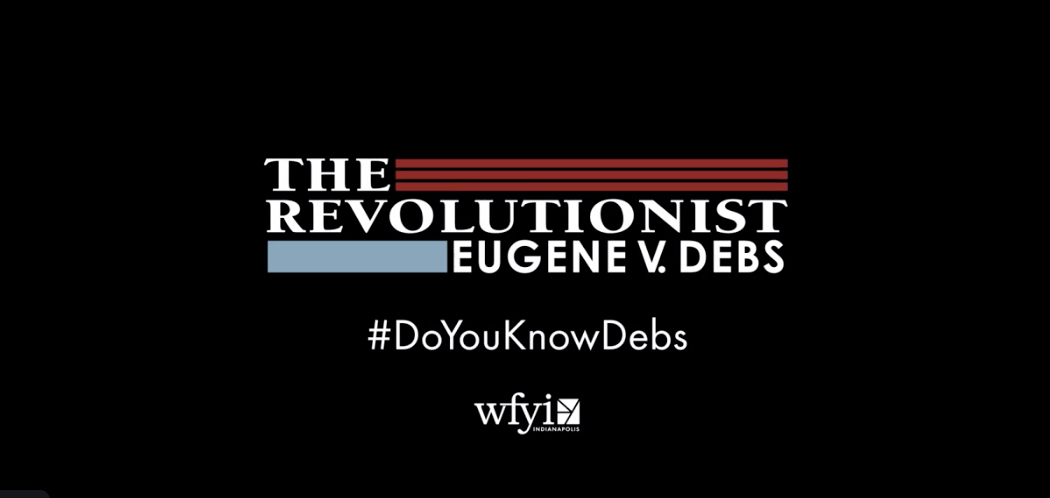 If you can't make our screening, The Revolutionist premieres on WFYI this October
Friday Screening of documentary The Revolutionist: Eugene V. Debs
This fall's banquet will feature a full weekend of activities, beginning on Friday evening, September 27. At 7pm will be the premiere screening of the WFYI documentary, "The Revolutionist: Eugene V. Debs." which will then be available to PBS stations across the nation. The film will be shown in ISU's University Hall Theatre (the former Lab School for you old timers). A reception and social hour will follow. De- tails will be posted on the website. For those of you on Twitter, WFYI had begun promotion of the documentary using the hashtag #DoYouKnowDebs. Or visit their Twitter page.
---
Musical Performance by Magpie
For more than forty-two years MAGPIE, Terry Leonino and Greg Artzner have brought their unique sound and remarkable versatility to audiences everywhere, featuring traditional and vintage American folk music to contemporary and stirring original compositions. With two strong voices in harmony and superb instrumental arrangements, their sound is powerful and moving. Award-winning recording artists, singers, songwriters, composers, musical historians, playwrights, screenwriters, actors and social activists, Terry and Greg are proud to be, as Pete Seeger said of them, "…more links in the chain," dedicating their lives and music to leaving this world a better place.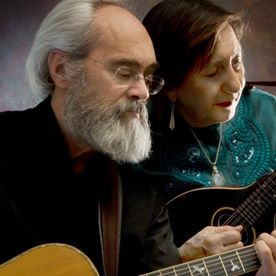 Terry Leonino and Greg Artzner are

Magpie

, our 2019 Musical Guests
They hail from industrial union country in northeast Ohio. Terry was born in Akron and grew up in nearby Cuyahoga Falls. Her father was a union leader among his fellow rubber workers during the days when the unions were organizing there. Greg was born and grew up in Canton, Ohio, the place where Eugene Victor Debs delivered the famous speech that landed him in federal penitentiary in 1918. Following Debs's example, Greg was a conscientious objector during the war in Vietnam. As musicians, Terry and Greg are career-long members of the American Federation of Musicians, and are also proud members of the IWW. From 1974, when the Magpies first landed in Washington, DC, until he passed away in 2006, Greg and Terry accompanied "labor's troubadour" Joe Glazer on every recording he made.
Terry and Greg have been singing about working men and women for their entire career, and their performances of these songs are second to none. They are diligent students of the various styles of music in American history, so their arrangements and presentation of songs spanning the history of the labor movement are true to the times and intentions of the writers, and always engage the audience in singing along. Terry and Greg's work continues to reflect their own life experiences as they frequently raise their voices in support of the ongoing struggles for workers rights, civil rights, freedom, justice, and peace.