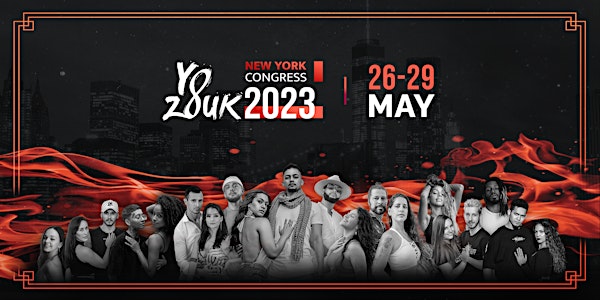 YoZouk New York Congress 2023
A new generation of Brazilian Zouk Teachers from Brazil and Europe invade the USA for an epic congress and marathon!
By Charles Espinoza & Joe Sandoval
Location
Hyatt Regency - Events Center 2 Albany St New Brunswick, NJ 08901
About this event
A new generation of Brazilian Zouk Teachers from Brazil and Europe invade the USA for an epic congress and marathon! We will pre-party in Manhattan, then come together in an incredible hotel accessible internationally. The party ends with an epic Manhattan rooftop party! Come visit us and dance 7 days straight!
▄▄▄▄ SCHEDULE ▄▄▄
★ NYC Manhattan PreParties: Tue & Wed May 23 & 24
★ Thu Kickoff Hotel Party: Thu, May 25, 2023
★ Congress: May 26 - 29, 2023
★ Monday NYC Times Square Rooftop After party: May 29, 2023
▄▄▄▄ FEATURES ▄▄▄
★ International New Generation Brazil & Europe Instructors!
★ Everything in one epic massive hotel venue! Easy to fly in and arrive!
★ Up to $10,000 USD CASH prizes for competition winners!
★ Marathon Room!
★ Pre & After parties at NYC Zouk Hotspots!
★ Teacher Training Program
★ Master Classes
★ Audition Leveled Classes & Balance Follow/Lead Tickets Sold
▄▄▄▄ ARTISTS ▄▄▄▄
★ Kakah & Julissa (Brazil & DC)
★ Iago & Vanessa (Sao Paulo, Brazil) First time in NYC!
★ Walter Fernandes (Rio de Janeiro, Brazil)
★ Paulo & Luiza (Brazil/Miami)
★ The Ramalhos (Rio de Janeiro)
★ Charles Espinoza (Brazil & NYC)
★ Felipe & Bruna (Brazil/ Netherlands)
★ Iago & Ninna (Brazil)
★ Caroline (Denmark)
★ Jade Rodriguez (London)
★ Gab Lacarriere (Paris)
NYC Local Hero's!
★ DJ Power
★ Vinny
★ Eddie from Zoukphoria
★ DJ Efosa
★ Hara Zi
★ Buddy & Flavia (NYC)
Team USA
★ Niko (Minneapolis)
★ Ashley (District Zouk)
★ Bruno & Fae (Florida)
★ Brad Meccia (Knoxville)
★ DJ Just Jacob (Chicago)
★ DJ Tiger (Toronto)
★ DJ Chuky (DC)
★ DJ Jem (Boston)
More pending confirmation. Artist subject to change.
▄▄▄▄ HOTEL ▄▄▄▄
Hyatt Regency, New Brunswick. Epic event focused hotel with over 33,000 square feet of event space for us to create something special.
Block Rate on Fri-Sun: $179 for two doubles. Please reserve ASAP, limited discount block price. Reservation link below. Booking tip: reserve Fri and Sat using link below, then to add additional days at same rate email Jessica.clark@hyatt.com to get same group rate.
https://www.hyatt.com/en-US/group-booking/EWRRN/G-ZOUK
Hotel Transportation: Easy to get to hotel via train and also going to Manhattan from hotel. Train station is only 2 blocks from Hotel. Fly into any New York major airport and take the train. Recommended: Only several train stops away from Newark International Airport (EWR) for quick easy access, it is a fast comfortable ride.
▄▄▄▄ COMPS ▄▄▄▄
Contests/Competition Director: Niko Salgado
Competition Details to be release at Competition Announcement Date
▄▄▄▄ EURO PARTNER PASS ▄▄▄▄
Free Pass for Europe Residents with Partners BDF - Brazilian Dance Festival and Dutch Zouk Congress pass. It's a European invasion! If you are planning to attend BDF or Dutch Zouk for 2023 please grab a YoZouk Europe Pass. We have a limited amount of FREE passes with your purchase of BDF or Dutch Zouk Congress Pass thanks to our official event partners. Europe passport and Europe residents only.
▄▄▄▄ CONTACT ▄▄▄
By YoZouk!
Charles Espinoza - our guide
Hara Zi - our shining light
Joe Sandoval - problem solver
Office Facebook Event Page
https://www.fb.com/events/325474501577290/
Thank you for joining us, we were one of the first festivals impacted by COVID and excited to come back and continue this journey with our beloved zouk community. We are bringing this event together with love, and a focus on adding another positive function for us to dance and our community to grow.