Event Information
Location
School for Poetic Computation
155 Bank Street
New York, NY 10014
Description
You Do (it) You(rself)
Personal and Social Narratives of System Design in Electronic Arts
Curated by Ezra Teboul with Avant.org
Hosted by the School for Poetic Computation
EVENT DETAILS
This program is organized/curated by Ezra Teboul with Avant.org. The event is hosted by the School for Poetic Computation. This program is the second in the Avant.org Circuit Scores series. The first, "Electronics After David Tudor," was hosted by SFPC in April, 2016. The program features: Anastasia Clarke, Bonnie Jones, and Victoria Shen, who will present electronic circuit system design models, and engage in group discussion and musical improvisation.
Date: December 8, 2018
Time: 3:00-6:00 PM
Location: School for Poetic Computation, 155 Bank Street, NY, NY
Ticket Price: $10 donation (sliding scale)
Tickets: https://www.eventbrite.com/e/you-do-it-yourself-tickets-51939426222
Event URL: http://www.avant.org/event/doyou
Organizers: Ezra Teboul, Avant.org
Press/Information: charles@avant.org
LIMITED SEATING: This event will have limited seating, so please make a donation through Eventbrite to reserve your seat in advance.
ABOUT THE EVENT
Avant.org and Ezra Teboul are happy to present an afternoon of discussion and musical/artistic demonstrations focusing on the work of three artists: Anastasia Clarke, Bonnie Jones, and Victoria Shen. As a continuation of Avant's 2016 Circuit Score program, You Do (It) You(rself) asks the following questions: How can electronic circuits and software design act as a canvas for artists to express both personal stories and wider societal concerns? What can we do with technical objects that expresses our wish to care for others and ourselves? What unique perspectives of music and engineering can be developed along the way, and how do we document these?
On their own terms, Clarke, Jones, and Shen each question the power structures that underlay material cultures of electronic music. This event offers an opportunity to learn about and discuss how abstract ideals about gender, technology and access interact with sonic and physical materials in the making of time-based arts. Each artist presents some of the ways in which these ideals, mediated by their personal ideas and experiences, influence technical decisions that affect artistic results.
About the Artists
Bonnie Jones' delay pedal setup. Photo: Dani Restack.
Bonnie Jones uses digital delay guitar pedals that are plugged into themselves and flipped onto their backs, circuits exposed, and investigated with audio jacks. Years of experience with this evolving cast of circuits transforms the medium of circuit electronics into a world of human and machine relations to be thought about and explored. According to the artist:
Electronic noise makes audible, the hidden, the background, the "unwanted," an acknowledgement of labor we only experience in its abstract, sonic form. To notice it is to be inside of our bodies, to resonate with our surroundings, to think of those responsible for it. To be aware of each other, to listen. Our bodies vibrate with its secret messages, its rich complexity. The circuit board becomes a sonic geography, there are known localities, but also unknowable edges: everything is relation and context.
Jones is a Korean-American improvising musician, poet, and performer working with electronic sound and text. Jones' work explores the fluidity and function of electronic noise and text. Her art seeks opportunities in different mediums to expose the fluid nature of individual identity, history, form, and meaning. In 2010, she co-founded TECHNE, an organization that introduces young female-identified women to technology-focused art making, improvisation, and community collaboration.
https://bonnie-jones.com/ https://technesound.org/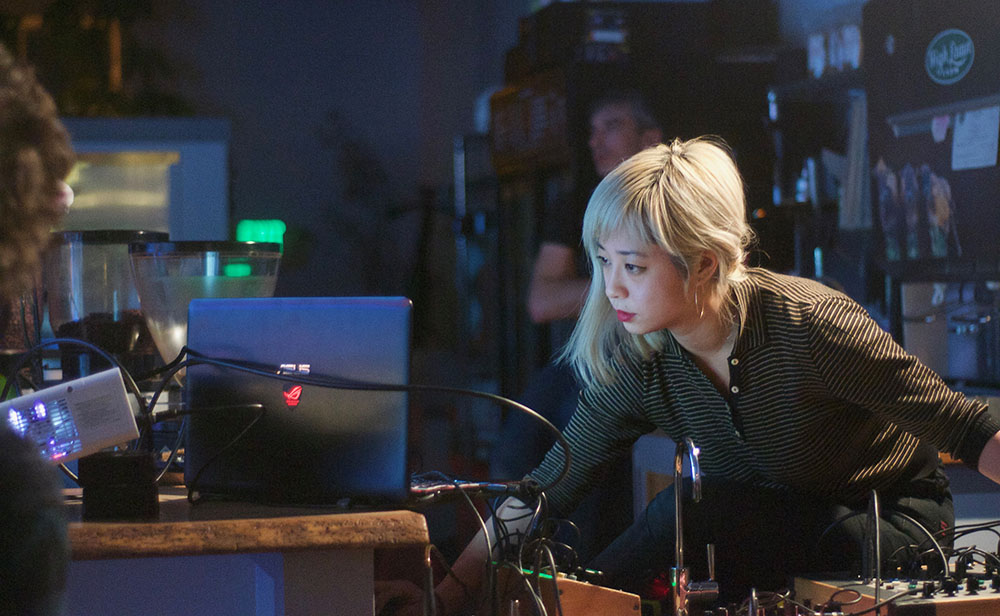 Victoria Shen
Victoria Shen is a visual artist and musician hailing from San Francisco and working out of New England. Shen's sound practice is concerned with the spatiality/physicality of sound and its relationship to the human body. Shen's music floods its location acting as a form of sculpture. Her music features analog modular synthesizers (Flower Electronics), contact microphones, and other hand-built electronics. These instruments are designed to electronically reproduce chaotic systems, systems which are highly sensitive to small changes in their initial parameters. The resulting music eschews conventions in harmony and rhythm in favor of the extreme textures and gestural tones. Shen's live video performances produces visual palimpsests and digital residues. Shen achieves this by using software she has authored in order to generate visuals combining real-time video with found footage thematically linked by sexuality, violence, and art history through a process of exaggeration/effacement. Shen has performed solo across North America, Western Europe, and Japan as Victoria Shen and under the pseudonym Evicshen as well as with the duo TRIM in North America and the UK. She has also been an artist in residence at Elektronmusikstudion EMS Stockholm, Sweden and WORM Rotterdam Netherlands.
Anastasia Clarke. Photo: Verónica Puche.
Anastasia Clarke will demonstrate a dance theater piece, Self/Work:
Self/Work is an embodied electronic music performance that invites flirtation with the risk of failure through interaction with an unpredictable hybrid instrument-controller. Set in a dystopian retreat center, performers cast as 'healer' and 'patient' archetypes address copper 'cracklepads' which are spread around the performance space, and connected to an analog circuit running into Max/MSP. The function of the circuit vacillates between sounding instrument and electronic controller throughout the duration of the performance, obfuscating each performers' sense of agency in relationship to the instrument-controller as the piece's sound design unfolds.
Clarke is a composer, performer, and sound engineer focusing on live embodied electronic music performance. Solo and collaborative projects serve as sites for research and meaning-making. Anastasia's sound works have been premiered at MoMA PS1, The Film Society of Lincoln Center, HERE Arts, Triskelion, and Incubator Arts Project. Anastasia studied Electronic Music and Recording Media at Mills College. Anastasia's projects use electronic hardware and software to forge active relationships between performer, gesture, light, and sound.
https://anastasiaclarke.info vimeo.com/anastasiaclarke
https://anastasiaclarke.info/Crackleboxes-2017
ABOUT THE ORGANIZERS
Ezra Teboul is an artist and researcher documenting the interplay of labor and materials in electronic sound. He's obtained a BA from Hampshire College, and a MA from Dartmouth College. He has published in the International Journal of Zizek Studies (2015), the Guide to Unconventional Computing for Music (Springer, 2017), and Making Things and Drawing Boundaries (University of Minnesota Press, 2018). He presented on various topics at the Alternative Histories of Electronic Music conference, the Reembodied Sound Symposium, the Music and the Moving Image conference, the meeting for the Society for the Social Studies of Science, and at the Colloques Lutheries Electroniques held by the Philharmonie de Paris. In 2017, he was researcher in residence at Signal Culture in Owego, NY and at Sporobole in Sherbrooke, QC.
Website: http://redthunderaudio.com | Instagram/Twitter: @RedThunderAudio
Avant.org is a distributed project space for art and research. Avant.org is represented in this program by Charles Eppley and Sam Hart. Charles Eppley is an art and music historian from Brooklyn, NY. He has a PhD in Art History & Criticism from Stony Brook University, where he studied the history of sound in modern and contemporary art. Charles is Curator and Managing Editor at AVANT.org and his writings appear in Art in America, Rhizome, and Brooklyn Rail. Charles teaches courses in art history, music, and media studies at NYU, Fordham University, The New School, and Pratt Institute. Sam Hart is a scientist, publisher, and artist from New York. As a bioinformatician at the Sloan Kettering Institute, Sam works across cancer genomics and cellular engineering. He is Founder and the Editor-in-Chief of Avant.org, and curator of the online technical catalog, Research Tactics.
Website: http://www.avant.org | Instagram/Twitter: @avantdotorg @hxrts
@charleseppley
School for Poetic Computation is an artist run school in New York that was founded in 2013. A small group of students and faculty work closely to explore the intersections of code, design, hardware and theory — focusing especially on artistic intervention. It's a hybrid of a school, residency and research group. Our motto is: more poetry, less demo.
Website: http://sfpc.io | Instagram/Twitter: @sfpc
Date and time
Location
School for Poetic Computation
155 Bank Street
New York, NY 10014