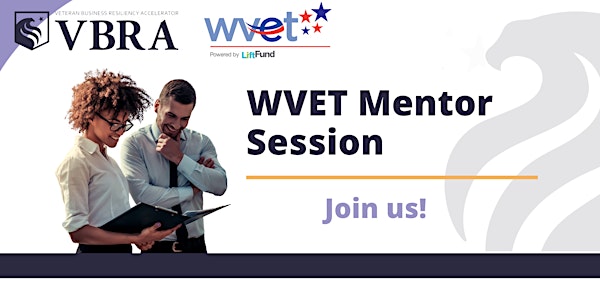 WVET Mentor Session
Mentor Session as part of the Veteran Business Resiliency Accelerator Program (VBRAP)
Date and time
Thursday, April 13 · 9:30 - 10:30am PDT
About this event
ABOUT THE VBRA PROGRAM
The VBRA Program kicks off in 2023 for the second year. Participants will receive wraparound support from lending advisors, individual business coaches, and a collaborative local peer network to accelerate profitability.
With generous funding from LiftFund's WVETP and United Way of Tarrant County Mission United for Tarrant County Veterans, we are able to offer the VBRA Program to veterans at no cost for participation!
Another benefit of the program is the evidence-based curriculum designed entirely for veterans, which is a unique concept in the world of entrepreneurship. Additionally, we connect veteran entrepreneurs with a community of peer business veterans.
We hope you will consider attending this VBRA Program Information Session to find out more about our track record of success helping veterans with launching, protecting, measuring, growing, and funding their businesses.The Women Veterans Entrepreneurship Training Program is a program of LiftFund, funded in part through a Cooperative Agreement with the U.S. Small Business Administration .
About the organizer
LiftFund is one of the nation's largest non-profit community small and micro business lender. Our mission is to provide credit and services to small businesses who do not have access to loans from traditional sources.