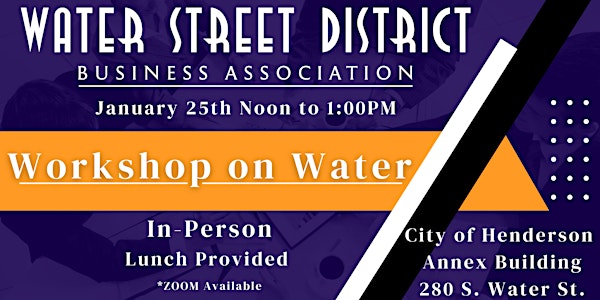 WSDBA January Workshop
Turning Liabilities into an Asset
When and where
Location
City of Henderson Annex 280 South Water Street Henderson, NV 89015
About this event
Henderson, NV. – The Water Street District Business Association (WSDBA) announces its monthly business networking and lunchtime learning event. Wednesday Workshop on Water will take place on Wednesday, January 25th from 12 to 1:00 p.m.
This event will be in-person with virtual attendance available. Lunch will be provided to in-person attendees.
This event will be held at The City of Henderson Annex building located at 280 S. Water Street. For those wishing to attend virtually, ZOOM Meeting details will be provided. After Registration, you will receive a confirmation email from Eventbrite. Scroll to the bottom of the email for the ZOOM Meeting Details. Please select either the Virtual or In-Person Ticket option so we may have an accurate headcount for lunch.
Space is limited so please register promptly to secure your ticket.
Sponsored by the City of Henderson Redevelopment Agency and the Water Street District Business Association, the workshop will be led by Bernard Barchie, founder of BBig Financial
Turning Liabilities into an Asset
BBig (Be Big) by RECAPTURING WEALTH. "Here at BBig Financial Solutions we help all your goals and dreams Be Big"
Financial Literacy: Focusing on immensely powerful wealth building and recession proof strategies that's used by banks, corporations and the upper 5% allowing us to turn liabilities into an asset by RECAPTURING wealth.
The importance for business owners and entrepreneurs to learn these strategies is not to lose our hard earn money to expenses, inflation, taxes, fees, and interest. This will allow us to RECAPTURE all the money that we have lost toward those wealth killers, at the same time building our wealth and enable us to leave a legacy to our loved ones just by changing on step in the money process.
About Bernard Barchie
• Holds a Business Management Degree in accounting from Duquesne University in Pittsburgh PA
• Certified Pastry Chef from the Johnson and Wales University in Providence, RI and has a Certified Culinary Degree from the Pennsylvania Institute of Culinary Arts in Pittsburgh Pennsylvania.
• 4 years in the Financial Industry as a financial literacy educator teaching wealth building strategies used by banks, corporation and the now, upper 5%.
• 2-years mentorship and training on the IBC with an IBC practitioner and graduate from the Nelson Nash Institute
• Owner and CEO of BBig Financial Solutions LLC in Henderson NV
• Holds a NV residency Life License and Licensed in 13 other states and can-do business in all 50-states along with educating foreign nationals on these strategies.
• Established BBig Financial Solutions, LLC on February 27, 2020, and built BBig's net worth from $50,000 in 2020 to over $2.5 million year to date and growing.
• If I can do this so, can you!
PLEASE CLICK HERE FOR DIGITAL MATERIALS INCLUDING BBIG PUBLICATIONS
This event is free for WSDBA Members and non-members alike. Registration for members is open now. Non members may register 7 days before the event.
Look for an email from Eventbrite after you sign up with confirmation and ZOOM Meeting information for those attending virtually. .