Online therapeutic writing workshop by Stronger Than My Struggles
About this event
PLEASE NOTE THAT WE ARE ON RESTRICTED GATHERING ORDERS AND HAVE MOVED ONLINE NOW
EVENTBRITE WON'T LET ME CHANGE THE TIME BUT WE NOW MEET FROM 3-6 P.M. VIA ZOOM AT
Writing has always been a way of release for me. Once I was diagnosed with PTSD, depression, anxiety disorder and other emotional instabilities, writing became my life. I have kept a journal for over 20 years, I started writing poetry around the same time, these writings have helped me grow and given me the opportunity to evaluate where I was at different points of my life.
Throughout the years, I have always looked to connect with others like myself, who suffered trauma or abuse, battled depression or mental illness, and needed a place to relax and relate. I found many local writing workshops but nothing was a good fit, creative writers mixed with those who just wanted to write, professionals with amateurs, people's work being critiqued until they were uncomfortable sharing.
My second book, a book of poems titled, Writing For My Sanity: Emotions Purged By the Pen, which gave me the inspiration to create this workshop in July 2017. For over three years, I've met weekly with members of the Baltimore community to help them process their trauma and emotional was always told, if you can't find what you seek, create it, so I did.
The Writing for My Sanity workshop is my way to give back to the community that raised me and the craft that saved Me, writing. As a Life Transition Coach for survivors, I cherish this opportunity to work with those weekly whom possibly couldn't afford coaching services. Join us!
Follow Stronger Than My Struggles on Facebook
Follow Stronger Than My Struggles on Instagram
Join the private Stronger Than My Struggles Facebook group
Check out the Stronger Than My Struggles website
Sign up for email updates 
Though this workshop is 100% FREE, donations are welcome.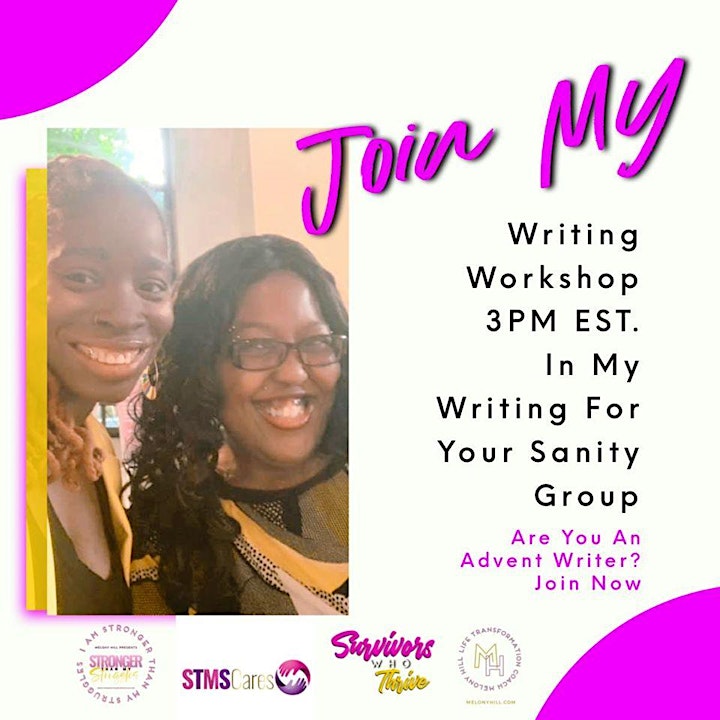 Organizer of Writing For My Sanity, Therapeutic Writing and Meditation Workshop
Melony Hill is the definition of woman in control of her life and career. Constantly counted out by society due to emotional instabilities and a traumatic upbringing stemming domestic violence, sexual assault and childhood abuse, Melony has reclaimed her life and inspires others to do the same.
In 2010, Melony was diagnosed with a slew of emotional illnesses such as depression, anxiety disorder, PTSD, and dissociative identity disorder. To add to her daily struggles, Melony also was diagnosed with chronic pain from Fibromyalgia.
Never one to let an obstacle deter her from her goals, Melony has thrived, despite her mental, physical and emotional limitations. A full-time entrepreneur since 2007, after multiple career paths, she found he true calling as a Curator of Safe Spaces to have hard conversations. Over the last two years, Melony has self-published 8 books, spoken at colleges and universities, became a Life Transition Coach and launched Stronger Than My Struggles to connect other survivors like herself.
Stronger Than My Struggles, was created to heal through the written and spoken word, offering resources, support and services to survivors from all walks of life. Coach Melony hosts a series of workshops in the Baltimore area including a free weekly therapeutic writing workshop, Writing for My Sanity, which she named after her book of poetry.
 In May 2019, Melony made history as she launched the first ever Black Mental Health Awareness Tour, Crazy Like a Fox: Black Mental Health Matters.
 Melony looks forward to helping you achieve your dreams as well. She is stronger than her struggles and wants you to know you are too.