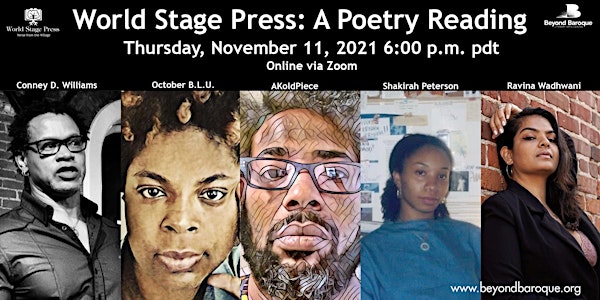 World Stage Press Reading
Join us virtually on Nov. 11th for an evening of poetry with authors of the World Stage Press.
About this event
World Stage Press is celebrating new book releases! These include Conney D. Williams' latest poetry collection, The Distance of Observation, and a debut poetry book (Yellow) by spoken-word poet Ravina Wadhwani. Both books were released in 2021. They will be joined by more amazing poets and writers of the World Stage Press family, including October B.L.U., Shakirah Peterson, and AKoldPiece.
About the Authors:
RAVINA WADHWANI is a Los Angeles-based spoken word poet, educator & therapist who made her way to the West Coast by way of the East Coast. Ravina was born and raised in the U.S. Virgin Islands and embraces her South Asian roots and multicultural upbringing. YELLOW is her first collection of published poetry and prose published by World Stage Press in 2021. RAVINA is a first-generation daughter of immigrants & uses writing as a tool for understanding identity, processing trauma, moving through experiences of struggle, empowerment, growth, joy, and healing. She has performed poetry from the East Coast to the West as well as overseas.
CONNEY D. WILLIAMS is a poet, actor, community activist, and performance artist with three collections of poetry, The Distance of Observation (2021), Leaves of Spilled Spirit from an Untamed Poet (2002), and Blues Red Soul Falsetto (2012). In 2015, he released two critically acclaimed cds of his poetry accompanied by music titled: River&Moan and Unsettled Water. He is the former Artistic Director at the World Stage and Coordinator for the Anansi Writers Workshop; he's also the cofounder of The World Stage Press. His poems have also been published in various anthologies & journals including Dryland Review, Voices from Leimert, Cultural Weekly, Drumming Between Us, Askew Poetry Journal, Wide Awake Anthology, and Poets & Allies Anthology. He has performed his poetry on television, radio, universities & colleges, and various venues across the U.S.
My name is October B.L.U. (Breathing Life into the Universe). I have been writing for over 16 years but spent many of those years as a self-proclaimed "closet poet". It wasn't until finding my inner strength (believing that what I had to say people actually wanted to hear) over two years ago after attending various writing workshops including Still Waters Writers Workshop and Annasi Writers Workshop. Since then, I have participated in numerous open mic's including Thursday Night Vibes (Inside of Blessed Vibrations), Griot Cafe inside of (Shades of Afrika), and Speakeasy inside of (The Last Bookstore), and many other open mics throughout Los Angeles. I recently placed 2nd in the Size it Up Slam competition and was featured at Still Waters. A published poet in the book 'Sounds From the Waters'. I would describe my writing style as emotionally driving. I do not take this gift lightly and truly believe that the space where words are shared can breathe life or suffocate existence... I chose life.
SHAKIRA PATERSON is an MFA Candidate in Creative Writing at Louisiana State University where she served as the editorial assistant of The Southern Review. Her work has been supported by Clarion West, the Hurston/Wright Foundation and VONA. Her first book of poetry and polaroids, The Letting of a Little Water was published in January 2019 by World Stage Press. Born and raised in South Central Los Angeles, she now breathes in Baton Rouge with her cat, Fable.
AKOLDPIECE is a Father, Educator, Writer, Poet, Spokenword Artist & Host. He is a graduate of UCLA with a B.A. in History. Growing up, AKP stuttered tremendously and was uncomfortable communicating because of it. This caught the attention of his father who told him "to write down what he wanted to say" because when he was reading, his father noticed he did not stutter. At that moment, AKP became a writer. AKP began studying the dictionary and reading every book he could get his hands on. Yet, it wasn't until his dad transitioned that he wrote his first poem entitled "A 12 Page Suicide Letter" in which he dealt with the unexpected passing of his beloved father. Since then, AKP has written a wealth of poems, short stories and Haiku. He is also a published author of the recently released book called The Weather Report. A book of haiku and what he calls myku. He has also become a well-respected host for his ability to weave his friendly demeanor and humor into his stage time.
About World Stage Press:
World Stage Press is a publishing house in Leimert Park dedicated to the creation and proliferation of African-American Literature. The World Stage Press' dedication to the community it serves runs deep. It began as a small publishing arm to literary workshops at the historical World Stage Performance Gallery, founded by icons Kamau Daaood and Billy Higgins. World Stage Press continues to pay homage to its history and roots by identifying, supporting, and promoting creatives within the community by providing resources and a platform for community-based literature. The Press does so through education (Community Literature Initiative), publication (World Stage Press), and preservation (The Sims Library).