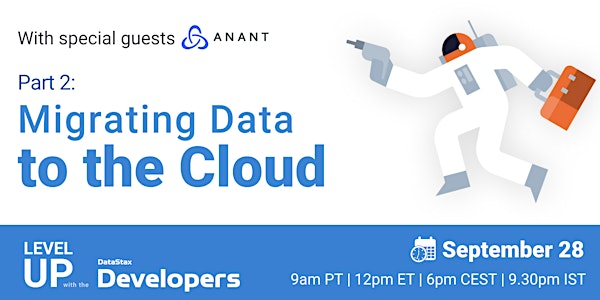 Workshop: Migrating Data to the Cloud!
Join the DataStax Developers and our friends Anant for this brand new session!
About this event
We are excited to welcome Anant to this brand new, 3 part workshop series!
--
So you've made the decision to move to AstraDB, how do you get your data there without impacting your operations?
We'll cover a few data migration patterns followed up with the pros and cons of a few different tools you can use to move your data.
Session details:
Learn about different migration patterns for a no downtime migration.
Learn about the common tools for ETL/ongoing migration to the cloud
Learn about why Airflow is a quintessential tool for all data practitioners
--
Bonus: We'll talk a little about how Airflow can help you manage your data operations while migrating and after.
--
Don't forget to sign up for Part 1 + 3!
Part 1: Designing & Planning a Cloud Migration!
Part 3: True Cloud Transformation
Why Attend
If you attend live you will get the chance to win some of our special Cassandra Community Swag. We will also offer you the choice of either:
1) a voucher that entitles you to take the DataStax certification for Apache Cassandra™ exam for FREE! OR 2) $300 credit to use on AstraDB - our cloud-native database-as-a-service.
* In order to claim one of the giveaways, you will need to attend live. You cannot receive both giveaways. *
--
Preparation