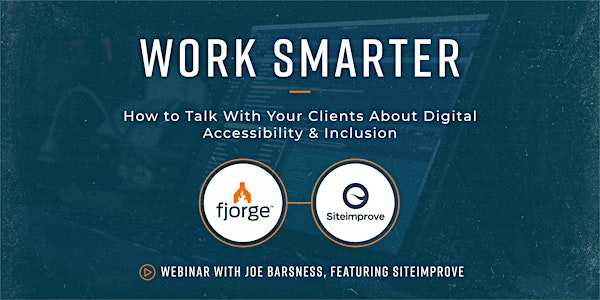 Work Smarter: How to Talk To Clients About Digital Accessibility/Inclusion
Join fjorge + Siteimprove to hear from digital leaders on how to speak with your clients about accessibility best practices.
About this event
Join fjorge for an afternoon of accessibility! Hear from digital leaders on how to speak with your clients about accessibility best practices and why this is important and space through best practices. We will also examine accessibility from a business perspective to paint a clearer picture of why it is important to have a digital space that is inclusive to everyone.
Why You Should Come Along:
Create a mindful digital team: With 1 billion people worldwide having a disability, having an accessible digital space is simply the right thing to do. Bring your team along to learn how to shift your efforts forward and how you can align your team to be mindful of accessibility.
Understand how accessibility helps businesses: Does accessibility actually help my clients or is it just a buzzword? We will examine a variety of business cases and delve deeper into how accessibility directly impacts businesses in the digital landscape.
Understand the road to accessibility: Where do I tell my clients to start? What is the best way to audit their site? We will provide key insights into having an accessible digital space and hopefully inspire you with some actionable recommendations to get the ball rolling with your clients.
Learn from our technology team: Our team at fjorge has been building accessible sites, mobile apps, and web applications for half a decade. In addition to providing you with best practices, we will also touch on the experience with automated and manual testing, as well as what to expect from a QA process. For those of you who are more technical and want to jump into it, we will have a developer to answer any questions during our Q&A session, or for non-technical folks, provide additional clarity if needed on topics we've covered. Our team will make sure you walk away feeling confident about talking accessibility with your clients.
Featuring:
Joe Barsness - Director of Business Development at Fjorge
Kevin Rydberg- Senior Digital Accessibility Consultant at Siteimprove
Who Should Attend:
Digital Managers, Communication Managers or Coordinators, Executive Directors, Web Designers or Developers, Content Creators, and anyone who plays a role in your organization's digital presence.
Cost: Free!
*We will also be holding a panelist Q&A at the end to answer any questions you may have regarding accessibility & inclusivity.