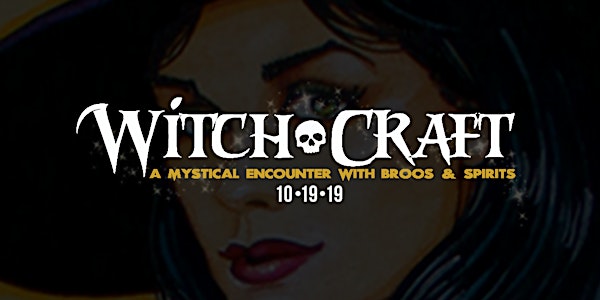 Witch-Craft
"A mystical encounter with broos and spirits"
When and where
Location
Lake Lenape Park East 753 Park Road Hamilton Township, NJ 08330
About this event
From the producers of the beloved Atlantic City Beer and Music Festival comes a new, fun,Fall festivity that will have you in a hex. Lake Lenape Park will be transformed into a mysterious wooded village of local partners serving up zesty stews and seasonal brews so magical it must be Witch Craft.
This experience is unlike any other beer festival, autumn activity or spook show.Imagine a one-of-a-kind Halloween-lifestyle extravaganza co-hosted by the original monster movie characters!Tents will be decked to the nines in mysterious haunt or corny charm, with approximately 50 brewmasters and distillery wizards pouring their classics, as well as some seasonal debuts.Guests will stroll along an enchanted path throughout Lake Lenape Park East while sampling all of the magical liquid being poured. At the end of the night, it will be up to the attendees to decide which tent should be awarded"best dressed"with bragging rights until next year.
Inside the grounds, professional pumpkin carvers will perform shapeshifting before your eyes and guide personal carvings that can later be taken home. Using the libations from participating partners, local mixologists will be under our demo tent concocting potions that could raise spirits from the dead.Beverages can be enjoyed on the beach around a skyscraping bonfire, or under the DJ pavilion where a bewitched scene of people will be found dancing to their own beat; a sure sign of some Silent Disco!Also included in the mix will be a live Séance, fortune telling, cider donut nodding, horror makeup seminars and more!This October, the opportunity to experience a whole new world of fright and fun is just off the beaten path in Mays Landing. Whether relaxing by the fire, sampling new brews, mixing with distillers, carving pumpkins, dancing to silence, or sharing scrumptious eats, attendees will find themselves immersed in all that Witch Craft has to offer!
The entry fee for the 2019 Witch Craft is $45 per person (must be 21+). Parking will be available for $5 per car both on-site as well as at designated off-site shuttle locations. For more information, check out www.witchcraftnj.com or contact Jon Henderson 609.385.0716 or at Jon@goodtimetricycle.com.
Keep up-to-date on programming and announcements by following us at:
Facebook: www.facebook.com/witchcraftnj