Description
Wine with Writers - Meet & Greet and Panel Discussion
featuring women's fiction authors:
Nia Forrester

Tia Kelly

Lily Java

Jacinta Howard
Moderated by Ashley M. Coleman of Write Laugh Dream and author of Love on Purpose.
Romance, Realism & Portrayal of African American Women in Popular Fiction
Join us at Towne Book Center Wine Bar & Cafe, the first and only book store in Pennsylvania to serve wine to patrons. Event admission is free and open to the public.
On: Saturday, March 25, 2017, 5:00 - 7:00 PM
Discussion on Romance, Realism & Portrayal of African American Women in Popular Fiction with scheduled authors. Q&A Session and author signing to follow discussion.**
At: Towne Book Center Wine Bar & Cafe, Collegeville, PA
Admission to discussion and signing is free. Light refreshments will be served. Wine available for purchase. Don't wait till the last minute to RSVP because space is limited.
**Copies of featured authors' books will be available for sale.
---
---
You're also invited to join us before the event at a special wine tasting and meet & greet. Between 4:00 - 5:00 PM, sample wine and mingle with our featured authors.

Wine tasting tickets are $15.00 per person (must be 21 years or older), which includes the sampling of five preselected wines, hors d'oeuvres and gift bag.
Only a limited quantity of tickets for the Wine Tasting and Meet & Greet are available (select the add-on option with your RSVP to purchase).
---
---
Nia Forrester is the author of The Fall and Young, Rich and Black.
About The Fall
In the summer of her fifteenth year as a professor at Gilchrist College, Lorna Terry is at a crossroads and, she fears, also on the downswing of her career as the "sole remaining radical feminist in academia." Having built her life on a theory of non-attachment, she is disturbed to find herself becoming very much attached to the somewhat younger, Malcolm T. Mitchell. A writer-on-the rise, and her college's newest wunderkind, Malcolm is about to challenge everything she thought she ever knew about her life, her loves, and her work.

But her growing feelings for Malcolm may well be the least of Lorna's worries. For some in her academic community, she has risen too far, and too fast. And for others, she is much too smug in her accomplishments, enjoys adulation she doesn't deserve, and is much too proud. And you know what they say about pride…

It cometh before the fall.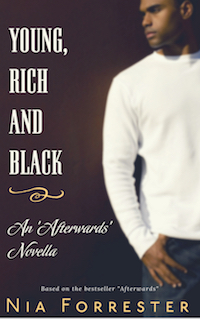 About Young, Rich and Black
When Chris "Deuce" Scaife, Jr. and the campus revolutionary, Zora Diallo have an unexpected and powerful encounter just before winter break, no one could have been more surprised than they were. While they're home for the holiday, what started as a temporary fling continues and strengthens. But will their new bond survive their return to campus?
Back at school, Deuce's reputation as a wealthy and directionless player, and Zora's as a young-woman-to-watch mean that their friends, priorities and maybe even their values might be sharply at odds. Can the power of their newfound passion for each other withstand their differences? Zora is looking to change the world, but Deuce is just enjoying being young, rich and Black. And ultimately, maybe the pull of their divergent paths will be stronger than the pull toward each other...
---
Tia Kelly is the author of The Love Sessions and Love Is.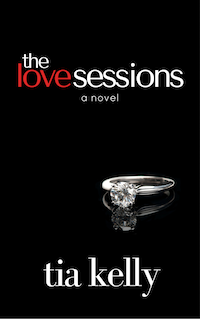 About The Love Sessions
Four couples discover the hard way that wedding vows are meant to be more than just words.
After a whirlwind courtship, Eric West and Shelby Bryan elope. When their love loses its shine, the toll it takes on their marriage leads them down a detrimental path.
Secrets brought Terrence Baker and Alexis Norwood together and now secrets threaten to tear them apart.
Donovan Sinclair adores his wife Mya and lives to make her happy. Until one day, the one marital vow they never imagined experiencing ends it all – death.
Keri Waters arrives to the Poconos ready to pick a wedding date with her fiancé, but when she meets Nathan Garrett, she learns how it really feels to have a man love, honor and cherish her.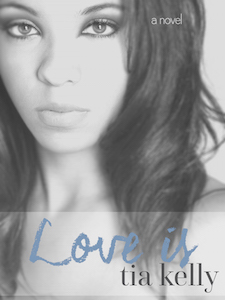 About Love Is
It took a once-in-a-lifetime bond to teach her what love is, and a once-in-a-lifetime betrayal to show her what love is not… Love Is. A different kind of love story.
Diane Collins had big plans for her life, and hoops star Warren Scott was not among them. He doesn't want to be the face of the NBA, and she doesn't care that he is. His reluctance to be part of the limelight disarms her and the two embark on an unlikely friendship that becomes an even unlikelier romance.
Soon, his life is her life - filled with VIP treatment, parties and luxuries beyond Diane's wildest imagination. But Warren is harboring a secret, and once it's revealed Diane's decision to stay or go could change the very fabric of who she thought she was.
---
Lily Java is the author of Blackbirds and Sticky Moon.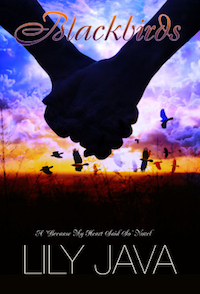 About Blackbirds
Once upon a time Sydney Tarr and Elliott Vance were friends: fast friends, ride or die, pledge of allegiance, take it to the mat, "friends". And the fact that Sydney loved her friend more than she should didn't matter until finally... one unusual and spectacular night, it did. It mattered very much. Still, not every story is a fairy tale is it? Friends do part -- sometimes forever -- but, not always. When Sydney bumps into Elliott again on a crowded subway car, after so many years apart, she's a different person from the woman he once knew. Elliott's changed too. For one thing, he no longer takes no for an answer.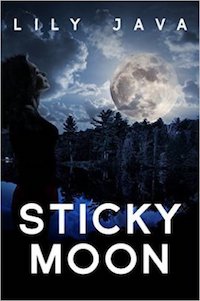 About Sticky Moon
Someone very close to Myra Lambert has been brutally murdered. It's commonly believed that her longtime stalker is the person responsible. Troubled ex-cop Glenn Sparrow was hired to play bodyguard for the vulnerable real estate heiress, while his best friend NYC Homicide Detective Lt. Max Harper solves the case.

After a foiled abduction, Glenn and Myra retreat to the Catskills and the Lambert family farm, where they hope she'll be safer and harder to find. In this remote, secluded refuge time seems to stop for Myra and Glenn, offering them an open window into each others world. What they find may be what they both have been searching for, but with a killer on the loose and Myra his possible prey, time may also run out.

Are there limits to the lasting happiness a couple under siege might find with each other?
---
Jacinta Howard is the author of Blind Expectations and Finding Kennedy.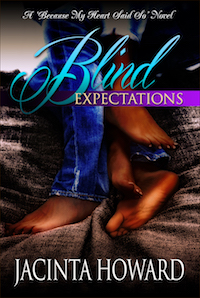 About Blind Expectations
Aristotle once said the only thing constant in life is change. Or was that Confucius? Whatever. People are fluid—they come into your life for a while, and when it's time for them to float on, Leah has no qualms waving goodbye. The only exception is her neighbor and best friend, Trevor. When all else fails in her crazy world, Trevor is always there, reliable, steady… real. But what happens when friendship blossoms into something more? Can Leah and Trevor's relationship survive the change? Or will the weight of blind expectations cause them to lose the one thing they love—each other?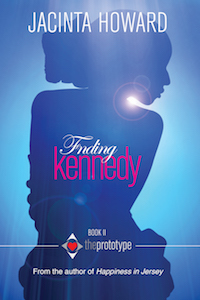 About Finding Kennedy
When Kennedy James unexpectedly shows up at her grandma's house in Tyler, Texas, no one knows what to make of her arrival—including her. The only thing Kennedy does know is that something in her life has to change, and it needs to happen right now. She's been numb for much too long.

Then she meets Travis Broussard, the perceptively cool guitarist of the indie soul band, The Prototype. The timing couldn't be worse, but their attraction is instant, magnetic, and at times overwhelming, causing Kennedy to question if it's possible to feel too much.

As Kennedy attempts to embark on a new path, she finds herself at a crossroads. But if she chooses to follow her heart, is she prepared to deal with what she might find?
---
Ashley M. Coleman is the author of Love on Purpose.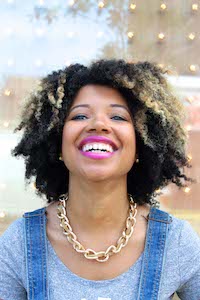 Ashley Coleman is a word lover, pen toter and love advocate based in Philadelphia, PA. A writer, author, and entrepreneur, she has released two books that explore both the simplicity and the complexity of love entitled "Dear Love: A Love Letter to You" and "Love on Purpose."

Also the publisher of writelaughdream.com, her blog encourages readers to dream bigger, love harder, and write like their lives depend on it. The blog has made way for Ashley to host events including a quarterly Dear Love Brunch and her writing workshop, The Writer's Muse in both Philadelphia and Washington, DC.
Discovering that many writers struggle with finding the value in their words, she began to expand her reach in helping other writers through one-on-one sessions and online materials including courses and e-books. She has also had the opportunity to guest lecture in the Journalism & Society class at Temple University and speak as a part of the Branded Series for Temple's Association of Black Journalists and conduct a workshop for Blogalicious 8, among other engagements.
As a freelance writer, Ashley has written for Essence.com, blkcreatives.com, GRAMMY.com, JUMP Magazine, From a Wildflower and more. An avid lover of pen and paper, Ashley also crafts and has more journals than she cares to admit.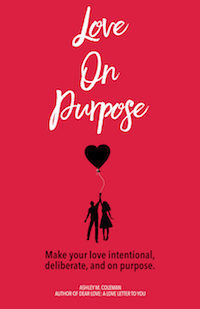 About Love on Purpose
LOVE ON PURPOSE visits the most common relationship issues and how to work through them in love; from managing unrealistic expectations to improving communication. Coleman shares honest reflections on growth, past mistakes and important lessons in love through her journey of becoming a Christian. Her accounts of learning about God's love caused a transformation in her relationships with friends, family and her significant other. In the book she also challenges readers to do their own self-assessment through "Heart Checks" at the end of each chapter. Starting with a conversation she had with her now husband, the book begins with her realization that love is indeed a choice.