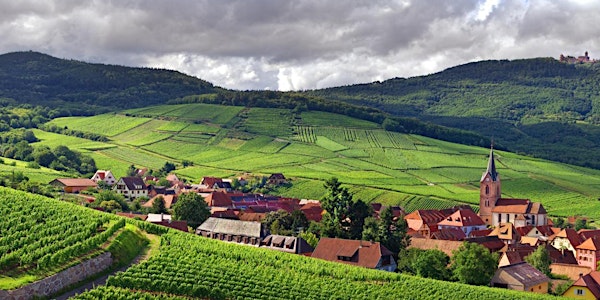 What I Did on my Summer Vacation - Alsace
Learn about some amazing wines from Alsace, one of the world's most underrated wine regions.
About this event
I will be visiting Alsace soon (along with other wine regions in France, we will explore those in the future). I am beyond excited as Alsace produces some of my favorite white wines in the world. They demonstrate a sense of place like no other wines in the world. Although the grapes used are the same as wines made in other parts of the world, when you taste a wine from Alsace you will have no doubt where they are from.
All the wines I am suggesting are produced by Trimbach. They are one of the largest, most=respected, and most widely available in the United States. I checked Total Wine in Tempe, Tucson, Michigan, and Virginia and they are currently in stock. These wines should also be widely available at other wine stores and online. If you cannot find Trimbach feel free to substitute any other wine made from the same varietal from Alsace. Do not substitute the same varietal from any other region as it will be a completely different experience.
The first wine we will be tasting will be Trimbach Riesling ($25.49 before discounts). If you are used to Chateau Ste Michelle or sweet German Riesling you are in for a bit of a shock. Riesling is the most widely planted grape in Alsace. Riesling from Alsace is not sweet,, and combines some minerality and other flavors with its fruit and bright acidity. Great food pairings are Sushi, raw and smoked fish, goat cheese, fish tacos, and oriental food with citrus flavors.
We will then enjoy Trimbach Pinot Gris Reserve ($25.99 before discounts). Pinot Gris is synonymous with Pinot Grigio but you will never confuse any Alsace Pinot Grigio with Santa Margherita from Italy. You won't find the complex flavors and minerality in the more fruit-forward Pinot Grigios from Italy. If you want to pair some food, try chicken or veal with mushroom sauce, scallops, and noodle dishes.
Finally, we will taste Gewurztraminer one of the most underestimated and misunderstood wines in the world. Trimbach Gewurztraminer ($25.99 before discounts) is a cocktail of Lychee and other fruit flavors along with characteristic Alsace minerality. Food pairings include Chinese food, shrimp and other shellfish, and Munster cheese.
The ideal serving temperature for these wines is 45 degrees, and you should use standard white wine glasses.
Email gasperthewineguy@gmail.com if you have any questions.