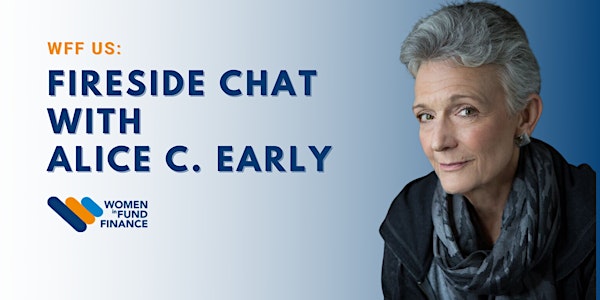 WFF US: Fireside Chat with Alice C. Early, Author
Join us for a Fireside Chat with Author, Alice C. Early moderated by Nancy Lashine, Founder & Managing Partner of Park Madison Partners.
By Women In Fund Finance, part of the Fund Finance Association
Date and time
Tuesday, April 13, 2021 · 11am - 12pm EDT
Location
Virtual Call EST New York, 10018
About this event
About Alice C. Early
After senior roles in academia, commercial real estate, and international executive recruiting, then 20+ years as a career-transition coach, I returned to my first love—writing fiction. The Moon Always Rising is my debut novel. Throughout my 50-year business career, I have sought or stumbled into many "first woman to…" positions. I saw my leadership roles in women's professional organizations as a chance to model what is possible and help younger women survive and thrive. A believer in second chances, I tend to explore themes of redemption and reinvention in my fiction. Learn more about Alice at www.aliceearly.com.
About The Moon Always Rising
In The Moon Always Rising, Eleanor "Els" Gordon, a young Scottish investment banker, restarts her life in the tropics after tragic losses and gains the courage to open herself to love again. Having become obsessed to own a derelict plantation house on the Caribbean island of Nevis, Els sinks her savings into renovating it only to discover she's cohabiting with the ghost (jumbie) of the former owner, legendary drunkard, womanizer, and rumored suicide, Jack Griggs. Jack's jumbie can't leave this world without Els's help in making amends with women he wronged in life. Els can't remake her life in this world unless she heeds the jumbie's prodding to unravel family secrets about the mother who abandoned her as a toddler. When she lures her mother to Nevis, sparks fly (literally).
With a spicy stew of ethnically diverse characters and an immersive setting, The Moon Always Rising offers readers a page-turning mini-vacation to the tropics. At the same time, it tackles discussion-worthy topics including mother-daughter relationships, trusting new love after trauma, the repercussions of impulsive decisions, workplace sexual harassment in the pre-#MeToo era, the social and economic legacy of colonialism. My husband and I have visited Nevis, where much of this novel is set, annually since 1996; the rest of the year we live on the island of Martha's Vineyard.
The Moon Always Rising is the Winner, Women's Fiction, 2020 National Indie Excellence Awards and the Winner, Cross-Genre Fiction, 2020 American Fiction Awards. It has just been named a Finalist for General Fiction in the 2021 Independent Book Publisher's Ben Franklin Awards and was a Finalist in three categories in the 2020 Next Generation Indie Book Awards.
About Nancy Lashine
Nancy Lashine is the Founder and Managing Partner of Park Madison Partners, a boutique real asset private equity placement firm. Since its formation in 2006, Park Madison has raised over $17 billion in equity from institutional investors for investment strategies in the US, Europe, Asia, and Latin America. The firm is a leading advisor to investment management firms on their business strategy. Park Madison is headquartered in New York City and is a FINRA regulated broker dealer.
Ms. Lashine has over 35 years of real estate and investment marketing experience. Prior to forming Park Madison Partners, Ms. Lashine was a strategic consultant advising leading institutional real estate investment managers on product development and the implementation of institutional marketing initiatives. Clients included Lehman Brothers, Angelo Gordon, ING Clarion, Sentinel Real Estate and JER Partners.
Ms. Lashine was an early member of The O'Connor Group (1985-1995) and began her finance career at LF Rothschild, Unterberg and Towbin (1981-1985).
Ms. Lashine earned her MBA at Columbia University Graduate School of Business, and a BFA, cum laude, from Case Western Reserve in Dance Theatre. She serves on several Boards including The Davis Companies, the Columbia MBA Real Estate Advisory Board, the Gibney Dance Center Board, and is a past board member of the Pension Real Estate Association. She is a member of ULI and WX (Executive Women in Real Estate). She holds the Series 7, 63, 24, 79 securities licenses.
Event Information
Date: Tuesday, April 8, 2021
Time: 11:00 am- 12:00 pm EDT 
Location: Virtual (Zoom)
About the organizer
Women in Fund Finance is focused on the increased engagement, recognition and promotion of women leaders within the alternative investment fund finance industry. 
Founded and supported by the industry association, the Fund Finance Association, our goal is to help women succeed through global connections, education and professional advocacy. 
Through networking and special events, Women in Fund Finance provides women in fund finance the opportunity to share accomplishments, experiences and advice.