Description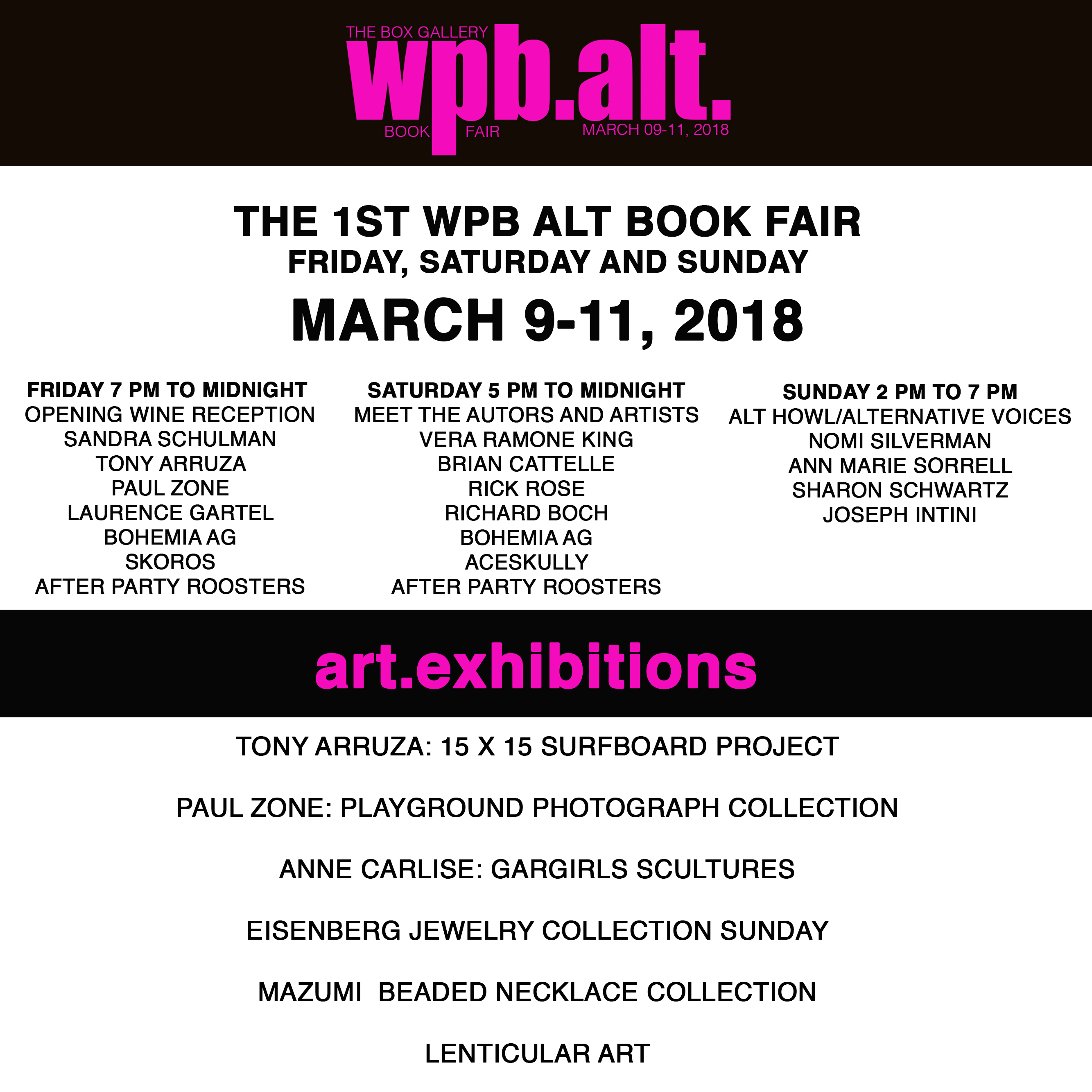 The Box Gallery initiates the first national alternative book fair in West Palm Beach. From coast to coast artists, authors, photographers, and cultural icons of the punk and queer culture come to celebrate the visions of the past and share their visions for the future. From uptown to downtown, high brow to low brow, there will be a series of talks lectures, and presentations that span almost a half of century of documentation beginning from the early 70's to present.
This event is co-organized Rolando Chang Barrero and Sandra Schulman.
Book release of "The Mudd Club" and signing
by visiting guest author Richard Boch. (NY)
"I was a Long Island kid that graduated college in 1976 and moved to Greenwich Village. Two years later, I was working The Mudd Club door. Standing outside, staring at the crowd, it was "out there" versus "in here" and I was on the inside. The Mudd Club was filled with the famous and soon- to- be famous, along with an eclectic core of Mudd regulars who gave the place its identity. Everyone from Jean-Michel Basquiat, Jeff Koons, and Robert Rauschenberg to Johnny Rotten, The Hell's Angels, and John Belushi: passing through, passing out, and some, passing on. Marianne Faithful and Talking Heads, Frank Zappa, William Burroughs, and even Kenneth Anger― just a few of the names that stepped on stage. No Wave and Post- Punk artists, musicians, filmmakers, and writers living in a nighttime world on the cusp of two decades. This book is a cornucopia of memories and images, and how this famed wicked downtown club attained the status of midtown and uptown. There was nothing else like it― I met everyone, and the job quickly defined me. I thought I could handle it, and for a while, I did. "―Richard Boch
Book signing "Playground: Growing Up in the New York Underground",
by visiting artist/photographer/musician
Paul Zone
(CA)
"Nestled in the pages of Playground: Growing Up in the New York Underground are intoxicating snapshots of an oddball beginning. Photographer/musician Paul Zone, with the help of Jake Austen, has documented the birth of an influential era; names and faces that have become the building blocks of glam-punk and a whole new wave of rock. Eager and excited in their awkward uncertainty, the photos feel a bit like the bottom of a cab floor--boozed and chalky. But how else would you want to see the birth of punk and glam rock? Coupled with, well - for lack of a better term, a kick-ass design, publisher Glitterati Incorporated has cultivated a perfect platform for Zone's images and the story of these iconic rockers' starts." -Efrem Zelony-Mindell
http://acurator.com/blog/2015/11/playground-growing-up-in-the-new-york-underground-by-paul-zone.html
Signed copies "Poisoned Heart: I Married Dee Dee Ramone (The Ramones Years)" by visiting guest Vera Ramone King
"Often regarded as the first punk-rock group ever, named one of Rolling Stone magazine's Top 50 Bands of All Time, with all members having been inducted into the Rock and Roll Hall of Fame, The Ramones are nothing if not legendary. Waking up the neighbors and setting the U.S. music scene on fire in the 1970s and through the '80s, The Ramones' story is tragic and raw, sentiments that could also describe the band's songwriter, bass player, and unsung genius, Dee Dee. A wild ride into the heart and soul of New York City, Poisoned Heart is Vera Ramones King's last testament to her former husband, who shocked the world when he died in 2002 of a drug overdose despite having been clean for years.
Dee Dee defined the punk-rock lifestyle. He was a rash, often violent heroin addict, and no one better understood his twisted mentality, or insanity, than faithful wife Vera. But Vera, herself a less destructive Nancy to Dee Dee's Sid also came to know the Dee Dee that music fans worldwide held near and dear: a generous, loving man who had a soft spot for bums, who grew up in the tough streets of Queens, who never stopped working, writing, and performing, who often treated his wife like a Punk Rock Princess, and whose greatest joy was the look on his fans' faces as he played them a song." Read interview with Vera Ramone King here:
http://www.shortandsweetnyc.com/2009/09/the-interview-vera-ramone-king/
Special presentation and book signing of Palm Beach: The Essential Guide to America's Legendary Resort Town
by Rick Rose, the dapper, bow tied clad scene maker, author, International hotelier, Worth Avenue Association Historian and Palm Beach aficionado.
Release and signing of BARE USA, a study of natural beauty in contrast with man-made decay by Brian Cattelle.
Images of nuclear power plants, haunted hospitals, cold war era missile bases, and abandoned airports elegantly infused with images of female nudes.
by photographer Tony Arruza
"One of the most beautiful odes to surfboards ever created. Each shape, each shaper, and each shaping process is lovingly detailed–even the glassers get some love, a rarity in our shaper-obsessed world. That makes
every page of 15X15 a thing of lingering beauty–a page to savor, not a page to flip. A must-own tome for every surfer."
– Nick McGregor, Editor, Eastern Surf Magazine
Book signing of The untold story of Spiritual America Gallery, the 1983 - 1984
by Sandra Schulman.
Spiritual America Gallery5 Rivington Street that first exhibited Richard Prince's Spiritual America photo as well as Jeff Koons, Cindy Sherman, Walter Robinson and more. Foreword by Walter Robinson, with rarely seen artist portraits by Peter Bellamy.
Signed copies of We Are Everywhere And We Shall Be Free: Charles Hashim's Miami 1977-1982 (Letter16 Press). Previously unseen photos taken by Hashim from the late 1970s and early 1980s, capture "The Magic City" as its old social conventions came apart at the seams. Punk rockers, drag queens, outlaw bikers, and nonconformists of every stripe make their presence known— loudly— as a once-sleepy Southern burg transforms into modern Miami. All the images are carefully transferred from the original B&W 35mm negatives.
History Is Made At Night by Godlis
40 years in the making, HISTORY IS MADE AT NIGHT contains 119 photographs in a fine art duotone monograph edition; including photographs from GODLIS' nights at CBGB's between 1976 and 1979, when Patti Smith, the Ramones, Blondie, Richard Hell, Talking Heads, and Televsion ruled New York City's Bowery.
GODLIS, shot in the style of photographers Brassai and Robert Frank, using his handheld Leica camera and Tri-X film to capture his subjects by the natural light of the Bowery outside as well as inside the club CBGB's. Analog all the way, these photographs will take you back to the grainy heydays of the New York City Punk Scene.
Special viewing of Rolando Chang Barrero's private collection of books.....
The Subversive Imagination: Artists, Society & Social Responsibility by Carol Becker.
Robert Mapplethorpe: The Photographs
The legacy of Robert Mapplethorpe (1946 –1989) is rich and complicated, triggering controversy, polarizing critics, and providing inspiration for many artists who followed him. Mapplethorpe, one of the most influential figures of his time, today stands as an example to emerging photographers who continue to experiment with the boundaries and concepts of the beautiful.
Robert Mapplethorpe: The Photographs offers a timely and rewarding examination of his oeuvre and influence. Drawing from the extraordinary collection jointly acquired in 2011 by the J. Paul Getty Museum and the Los Angeles County Museum of Art from The Robert Mapplethorpe Foundation, as well as the Mapplethorpe Archive housed at the Getty Research Institute, the authors were given the unique opportunity to explore new resources and present fresh perspectives. The result is a fascinating introduction to Mapplethorpe's career and legacy, accompanied by a rich selection of illustrations covering the remarkable range of his photographic work. All of these beautifully integrated elements contribute to what promises to become an essential point of access to Mapplethorpe's work and practice.
This publication is issued on the occasion of the exhibition Robert Mapplethorpe: The Perfect Medium on view at both the J. Paul Getty Museum and at the Los Angeles County Museum of Art from March 15 and March 20, respectively, through July 31, 2016; at the Musée des Beaux-Arts de Montréal from September 10, 2016, through January 15, 2017; and at the Art Gallery of New South Wales, Sydney, from October 28, 2017, through February 4, 2018.
Nan Goldin: The Ballad of Sexual Dependency
First published in 1986, Nan Goldin's The Ballad of Sexual Dependency is a visual diary chronicling the struggles for intimacy and understanding among the friends and lovers whom Goldin describes as her tribe. These photographs described a lifestyle that was visceral, charged and seething with a raw appetite for living, and the book soon became the swan song for an era that reached its peak in the early 1980s. Twenty-five years later, Goldin's lush color photography and candid style still demand that the viewer encounter their profound intensity head-on. As she writes: Real memory, which these pictures trigger, is an invocation of the color, smell, sound and physical presence, the density and flavor of life. Through an accurate and detailed record of Goldin's life, The Ballad of Sexual Dependency records a personal odyssey as well as a more universal understanding of the different languages men and women speak. The book's influence on photography and other aesthetic realms has continued to grow, making it a classic of contemporary photography. This anniversary edition features all-new image separations produced using state-of-the-art technologies and specially prepared reproduction files, which offer a lush, immersive experience of this touchstone monograph.
Madonna's explicit 1992 coffee-table book Sex is the most sought after out-of-print title in the US., according to BookFinder.com.
The singer's limited-edition picture book caused controversy when it was first released for its risque images and went on to be a collector's item.