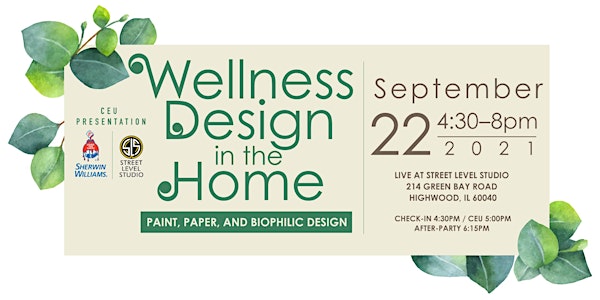 Wellness Design in the Home–Paint, Paper, and Biophilic Design
"Wellness Design in the Home–Paint, Paper, and Biophilic Design"
When and where
Location
Street Level Studio 214 Green Bay Road Highwood, IL 60040
About this event
You're Invited!
Sherwin-Williams and Beyond the Surface™ wallcoverings by Street Level Studio are pleased to present "Wellness Design in the Home–Paint, Paper, and Biophilic Design."
Sherwin-Williams will open this two-part presentation with one of its most recent continuing education courses (CEUs), "Using Color, Nature, and Coatings Technology to Create a Sense of Well-Being in the Home." A renewed emphasis on well-being is changing how people view—and even feel about—their homes. This course reviews how intrinsic color is to the discussion of emotion and wellness and explores biophilic design's power to create a sense of calm in any space. It also introduces innovative technologies that can bring homeowners peace of mind in a post-pandemic world, such as paints that contain air purifying and antimicrobial properties.
Moving from paint to paper, Street Level Studio follows up with a look at the role wallpaper can play in bringing the forms and patterns of nature into a space. Focusing on the combination of biophilic design and digital color creation, this segment will show how this skilled technique, when done correctly, can produce custom wallcoverings that beautifully connect with nature.
Don't miss this timely and informative event, open to design professionals and the public. If you cannot make the presentations, please join us at 6:15 PM for the after-party including wine and light bites. Register now to reserve your spot!
As a bonus, Sherwin-Williams will be giving away a Room Makeover Kit! When you check-in at the event your name will be entered for a chance to win. You must be present to win, so RSVP today!
Limited parking is available in the lot adjacent to Street Level Studio. On-street parking and public parking lots on Morgan Pl. (immediately west of Street Level Studio) and the Metra Train Station (two blocks north of Street Level Studio) are also options.
4:30-5:00 pm: Check-in
5:00-6:15 pm: CEU presentation
6:15 pm: After-party
Please keep in mind masks are required for all indoor events in the state of Illinois as we continue to deal with the COVID-19 pandemic. We will provide disposable masks at the door should you forget to bring one. Thank you in advance for helping in keeping our community safe!