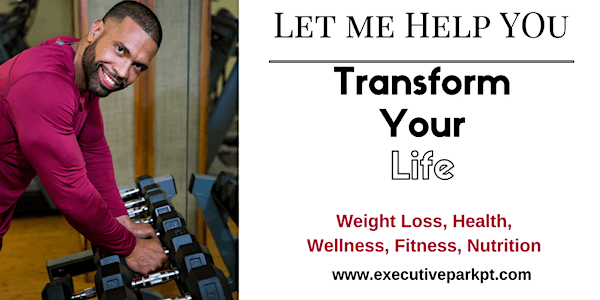 Weight Loss Transformation Program
When and where
Location
Executive Park Physical Therapy of Yonkers 1034 North Broadway #2 Yonkers, NY 10701
Refund Policy
Contact the organizer to request a refund.
Description
The program cost $199!!
SPACE IS LIMITED! ONLY 20 SLOTS AVAILABLE!
Call 914-509-4640
This challenge is for women and men who want to lose weight and gain strength quickly and safely. You will be given a proven 6-Week exercise and nutrition program under the support and supervision of a Board Certified, Doctor of Physical Therapy, Functional Movement Expert, Strength and Conditioning Specialist and Transformation Coach as well as a Certified Nutrition Expert.
This program is designed to help individuals regain their health, wellness and fitness, losing on average 8-15 pounds and 5-8% body fat in just six weeks!
Let's make 2016 the year of your body transformation!
Program Benefits and Details:
Dr. Ivan helps you remove the guesswork! His program is simple, easy and can be implemented at any time. His exercises are effective and efficient. If you follow the Transformation Program for 6 weeks, you are guaranteed to lose fat and gain strength. Your program will be customized based on your health history. The program is designed to help you increase energy, build a toned physique and take your health to the next level. Dr. Ivan will coach, empower and hold you accountable to guarantee your success. You will set small goals every week, create new healthy habits and solidify this with a new and healthy lifestyle. It's all about mindset! You must put in the work but the reward will ultimately be worth it.
What You Get:
Ø

Science-based Eating Regimen

Ø

Science-based Exercise Program

Ø

Weekly Assessment

Ø

1200+ Member Network of Support

Ø

Coaching for 6-weeks

Ø

Reduced body fat by 5-8% and/or 8 to 15 pounds lost in 6 weeks!
Program Basics:
Ø

1-Group Conference call with Dr. Ivan (start of program)

Ø

1200+ Member support network via Facebook (www.facebook.com/Groups/DrIvanPT)

Ø

Weekly Health & Fitness related newsletter via email

Ø

Weekly Pre-recorded Webinars on various topics

Ø

Dr. Ivan's preferred Exercise Guide

Ø

Dr. Ivan's Transformation Exercise Videos (sent digitally)

Ø

Grocery list and nutrition information (Paleo Based/Whole 30 Program)

Ø

Nutrition information and a unique Eating Regimen for 6 Weeks

Ø

Weekly weigh in/measurements/consultation to track progress (NY based participants must come into the Yonkers office, virtual participants track their own progress and email results).
The Transformation Program Will Help You:
Ø

Burn stubborn fat

and get lean and toned.

Ø

Have more

energy for you and your family.

Ø

Increase

confidence and improve creativity.

Ø

Sleep

better. Our program is designed to improve sleep patterns and modify behavior.

Ø

Educate yourself.

You will learn proven techniques that will enable you to finally see real results.

Ø

Create a new mindset

that will finally stick.

Ø

Reduce stress.
Enrollment Period: 9/11/16 through 10/2/2016
Start date: 10/1/2016
End date: 11/12/2016
The Cost: $199 (6 Weeks)
Type of Program: Virtual or In-Person Option
Guidelines: Participants must have a valid email address. Participants must fill out a waiver, PAR-Q form and application.