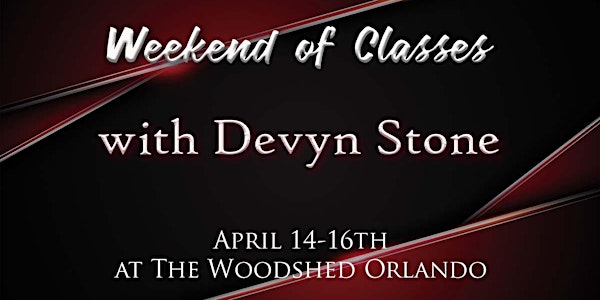 Weekend with Devyn Stone
Join us for 1 class or the whole weekend!
Date and time
April 14 · 6:30pm - April 16 · 5pm EDT
Location
The Woodshed Orlando 6431 Milner Boulevard Suite 4 Orlando, FL 32809
Refund Policy
Contact the organizer to request a refund.
Eventbrite's fee is nonrefundable.
About this event
1 day 22 hours

Mobile eTicket
Devyn Stone will be bringing us a weekend full of classes from Friday through Sunday!
Join us for one class or for the whole weekend!
$10 per class
$30 all of Saturday
$30 Sunday
If the cost of tickets is a barrier to your attendance, this link may be an option.
Friday:
6:30 – 8pm What Are You Afraid Of
Fear. Terror. Horror. These primal elements aren't just the stuff for scary movies and pumpkin spice latte season. Maybe you're easily spooked by jumpscares, or maybe you find twisted pleasure and humor in seeing others suffer while watching Fear Factor reruns. Whatever your relationship to fear is, SirHorror is here to terrorize and tantalize your brains with some spooky knowledge about fear play. Let's get down to the bare bones and have a laugh or two!
Saturday:
1:00 – 2:30pm Self-awareness in BDSM
No matter which side of the slash you fall on, what we do requires self-awareness. But what exactly does it mean to be "self-aware?" Let's take a look at a journey to self awareness and what it takes. We will discuss our personalities, how we love, why we fight and, more importantly, how we can work together. Sometimes looking in the mirror is rough but we will make this journey as accessible and comfortable as possible.
2:45 – 4:15pm Stuck on You: Understanding Attachment Dynamics
What is it really that draws us to feel attached to someone? Where does the sense of connection come from? Devyn Stone, educator and life coach, facilitates deep discussion around topics such as: what are attachment styles? how has childhood informed the formation of attachment? how do we ethically structure our dynamics with attachment styles in mind? Devyn will emphasize interdependence and codependence angles on these topics.
4:30 – 6:00pm Supportive Surrender: A Discussion
Join Devyn Stone in a frank discussion about a taboo topic: Dominant vulnerability and supportive submission. In our world of dominance and submission, we often get the message that dominants know all and handle everything with iron fists and submissives are haplessly and helplessly lost innocents. Vulnerability is often depicted as weakness and the need for emotional support is usually seen in the context of the Top supporting the bottom. In this discussion, Devyn Stone will review the concept of "supportive surrender" and how you can shape your power exchange dynamic to facilitate the vulnerability and emotional support folks on the left side of the slash need and desire. Hopefully, this discussion will give you some ideas and a place to ask a Dominant questions about emotional support from the right side of the slash.
Devyn Stone engages with his property, Guan-Xuan in a 24/7 Owner/property dynamic that is structured to support him. His property functions as an emotional support slave, service dog, and even an auxiliary prefrontal cortex. He uses his property's brain to serve his every need and whim. You will hear some of Guan-Xuan's functions, how they developed, and be permitted to ask anything you like.
6-8pm Dinner Break
8:00 – 9:30pm Not Your Mother's (Protocol) Pie
Like pie, power dynamics and relationships require a solid crust or foundation and delicious filling, and sometimes pies come with an elaborate topping. But what makes up the crust and what are good, compatible fillings? What would the topping of your relationship or dynamic pie look like? In this class we will discuss some basic terminology and theory behind practical protocols. We will even discuss how to create, sustain and enforce various protocols. Where do protocols fit in your life? Do you need them? Let's find out! (Unfortunately, edible pie isn't included in this class though you're welcome to bring your own!)
Sunday:
2 – 5pm Passing Wisdom On: A BDSM Educator Primer
By and large, education in the kink/BDSM community is unregulated. While there is no degree or certification to receive, let alone reliable resources for those who want to get started, the process of becoming an educator isn't as daunting as it first appears. Join Devyn Stone as he provides a fast-paced primer through the basics of becoming a "kink educator." With over ten years of personal experience in formal and informal contexts, Devyn coaches attendees through setting boundaries, scheduling, booking -- and, most importantly, developing your class and materials! Seasoned educators as well as the curious are encouraged to attend. This is one class you don't want to miss!
About Devyn Stone:
Devyn Stone is a self-awareness and BDSM educator, author, and alternative lifestyles coach. He believes in diversity not division, and actualizes that idea by promoting strongly affirming spaces and interactions. Devyn has a passion for giving and receiving education. He is the Founder of Pragmatically Kinking and Executive Producer for the THRIVE conference. Devyn's been actively practicing authority transfer dynamics since 2004. Today he lives in Colorado Springs, CO with his property, Guan-Xuan, who is unquestionably devoted to his will. Devyn is an extrovert, a Sons of Anarchy fan, and a foodie. Learn more at DevynStone.com!
You do not have to be a member of The Woodshed in order to attend any of these classes, however Woodshed membership is required in order to stay for dungeon time after classes on Friday and Saturday nights. Regular membership dues and entrance fees apply.
About the organizer
Orlando's Premiere Playspace
Explore. Play. Grow.
The Woodshed is a private membership club
dedicated to educating and building community
for alternative lifestyles.