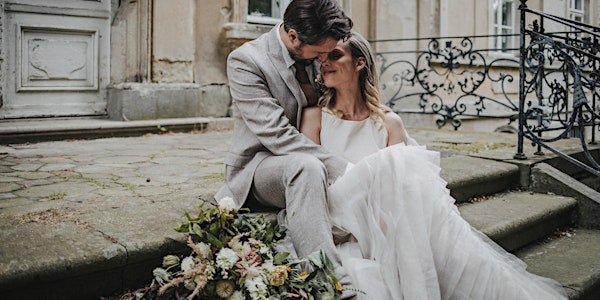 Wedding Weekend
Das "Wedding Weekend" ist ein Wochenende für zukünftige Hochzeitspaare und die, die es noch werden wollen.
When and where
Location
Old Smithy's Dizzle - O.S.D. Event GmbH Mainzer Straße 16 10247 Berlin Germany
About this event
Es begrüßen Euch talentierte Dienstleister aus der Hochzeitsbranche und stellen sich vor. In einer lockeren Wohnzimmeratmosphäre im Old Smithy Dizzles mit Sekt und Snacks habt Ihr die Möglichkeit für intensive Gespräche und viele Fragen, so könnt Ihr jeden Einzelnen von uns persönlich kennen lernen.
Im Laufe des Tages erwarten Euch spannende Einblicke über die Arbeit der Dienstleister. Zum Beispiel wird Nike von Rouge Rosé eine Braut live stylen, ihr könnt die Kuchen von Cakes Berlin naschen oder der schönen Stimme von Alexander Dorenberg und Anne Fraune lauschen. Ihr könnt außerdem ausgewählte Kleider von Felicitas Design (Samstag) und Goldelse (Sonntag) anprobieren und einen echten Kopflegenden Brautstrauß in den Händen halten.
PROGRAMM
JEWEILS AM SAMSTAG UND SONNTAG
11:30 UHR
"Was macht eine Freie Trauung so besonders?" mit ANNE FRAUNE
12:15 UHR
Diskussion Instagram vs. Reality mit Madlen /MARRYBYLEN, Janina / STORIES OF US, Nike / ROUGE ROSÉ
13:00 UHR
Warum ein Hochzeitsfilm auf (D)einer Hochzeit nicht fehlen darf mit Tobi + Helena / SonneMediA
13:45 UHR
LIVE Brautstyling EINFÜHRUNG mit Nike / ROUGE ROSÉ
14:00 UHR
Talkrunde - "Wie gehen die Dienstleister in der Hochzeitsbranche mit dem Thema Nachhaltigkeit um?" mit KOPFLEGENDEN, MARRYBYLEN, MyPPAPERLOVE, COOKIN'ROLL & NUSIY SCHMUCK
15:15 UHR
Workshop Schmuckschalen gießen (6TN) mit NUSIY
16:00 UHR
LIVE Brautstyling NACHBESPRECHUNG mit Nike / ROUGE ROSÉ
16:15 UHR
Nachhaltiges Catering – "Wie verkleinere ich meinen Fußabdruck?" mit SINNESRAUSCH
17:00 UHR
Workshop Gestalte dir einen Blumenhaarkamm mit Jil / KOPFLEGENDEN
LASST EUCH INSPIRIEREN UND SCHAUT VORBEI.
BEI UNS FINDET IHR DAS PERFEKTE TEAM FÜR EURE HOCHZEIT.
WIR FREUEN UNS AUF EUCH!