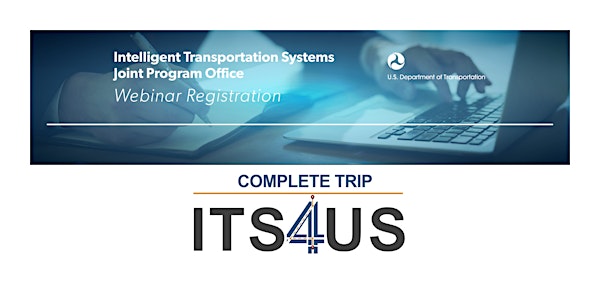 Webinar #3: Enabling Components: Technologies and Services
Complete Trip - ITS4US Deployment Program Webinar Series
Date and time
Thursday, February 27, 2020 · 10 - 11am PST
About this event
The U.S. Department of Transportation (USDOT) has launched the Complete Trip - ITS4US Deployment Program that aims to solve mobility challenges of all travelers, regardless of location, income, or disability, in accessing jobs, education, healthcare, and other activities.
This Program is a multimodal, multi-year, effort let by the Intelligent Transportation Systems Joint Program Office (ITS JPO) with support from Office of the Secretary of Transportation (OST), Federal Transit Administration (FTA), and Federal Highway Administration (FHWA) that will make up to $40 million available to enable communities to showcase innovative business partnerships, technologies, and practices that promote independent mobility for all. The Program expects to procure and award multiple large scale, replicable, real world deployments of integrated innovative technologies to address the challenges of planning and executing complete trips.
USDOT is hosting a series of webinars to assist prospective deployers and partners. Webinar recordings and information about future webinars will be available on the program's website: https://its.dot.gov/its4us/.
Webinar Details:
This webinar is the third in an on-going webinar series to assist prospective deployers and partners for the Complete Trip – ITS4US Deployment Program by exploring potential enabling technologies and services to support Complete Trip deployments. Sofia Gallo (Special Assistant, Office of Transportation Policy) will provide a brief introduction of the Complete Trip – ITS4US Deployment Program. Elina Zlotchenko (Program Manager, ITS JPO), will give an overview of the program and upcoming procurement. Deborah Curtis (Highway Research Engineer, FHWA Office of Operations Research and Development) will discuss the technologies and services that could be leveraged to design innovative and integrated Complete Trip deployments. Murat Omay (Senior Transportation Program Analyst, FTA Office of Research, Demonstration and Innovation) will present information on developing large-scale, integrated, replicable and real-world deployments of integrated technologies.
This webinar will conclude with information for potential deployers about the remainder of the webinar series.
Date: February 27, 2020
Time: 1:00 pm – 2:00 pm EST
Presenters:
Sofia Gallo, OST-Policy
Deborah Curtis, FHWA Office of Operations Research and Development
Murat Omay, FTA Office of Research, Demonstration and Innovation
Elina Zlotchenko, ITS JPO