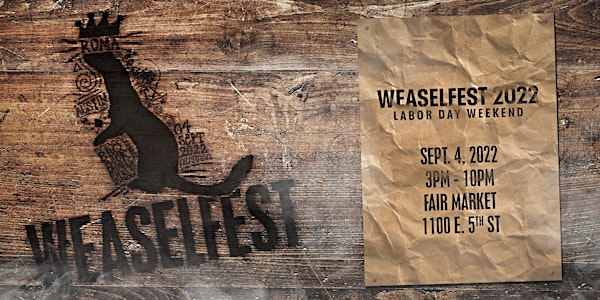 WeaselFest 2022
RoMa Craft Tobac presents WeaselFest in Austin, Texas
When and where
Location
Fair Market 1100 East 5th Street Austin, TX 78702
About this event
7 Hours of Cigars & Music
A Taste of Austin
BBQ is at the heart of Central Texas cuisine, and we are featuring one of the best. Bring a big appetite. We guarantee you won't leave hungry.
Texas Brewers & Distillers
We are bringing in some of our best local beer makers and spirit distillers to deliver an amazing experience. Are you ready to explore all of the sotol cocktails and the signature Texas whiskey? Drink responsibly.
Limited Edition Cigars
Our most celebrated 'catador' ever released is being featured in a Limited Edition WeaselFest Box. Each of the eight blends featured in the El Catador de Las Gran Coronas have been carefully and patiently aged for this release. It is our pleasure to present this very exclusive sampler as we celebrate our 12th year in business.
Music Starts at 3PM on Sunday
It will run for 7 consecutive hours, except for a few short breaks to allow performers to catch their breath.
Food
Stiles Switch BBQ
Craft Beer
Zilker Brewing Company
Texas Spirits
Garrison Brothers Distillery and Desert Door Texas Sotol
Cigars
RoMa Craft Tobac
Cigar Vault East
Music
Scarface & The Formaldehyde Funk Band
Mexstep
and Rock Star DJ D-Money
Questions?
Contact WeaselFestTickets@romacrafttobac.com