Description
We Gather: Students, Startups & VCs is a panel and meetup giving you a crash-course in Boston's startup and venture capital community. Are you a founder looking for funding or to broaden your network? Are you an operator looking for the right team to join? Get to know the key players from Contrary Capital, Dorm Room Fund, InnovateEDU, Rough Draft Ventures and TechGen. Each of these organizations offers unique launch pads for student founders and operators alike.
Agenda:

6:00-6:15p Check In
6:15-7:15p Panel & Discussion
7:15-8:00p Networking
Panelists:

Alexandra Sukin (Harvard College, Contrary Capital)

Joe Kahn (Harvard College, Dorm Room Fund)

Cailey Newton (Emmerson College, InnovateEDU)

Mojia Shen (Wellesley College, Rough Draft Ventures)

Moderator: Sarah Case (TechGen)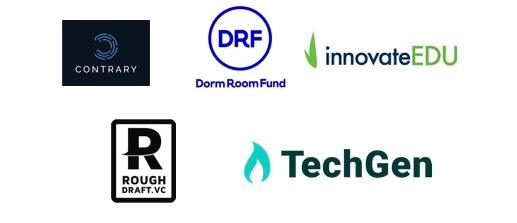 Contrary Capital, Dorm Room Fund, InnovateEDU, Rough Draft Ventures and TechGen are collaborating on We Gather, a series of events and this intro to the ecosystem and players is just the beginning - stay tuned for more in Spring 2018!
About our Collaborators:
Contrary Capital is a decentralized VC fund made up of ~100 Venture Partners across dozens of universities. We're also backed by the best in the world, with 80% of our Limited Partners founding $1B+ tech companies over the past decade, including Tesla, Twitch, SoFi, and MuleSoft.
Dorm Room Fund (https://drf.vc/) is a student-run venture capital firm built by students and powered by First Round Capital. We provide founders with a strong network of investors, world-class mentors, and a $20,000 check. We've backed 150 companies which have gone on to raise $300m in follow-on funding at a portfolio valuation of ~$1b.
InnovateEDU is an organization committed to building the strongest student entrepreneurial ecosystem. Our programming is based on our three pillars: connect, educate, and ignite. It's run by students, for students and teams represent our five partner schools: BC, BU, Emerson, Northeastern, and MIT.
Rough Draft Ventures is General Catalyst's student-focused program that backs founders at the university level. RDV is supporting and connecting the largest network of student entrepreneurs. To-date, RDV has backed more than 100 companies founded by student entrepreneurs emerging from Harvard, MIT, Northeastern, Babson, Olin, Tufts and Brown, among others; many have gone on to raise follow on capital from leading VCs. RDV's entrepreneurs have been named finalists for Forbes' 30 Under 30 and selected to leading accelerators, including Y Combinator, MassChallenge and TechStars, and the Thiel Fellowship.