Description
Registration is now closed for this event, however you are still welcome to join us tonight for WATERLICHT, between the hours of 7:30pm and 11pm. We expect waiting time to be shortest between 8:30pm and 10:30pm.
Entry is granted on a first-come, first-served basis. Registration does not guarantee entry.
If your plans have changed, please adjust your registration so that we may accommodate other attendees.
Questions? Email waterlicht@columbia.edu
---
WATERLICHT
A site-wide, large-scale light installation by acclaimed Dutch artist and innovator Daan Roosegaarde
#waterlichtnyc
#yearofwater
"Daan Roosegaarde is one of the most exciting artists of the 21st century––passionate about the environment, art, design, innovation, ideas and beauty. WATERLICHT combines them all. It has been a dream of mine to help bring this installation of undulating light and the conversations about water and climate that must surround it, to New York City and to Columbia University."
—Carol Becker
"WATERLICHT is about showing the power and poetry of living with water, which is more relevant than ever in New York City. It is an honour to work with Columbia University to exhibit WATERLICHT, and connect with a new generation which plays a central role in changing the climate."
—Daan Roosegaarde
Event Dates
Tuesday, October 22
Wednesday, October 23
Artist Talk with Daan Roosegaarde at 5 pm—REGISTER
WATERLICHT viewing beginning at 7:30 pm
Thursday, October 24
Registration is required
Viewing hours 7:30–11 pm each evening
Lines open for entry at 6:30 pm
Entry is first-come, first-served
Typical viewing experience is approximately 30 minutes
Event Location
Public Plaza at Columbia University Lenfest Center for the Arts
615 West 129th Street, New York, NY 10027
Additional Details
This event will take place RAIN or SHINE – please dress appropriately

Portable restrooms available

Please note that the following are not permitted in the Plaza: smoking, alcohol, bicycles, scooters, and skateboards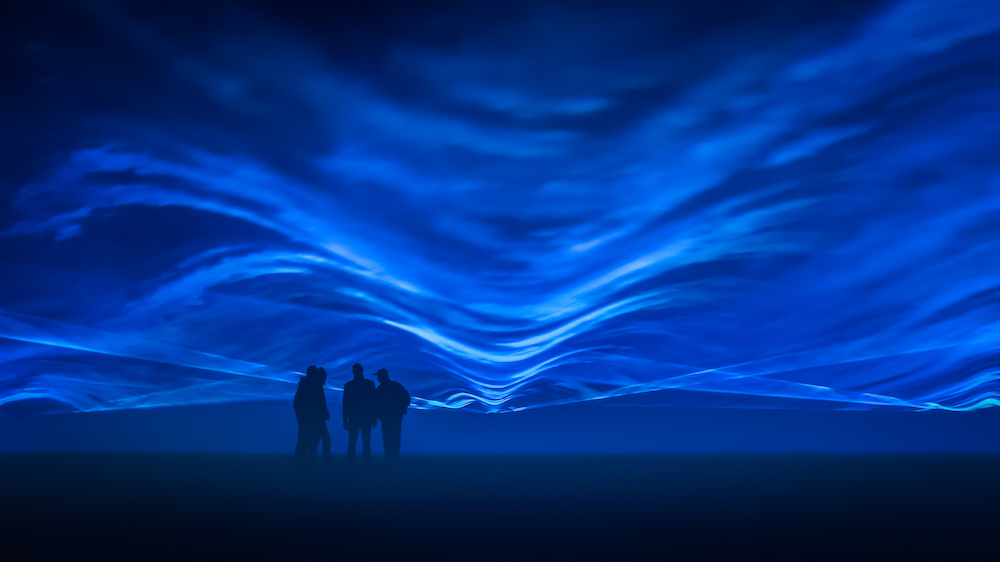 About WATERLICHT
WATERLICHT, which translates to "Water Light," is an immersive light installation and monumental public art event that illuminates the power and poetry of water while raising awareness about rising global sea levels. WATERLICHT is a centerpiece of Columbia University's Year of Water, a year-long interdisciplinary exploration including art, lectures, symposia, and research, uniting the campus and its constituents to examine and celebrate the planet's most precious resource.
Propelled by LED lights and lenses, WATERLICHT will come to life after sunset, at the public plaza of Columbia University's Lenfest Center for the Arts from 7:30 pm-11 pm
Daan Roosegaarde will discuss WATERLICHT and other visionary projects with Carol Becker, Dean of Columbia University School of the Arts, at a free event on October 23, at 5 pm. Register here.
About the Artist
About the Year of Water
About Columbia University School of the Arts
About the Lenfest Center for the Arts
Facebook: /ColumbiaUniversitySchooloftheArts
Twitter: @ColumbiaSOA
Instagram: @columbiaschoolofthearts
#waterlichtnyc
#yearofwater
Questions?
Email waterlicht@columbia.edu