Description
The Utah State Board of Education, in conjunction with the U of U Reading Clinic and Decoding Dyslexia Utah are pleased to announce the Wasatch Reading Summit. At this summit both national and local experts will discuss how to identify students at high risk for reading failure and learning disabilities, like dyslexia, and how to provide appropriate intervention for these students.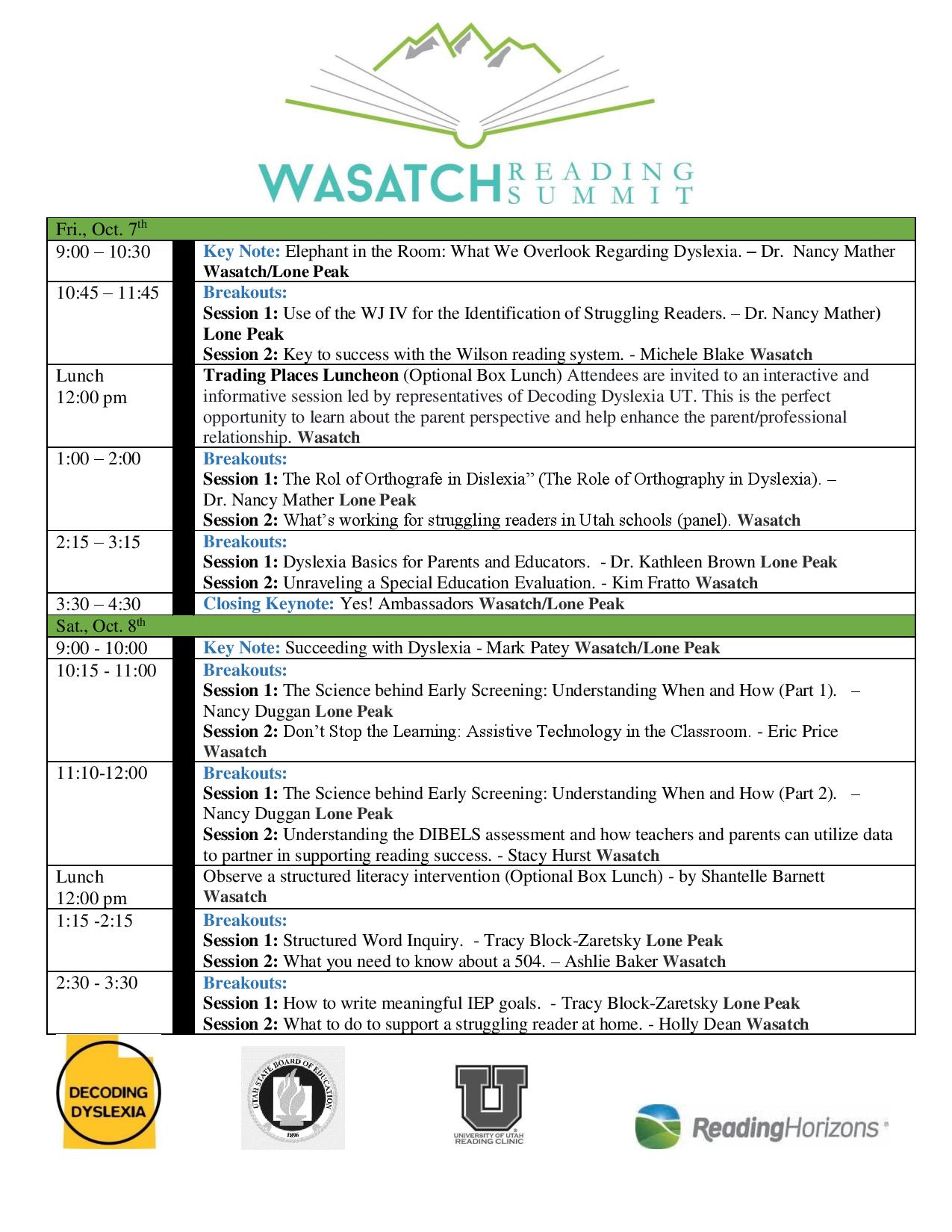 Featured Speakers Include:

Dr. Nancy Mather, Nancy Mather is a Professor of Special Education at the University of Arizona in the Department of Disability and Psychoeducational Studies. She has served as a learning disabilities teacher, a diagnostician, a university professor, and an educational consultant. She has published numerous articles and books and conducts workshops on assessment and instruction both nationally and internationally. Dr. Mather is a co-author of the Woodcock-Johnson IV and has co-authored two books on interpretation and application of the WJ IV. Other recent books are Essentials of Dyslexia: Assessment and Intervention (Mather & Wendling, 2012), and Learning Disabilities and Challenging Behaviors (Mather, Goldstein, & Eklund, 2015).
Dr. Kathleen J. Brown is Director of the University of Utah Reading Clinic (UURC) in the College of Education. Since 1999, Dr. Brown has led clinical practica in reading for over 4000 Utah educators. She continues to work with struggling readers on a regular basis because "if you want to talk the talk, you'd better walk the walk." In 1997, Dr. Brown received the University of Utah Graduate School of Education Teaching Award in recognition of her contribution to university teaching. Her work has been published in a number of scholarly journals, including Reading Research Quarterly, The Elementary School Journal, The Journal of Literacy Research, and The Reading Teacher.
Nancy Duggan: Co-Founder and Executive Director of Decoding Dyslexia Massachusetts is also a licensed school counselor. As a parent of a struggling dyslexic reader, her career path evolved from Director of Training and Development at Merrill Lynch, to be trained as an Orton-Gillingham tutor, and then a counselor. While getting a Master's degree, studying Cognitive Behavioral Therapy with a class on Neuroscience, she was first introduced to the relevant and advancing work brain imaging studies are providing to the fields of education and psychology, and particularly dyslexia. She has provided professional development to teachers, administrators, advocates and attorneys, but her target audience remains parents working to improve services so that every dyslexic student benefits from the important insights into the reading brain provided by neuroscience.
---
HYATT house Sandy is pleased to be the preferred hotel for Wasatch Reading Summit on October 6-9, 2016. We are conveniently located just off I-15 and a short 20 minute drive from Salt Lake International Airport and located within minutes to Miller Campus.
Booking Link