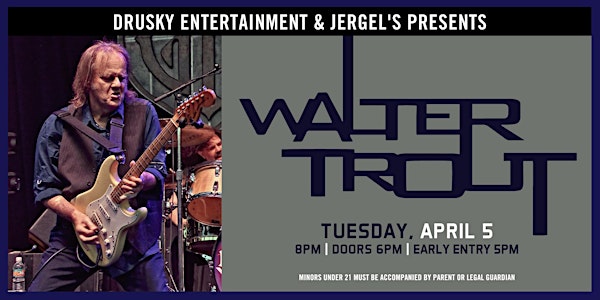 Walter Trout
Jergels & Drusky Entertainment Present
UNDER 21 WITH PARENT OR LEGAL GUARDIAN
Performers
Walter Trout
Matt Barranti
Location
Jergels
103 Slade Lane, Warrendale, PA 15086
Warrendale, PA 15086
Tuesday, April 5th, 2022 | Minors Under 21 with Parent or Guardian | Health and Safety Guidelines Below
About this event
HEALTH AND SAFETY NOTICE
The health & safety of our fans, artists, crew, and venue staff is our number one priority. For that reason, the following policy will be in force for all Walter Trout concerts:
Please note this performance is requiring all fans to be fully vaccinated or to provide PRINTED proof of a negative COVID-19 test within 48 hours of the event.
All ticket holders must be fully vaccinated against COVID-19 (at least two weeks after final dose) and provide proof of vaccination by showing either the original vaccination card or a printed copy of the vaccination card before entering the venue. Masks are recommended.
All ticket holders who have NOT been vaccinated must have received a negative COVID-19 diagnostic test (a PCR or antigen COVID-19 test) within 48-hours before entry to the facility and provide printed proof of a negative result before entering the venue. Masks are strongly recommended when seated and not eating or drinking and are MANDATORY when moving around the venue.
Jergels & Drusky Entertainment Present
WALTER TROUT
with special guest Matt Barranti
Tuesday, April 5th, 2022
Doors: 6:00PM / Show: 7:00PM (Early Entry at 5:00PM)
Jergel's (Warrendale, PA)
$20.00 - $33.00
Minors under 21 must be accompanied by a parent or guardian
$20.00 Advance - $23.00 Day of Show - $33.00 Early Entry Doors at 5PM!
Early Entry tickets guarantee a seat in the venue. Seating cannot be reserved. General Admission tickets do not guarantee a seat.
About Walter Trout: WALTER TROUT and Provogue Records / Mascot Label Group released Survivor's Blues globally on January 25. Trout is no ordinary artist and this is no ordinary covers album. From the day he conceived the project to the moment he counted off the first song in the studio, he had a bolder plan for this release. Trout shares, "I'm riding in my car sometimes, and I've got a blues station on – and here's another band doing Got My Mojo Workin'. And there's a little voice in me that says, 'Does The World need another version of that song?' So I came up with an idea. I didn't want to do 'Stormy Monday' or 'Messin' With The Kid.' I didn't want to do the Blues greatest hits. I wanted to do old, obscure songs that have hardly been covered. And that's how Survivor Blues started…"
Over the course of the last several decades, Walter Trout has been a prolific artist. He's regularly released offerings from the studio, so this moment of offering a covers album is somewhat of a curveball. His 2017 all-star release, We're All In This Together, shows no sign of burning out and continues to receive accolades and sales on a global basis, alongside four awards for Blues Rock Album Of The Year. He reflects, "It's really overwhelming. How do I follow that up? I've always respected guys who went out on a limb, like Neil Young or Bob Dylan. You never know what they're gonna come out with."
Likewise, long-standing fans have given up trying to second-guess Trout's next move. The track listing of Survivor Blues is a window into the 67-year-old's fast-moving backstory, chronicling a five-decade career whose one constant is his deep love of the Blues. Opener "Me, My Guitar And The Blues" tips a hat to cult hero Jimmy Dawkins, whose records Trout devoured while cutting his teeth as a '60s axe-slinger in New Jersey. "Nature's Disappearing" nods to his celebrated '80s tenure in John Mayall's near-mythical Blues-breakers. In-between, you'll find cherished favorites from a lifetime's listening, with songs that caught Trout's ear at key junctures in his journey, from backing up John Lee Hooker in the '70s, to bringing the groove to Canned Heat in the '80s or breaking through as a solo artist in the '90s.
The roll-call of artists might be eclectic, but there's a cohesion to Survivor Blues. From the outset, Trout made it his mission to harness the power and spirit of the originals, while stamping his inimitable musical personality onto each new take. He offers, "My idea was to do these songs like me, to arrange them for my band and style – not to just copy the originals note-for-note."