Description
Join Us for the W.A.G.S. 4K Run Walk and Roll!
A 2.5 Mile Fun Run & One Mile Walk & Roll
on Saturday, June 4, 2016!
This event is open to all whether you are a competitive runner, everyday runner, walker or roller*! Presented by Cleveland Scene Magazine and Euphoria Health and Fitness to promote health, give visibility to W.A.G.S. 4 Kids and the incredible abilities of children living with challenges in their everyday lives.
The race will start and end at:
Coe Lake
7 Berea Commons, Berea, OH 44017
4k scenic course takes you along the edge of Coe Lake, past the metroparks and through Historic Downtown Berea
4k (2.5 Mile non-timed) Run starts at 10:00 AM

One-Mile Walk & Roll (non-timed) starts at 10:15 AM
Jogging strollers and wheelchairs are welcome on both courses - no bikes, rollerblades, etc.
Leashed Dogs Welcome!
Race Day Registration and Packet Pick-up at 9:00 AM
Race Registration includes FREE Admission to the Fest of Ability!
Registration Details
Registration is now open! Click here to register.
Pre-Registration:

4K Run (Adult) - $25
4K Run Youth (14 & Under) - $20
1 Mile Walk & Roll (Adult) - $15
1 Mile Walk & Roll (14 & Under) - $10
Must Register by May 20th to receive your event t-shirt.
Online Registration closes at 8:00 AM on Saturday, June 4th

Race Day Registration – $15 - $30 (no t-shirt)
Kids under the age of 2 are FREE (no t-shirt)
Awards
Awards will be given to all the kids who cross the finish line! Touch of Glass LLC will be on hand to customize awards by engraving your child's name.
Other Details
Custom Short sleeve t-shirt guaranteed for all paid participants who register by May 20, 2016. Subject to availability after that date.
Support W.A.G.S. 4 Kids by fundraising online at.
Volunteer Opportunities are available!
Fest of Ability Carnival Day & Vendor Fair is FREE to attend and open to the public 11AM - 3PM.
Fest of Ability Rides and Entertainment are accessible by wristband access ONLY; wristbands are $5 (cash/check/cc) and can be purchased at the event. (FREE with Race Registration)
Corporate Team Challenge

Calling all law firms, accounting firms and banks in the Greater Cleveland region! Now is the chance to show what you and your coworkers are made of. Create a corporate team and go head-to-head with "rival" area businesses in your industry. Top Prize will be awarded for most team participants and most money raised for each industry.
Sponsorships
Corporate Sponsorships are available! Click here to find out more or contact Sera Nelson, Director of Development, at (216) 586-5853 ext. 2.

STAY FOR THE FUN! Stick around and enjoy Food Trucks, raffles, crafts, and other "family friendly" games, challenges and activities built and modified for all ages and ability levels to enjoy and take part in. It's the FEST OF ABILITY! Celebrating all our Kids Who Can!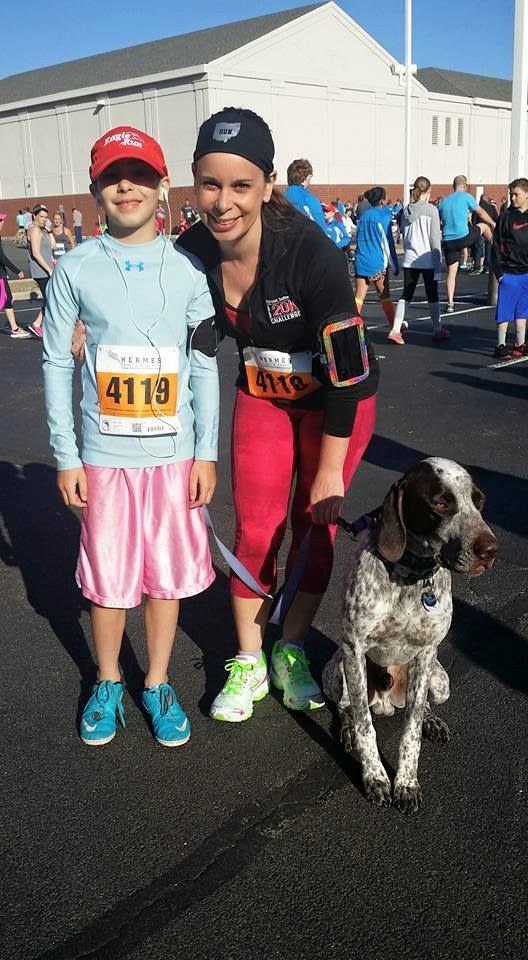 Rides
The Fest of Ability is the ultimate Kids fun zone! It's the largest outdoor amusement fun fest built for all ages and abilities to enjoy, just for a Family Day weekend! The Fest of Ability includes an impressive line-up of Inflatable Rides, Jumping Castles, Obstacle Courses and Physical Challenges by Euphoria Health & Fitness, Trampoline Park, Arcade Games, Attractions, Carnival Games and Interactive children's entertainment. The selection of rides are mainly targeted for kids aged 2-12, with a few family rides for everyone to enjoy.
Entertainment
Kids show LIVE is headlined by 2 amazing interactive entertainers!
In addition to the inflatable rides and kids games, the Fest of Ability also features some amazing interactive entertainment for Family Day. Our main stage entertainers will keep the kids (and adults too!) entertained with a Silent Disco with DJ G and LIVE Productions. Everyone is in for a real treat when the Cavs Scream Team takes the stage at Noon. DJ G and the Silent Disco kids and adults up and dancing with 2 different sound levels available for those that may be sensory sensitive. The Cavs Scream Team features high energy music, choreographed dancing, acrobatics and more!
Just as the kids need a little break from the action, the interactive clown show will take the stage with a little comic relief. the Clown will be on stage doing it all! He's not only a magician and first-rate clown but most importantly a master performer. He aims to engage the audience, no matter what age. You will be amazed and thrilled. The stage shows feature high energy performances, interactive activities, games and prizes which will keep you wanting more.
Showtimes take place throughout the day Saturday. Other entertainers include: Face Painting Clowns, Tattoo Artists, Magicians and more.
FAQs
So what's all this W.A.G.S. 4 K Run Walk and Roll stuff about?
W.A.G.S. 4 K Run, Walk & Roll is a race made up of three parts: a 4K Run, 1 Mile Walk, and 1 Mile Roll. The event is organized by a committee led by Chairperson, Lisa Burdett and sponsored by Euphoria Health & Fitness & Cleveland Scene Magazine to promote health, ability and visibility in the Special Needs community. This will be our 1st annual W.A.G.S. 4K Run, Walk and Roll so we hope you join us in the celebration! Event starts at 9AM at Coe Lake on June 4th, 2016. The Family Fun doesn't end when the race does. Stick around and enjoy Food Trucks, raffles, crafts, and other "family friendly" games, challenges and activities built for all ability levels to enjoy and take part in. All will take place at the lot by Coe Lake (plenty of parking) It's the Fest of Ability! Celebrating Berea and all our Kids Who Can!
But what if I'm not a runner or athletic, in any way shape or form?
You don't have to be anything but Special Needs friendly to attend this event! Have you considered a pleasant walk along the route around Berea? It's a beautiful and historic tour of "where it all began" from Coe Lake, past W.A.G.S. headquarters and back again!
Can I bring my family, including the dog?
We would absolutely love it if you bought your family to the race! It will surely be a morning well spent. Service animals and pets are allowed in the festivities area as long as they follow leash and ADA laws.
Will there be refreshments provided at the race?
Yes! Still working on this. Food trucks will also be invited to be onsite with a limited menu to add to the "Family Fun".
Parking: Very Important!
Parking on neighborhood side-streets is available and metered. There are also two large parking lots within walking distance by Huntington and across from Giant Eagle. DO NOT park by Berea Municipal Court. This area is strictly monitored and we are not responsible for you being ticketed or towed.
Will there be awards or prizes?
Yes. Awards will be given to all of our Youth Runners, Walkers & Rollers. Touch of Glass will be on hand to customize awards with the Youth's name as an option.
When and where is packet pick up?
Packet pick up will take place the day of the event 9am - 10am at Coe Lake, 7 Berea Commons, Berea, OH. Please print out your registration prior to coming to packet pick-up to help speed up the process.
When is late registration?
Late registration will take place during packet pick up and on race day from 9am-10am.
What does the race shirt look like?
A mock up of the 2016 W.A.G.S. 4 K Run Walk and Roll race shirt will be posted in the coming weeks. Sizing will vary depending on cut so please be sure to reference these size charts if you are unsure about which size to choose.
Where can I contact the organizer with any questions?
Please contact us at info@wags4kids.com using the subject line "W4K Run, Walk & Roll"
How can I sponsor Run Walk & Roll?
Thank you so much for your interest in supporting Run Walk and Roll! Please visit the Become A Sponsor tab and fill out the fields listed. Once received, our Development Director will be in contact with you about ways you can sponsor the race.
Want to volunteer?
We are still looking for volunteers to host craft tables & game tents, do check-in, route the runners/walkers/rollers and all kinds of fun stuff! A volunteer party will be held at 7pm on Monday, May 30th at Grayton Road Tavern. Click here to check out the volunteer opportunities!
Sorry, race fees are non refundable

Join the conversation using #W4K
View #W4K posts