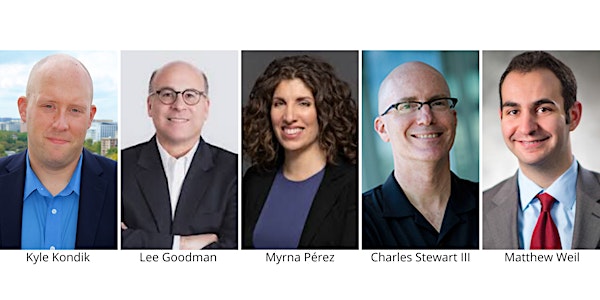 Voting in the Midst of a Pandemic
This event is in partnership with the UVA Batten School
About this event
Please join us livestream - https://livestream.com/tavco/votinginapandemic
Kyle Kondik (Managing Editor of the Crystal Ball) will moderate a panel of four experts on the topic of Voting in the Midst of a Pandemic, there will be time for questions from the audience.
Panelists:
Lee Goodman - appointed by President Obama to the FEC on October 21, 2013, after the U.S. Senate confirmed his nomination by unanimous consent. He served as Chairman of the FEC in 2014 and Vice Chairman in 2013. During his years on the Commission, Mr. Goodman promoted free speech on the Internet; vigorous free press rights, including for new media; and practical deregulation of political parties.
Myrna Pérez - Director of the Brennan Center's Voting Rights and Elections Program, and leads the Program's research, advocacy, and litigation work nationwide. An expert on voting rights and election administration, she is the author of several nationally recognized reports and articles. Her work has been featured in media outlets across the country, including the New York Times, Wall Street Journal, and MSNBC. She has testified before Congress and several state legislatures on a variety of voting rights related issues. She is a lecturer in law at Columbia Law School and has also served as an adjunct professor of clinical law at NYU School of Law.
Charles Stewart III - Kenan Sahin Distinguished Professor of Political Science at MIT, where he has taught since 1985, and a Fellow of the American Academy of Arts and Sciences. His research and teaching areas include congressional politics, elections, and American political development.
Matthew Weil - Director of BPC's Elections Project. Prior to joining BPC in February 2013, he worked at the Department of the Treasury on domestic finance issues in the office of public affairs. Previously, he served as a research and policy analyst at the U.S. Election Assistance Commission, working on National Voter Registration Act regulations, drafting congressionally-mandated reports, and directing the Election Management Guidelines program. He also served as a staff member on the AEI-Brookings Election Reform Project. Weil graduated from Johns Hopkins University with a M.S. in government analytics. He earned a B.A. in philosophy, politics, and economics from the University of Pennsylvania in 2005.