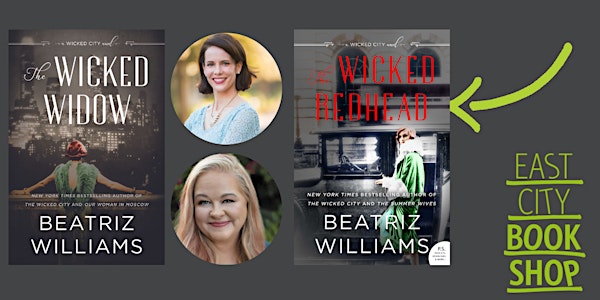 Virtual Event: Beatriz Williams, The Wicked Redhead Reread with Kate Quinn
East City Bookshop in partnership with William Morrow welcomes Beatriz Williams for a virtual reread of The Wicked Redhead with Kate Quinn
Refund Policy
Contact the organizer to request a refund.
About this event
East City Bookshop in partnership with William Morrow welcomes Beatriz Williams in conversation with Kate Quinn for a special virtual reread of The Wicked Redhead in anticipation of the 10/26 release of Beatriz's new book The Wicked Widow.
About The Wicked Redhead
The dazzling narrator of The Wicked City brings her mesmerizing voice and indomitable spirit to another Jazz Age tale of rumrunners, double crosses, and true love, spanning the Eastern seaboard from Florida to Long Island to Halifax, Nova Scotia.
1924. Ginger Kelly wakes up in tranquil Cocoa Beach, Florida, having fled south to safety in the company of disgraced Prohibition agent Oliver Anson Marshall and her newly-orphaned young sister, Patsy. But paradise is short-lived. Marshall is reinstated to the agency with suspicious haste and put to work patrolling for rumrunners on the high seas, from which he promptly disappears. Gin hurries north to rescue him, only to be trapped in an agonizing moral quandary by Marshall's desperate mother.
1998. Ella Dommerich has finally settled into her new life in Greenwich Village, inside the same apartment where a certain redheaded flapper lived long ago...and continues to make her presence known. Having quit her ethically problematic job at an accounting firm, cut ties with her unfaithful ex-husband, and begun an epic love affair with Hector, her musician neighbor, Ella's eager to piece together the history of the mysterious Gin Kelly, whose only physical trace is a series of rare vintage photograph cards for which she modeled before she disappeared.
Two women, two generations, two urgent quests. But as Ginger and Ella track down their separate quarries with increasing desperation, the mysteries consuming them take on unsettling echoes of each other, and both women will require all their strength and ingenuity to outwit a conspiracy spanning decades.
About The Wicked Widow (available for preorder - releases 10/26/21)
Gin Kelly, the wicked redhead, is back! Readers will delight in next installment of the Wicked City series by New York Times bestselling author Beatriz Williams.
June 1925. Audacious Appalachian flapper Geneva "Gin" Kelly prepares to trade her high-flying ways for respectable marriage to Oliver Anson Marshall, a steadfast Prohibition agent who happens to hail from one of New York's most distinguished families. But just as wedding bells chime, the head of the notorious East Coast rum-running racket—and Anson's mortal enemy—turns up murdered at a society funeral, and their short-lived honeymoon bliss goes up in a spectacular blaze that sends Anson back undercover...and into the jaws of a trap from which not even Gin can rescue him. As violence explodes around her, Gin must summon all her considerable moxie to trace the tentacles of this sinister organization back to their shocking source, and face down a legendary American family at a rigged game it has no intention of losing.
June 1998. When Ella Dommerich's ninetysomething society queen aunt Julie ropes her into digging up dirt on Senator (and Presidential candidate) Franklin Hardcastle in order to settle old family scores, she couldn't be less enthusiastic. Pregnant Ella's recently ditched her unfaithful husband and settled into cozy—if complicated—domesticity with her almost-too-good-to-be-true musician boyfriend, Hector. But then the Hardcastle secrets lead to a web of shady dealings Ella's uncovered in her job as a financial analyst, and the bodies start to tumble out of the venerable woodwork. With the help of her ex-husband and her mysterious connection to a certain redheaded flapper, Ella digs up more than mere dirt…only to discover herself standing alone between a legendarily ruthless family and the prize it's sought for generations.
What ugly secrets lurk in the opulent enclaves—and bank accounts--of America's richest families? And can two determined women from two different generations thwart the murderous legacy of the demon liquor?
About Beatriz Williams
Beatriz Williams is the bestselling author of eight novels, including The Golden Hour, The Summer Wives, A Hundred Summers, The Secret Life of Violet Grant, and A Certain Age. A native of Seattle, she graduated from Stanford University and earned an MBA in finance from Columbia University, then spent several years in New York and London as a corporate strategy consultant before pursuing her passion for historical fiction. She lives with her husband and four children near the Connecticut shore, where she divides her time between writing and laundry.
About Kate Quinn
Kate Quinn is the New York Times and USA Today bestselling author of historical fiction. A native of Southern California, she attended Boston University, where she earned bachelor's and master's degrees in classical voice. A lifelong history buff, she has written four novels in the Empress of Rome Saga and two books set in the Italian Renaissance before turning to the 20th century with The Alice Network, The Huntress, and The Rose Code. All have been translated into multiple languages. She and her husband now live in California with three black rescue dogs.
About The Diamond Eye (available for preorder, forthcoming 3/29/22)
The New York Times bestselling author of The Rose Code returns with an unforgettable World War II tale of a quiet librarian who becomes history's deadliest female sniper. Based on a true story.
In the snowbound city of Kiev, wry and bookish history student Mila Pavlichenko organizes her life around her library job and her young son—but Hitler's invasion of Russia sends her on a different path. Given a rifle and sent to join the fight, Mila must forge herself from studious girl to deadly sniper—a lethal hunter of Nazis known as Lady Death. When news of her three hundredth kill makes her a national heroine, Mila finds herself torn from the bloody battlefields of the eastern front and sent to America on a goodwill tour.
Still reeling from war wounds and devastated by loss, Mila finds herself isolated and lonely in the glittering world of Washington, DC—until an unexpected friendship with First Lady Eleanor Roosevelt and an even more unexpected connection with a silent fellow sniper offer the possibility of happiness. But when an old enemy from Mila's past joins forces with a deadly new foe lurking in the shadows, Lady Death finds herself battling her own demons and enemy bullets in the deadliest duel of her life. Based on a true story, The Diamond Eye is a haunting novel of heroism born of desperation, of a mother who became a soldier, of a woman who found her place in the world and changed the course of history forever.