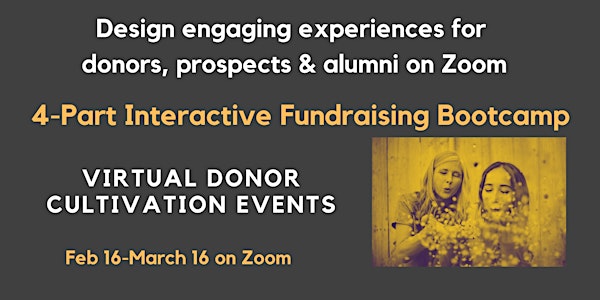 Virtual Donor Event Bootcamp
Bootcamp for fundraisers & organizational leaders to engage prospects, donors & alumni on Zoom! 4 Interactive weekly sessions & Lab!
By Tanja Sarett, M.A., CFRE, CVF
Date and time
February 16, 2021 · 9am - March 16, 2021 · 10:30am PST
Refund Policy
Contact the organizer to request a refund.
About this event
Time to get in front of your prospects, donors, and alumni during social-distancing. Let's ramp up your online donor events in 2021! Create sparks online and engage your funders.
Experience how to turn Zoom into an innovative donor engagement and cultivation platform!
Learn how to design online experiences for your donors, prospects, and alumni during times of social distancing. Connect with your donors in meaningful and memorable ways to weather Year 2 of Covid.
In this Bootcamp training, you will learn and experience live interactive and engaging virtual alternatives to your thoughtfully crafted in-person cultivation events where personal connections can be made and future giving decisions formed.
YOU WILL LEAVE THE BOOTCAMP WITH
Ideas on how to cultivate donors, alumni, and prospects in the virtual space
Interactive facilitation techniques to spark conversations and connections online
Suggestions for creating personal and inclusive moments on Zoom
Templates to use for your own virtual donor cultivation events
Hands-on tips on how to leverage Zoom breakout rooms and chat
Online tools to integrate into your Zoom events
And Connections with colleagues!
BOOTCAMP SCHEDULE
Live Training Sessions on ZOOM on Tuesdays 12PM -1:30PM EST
Session 1 (Tues, 2/16): Virtual Networking & Donor Cultivation Event Opportunities
Session 2 (Tues, 2/23): Techniques for Meaningful Donor Conversations on Zoom
Session 3 (Tues, 3/2): Interactive Presentation Ideas That Engage Donors
Session 4 (Tues, 3/9): Virtual Event Design Tips That Move The Needle
Bonus Session (Tues, 3/16): Tech Lab To Test Zoom Features
WHAT PARTICIPANTS HAVE BEEN SAYING
"This was a great way to learn how to use ZOOM to interface with donors and the community. It was also a great networking opportunity. Terrific job!" Executive in Albany, NY
"I was so inspired. It really opened my mind to possibilities that I had not considered. Loved the Breakout ideas and virtual parlor meeting." National Director of Development, NYC
"It was amazing!" National Foundation Relationship Manager, NYC
ABOUT THE BOOTCAMP TRAINER
Tanja Sarett, MA, CFRE, CVF, is a global fundraising consultant, facilitator, and executive coach based in New York / New Jersey. She activates team-centered innovation and creative and synergistic solutions for visionary organizations and philanthropies. Tanja is an onsite and virtual facilitator, trainer and executive coach, an AFP Master Trainer and a 21/64 Multigenerational Giving Advisor. She brings to her work a wide range of collaborative and creative techniques from IDEO Design Thinking, Liberating Structures, the Technology of Participation, and the Agile community. Tanja Sarett is the founder of Synergies Created | Synergies in Philanthropy Consulting and the creator of the "Virtual Donor Cultivation Events" training. Website: www.synergiesinphilanthropy.com
FOR INFORMATION QUESTIONS
Be in touch with any questions you may have or to find out about group discounts. You can reach me at tanja@synergiesinphilanthropy.com
THIS BOOTCAMP IS BROUGHT TO YOU BY
Synergies Created | Synergies in Philanthropy Consulting in partnership with Planned Giving Advisors.
REFUND POLICY
Cancellation before February 10 will receive a full refund. Cancellations after Feb 11th will receive a 75% refund. The refund will not include the administrative ticket fee.
About the organizer
Tanja Sarett, M.A, CFRE, is a certified virtual facilitator, executive coach, and international fundraising and philanthropy consultant. As a life-long learner and explorer of new opportunities, she brings techniques and tools from IDEO Design Thinking, Liberating Structures, the Technology of Participation, and the agile community to her work with professionals and teams. Tanja is an AFP Master Trainer and 21/64 Multigenerational Giving Advisor, and the founder of Synergies Created | Synergies in Philanthropy Consulting. www.synergiesinphilanthropy.com