During this virtual event, one lucky mom will win $500 for the Best Dress Award Photo Contest. Register to win & enjoy a Mother's Day event.
About this Event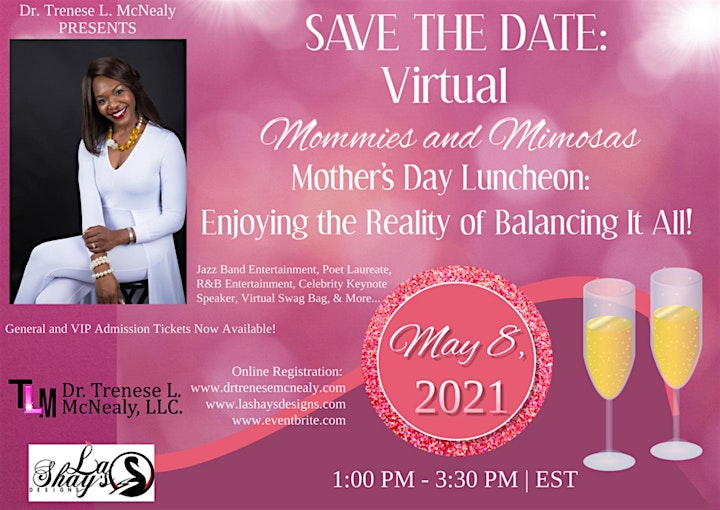 Due to the Coronavirus disease (COVID-19), the 2021 Mommies and Mimosas Mother's Day Luncheon will occur as a virtual event.
Dr. Trenese L. McNealy Presents:
Mommies and Mimosas Mother's Day Luncheon: Enjoying the Reality of Balancing It All!
Luncheon Overview:
The work of a mother is never done; however, as mothers, we must take time out for ourselves to enjoy our reality when balancing this thing called life. During this event, mothers will have the opportunity to sit back, relax, and get virtually surrounded by other mothers empowering one another and enjoying life.
Date: Saturday, May 8, 2021
Time: 1:00pm - 3:30pm
1:00pm-2:00pm (General & VIP)
2:15pm-3:30pm (VIP Only)
General Admission Donation ($1.00) Includes:
Virtual Red-Carpet, Jazz Band Entertainment, Poet Laureate, R&B Entertainment, and more. The $1.00 donation will go towards the mission of the organization.
VIP Admission ($50.00) Includes:
All items under the General Admission + Entry into the 2021 Mother's Day Luncheon Best Dress Award Photo Contest, Access to the Celebrity Speaker session which includes participation in a Q&A session with the Celebrity Guest Speaker (most attendees will be able to ask one question each), and a Virtual Swag Bag. The photo submission deadline ends May 1, 2021. The 2021 Mother's Day Luncheon Best Dress Award winner will be announced during the VIP Admission Celebrity Speaker session.
VIP Admission is Limited to the First 100 Attendees!!!
Celebrity Guest Speaker: ARICA "HAZEL-E" ADAMS-WALLER
The winner of the 2021 Mother's Day Luncheon Best Dress Award Photo Contest will receive $500.00 via PayPal, Cash App, or Zelle, and the Ohza Mimosas' variety 24-Pack "champagne cocktails" . The variety pack includes (8) Classic Mimosas, (8) Classic Bellinis, and (8) Cranberry or Mango Mimosas valued at $72.00. The mimosas will shipped directly from the vendor to the winner's home.
The required Photo Contest attire is Semi-Formal/Formal. Some photos maybe included in the Red Carpet Opening Mixer.
One lucky mom (who does not purchase a VIP Admission) will get FREE access to the VIP Celebrity Speaker session at 2:15pm/EST. The announcement will be made during the 1:00pm event.
Sponsorship Opportunities:
Purple Level Sponsor: $25
Pink Level Sponsor: $125
Questions: info@drtrenesemcnealy.com
VISIT: https://drtrenesemcnealy.com/
Follow: @dr.trenesemcnealy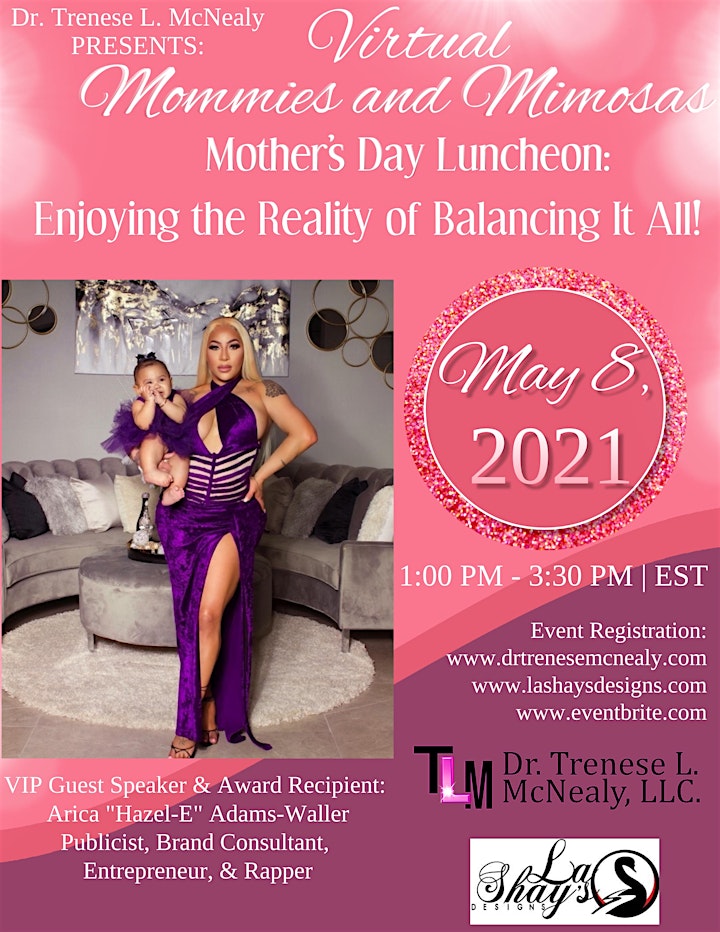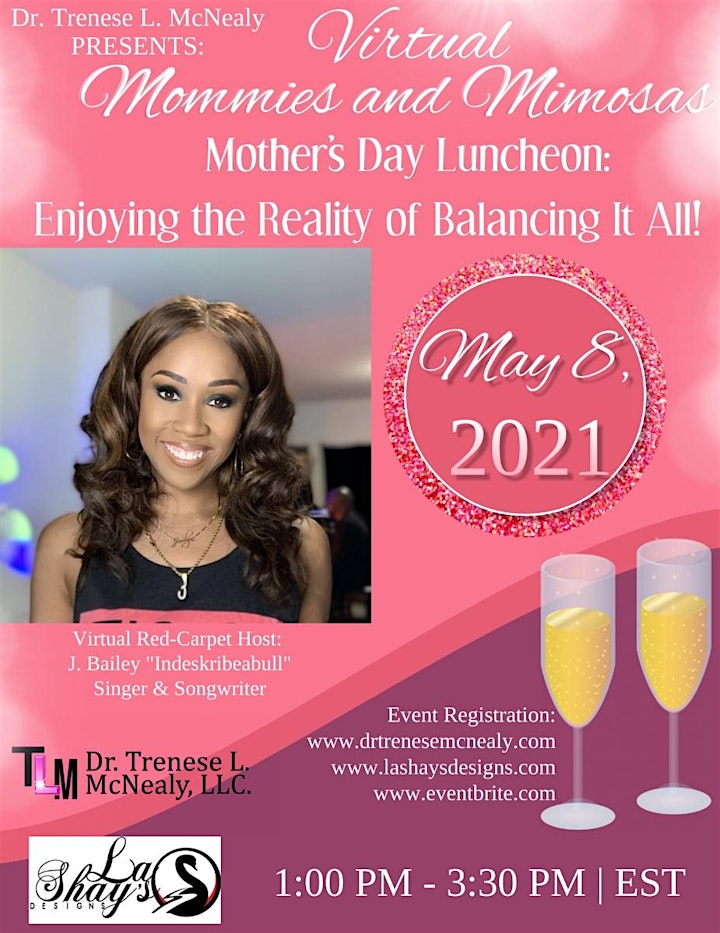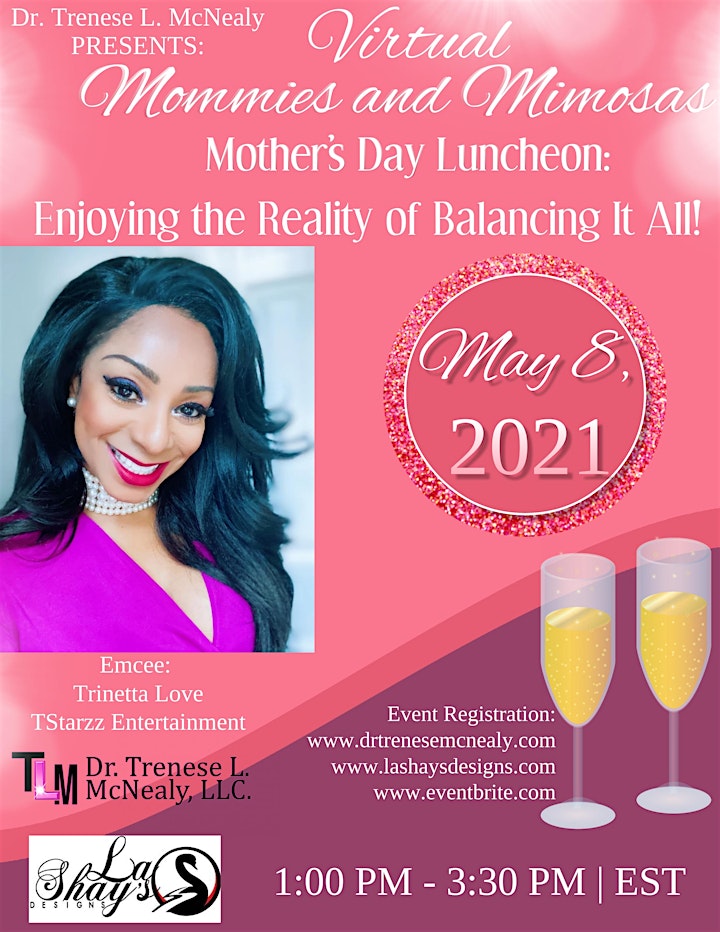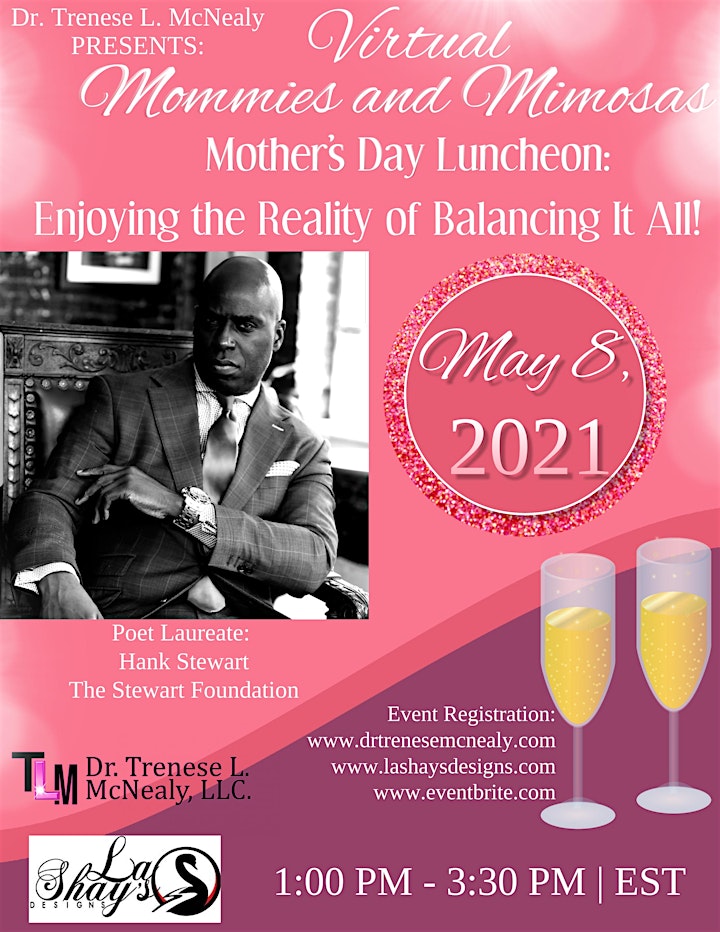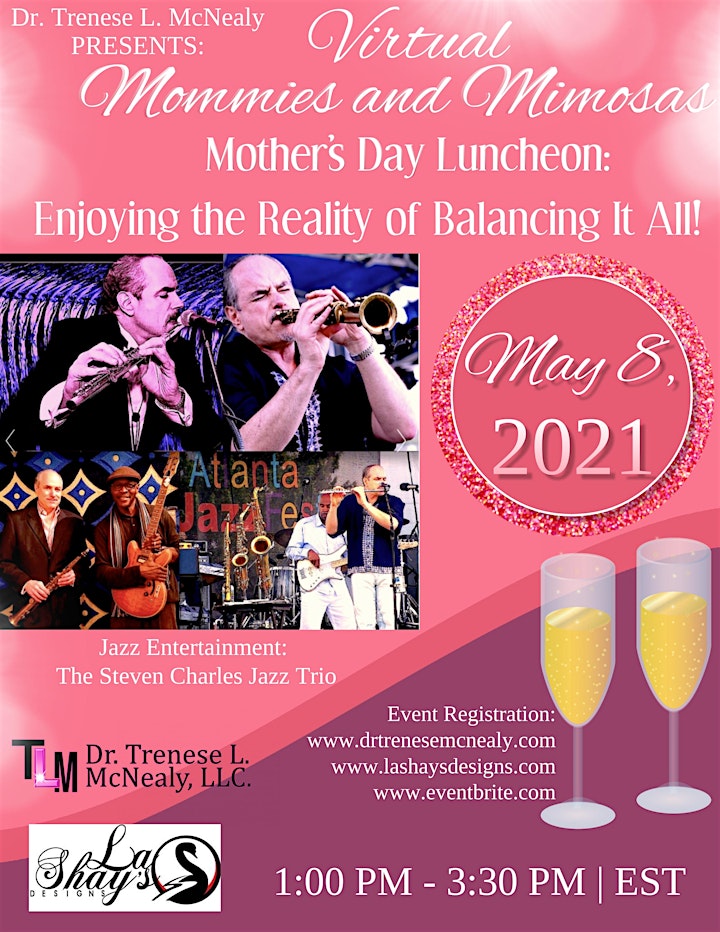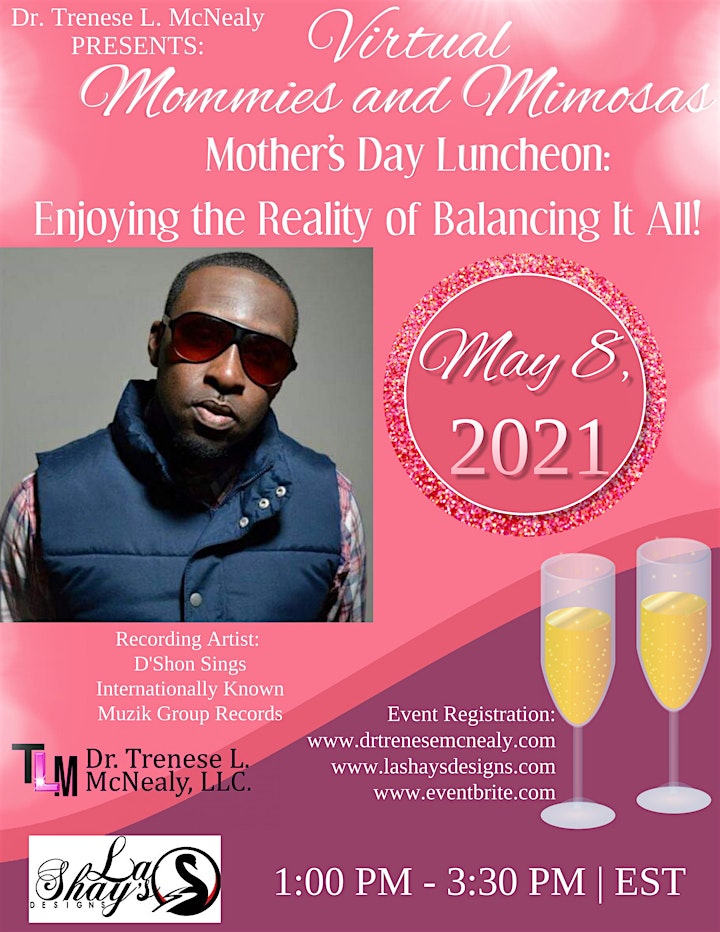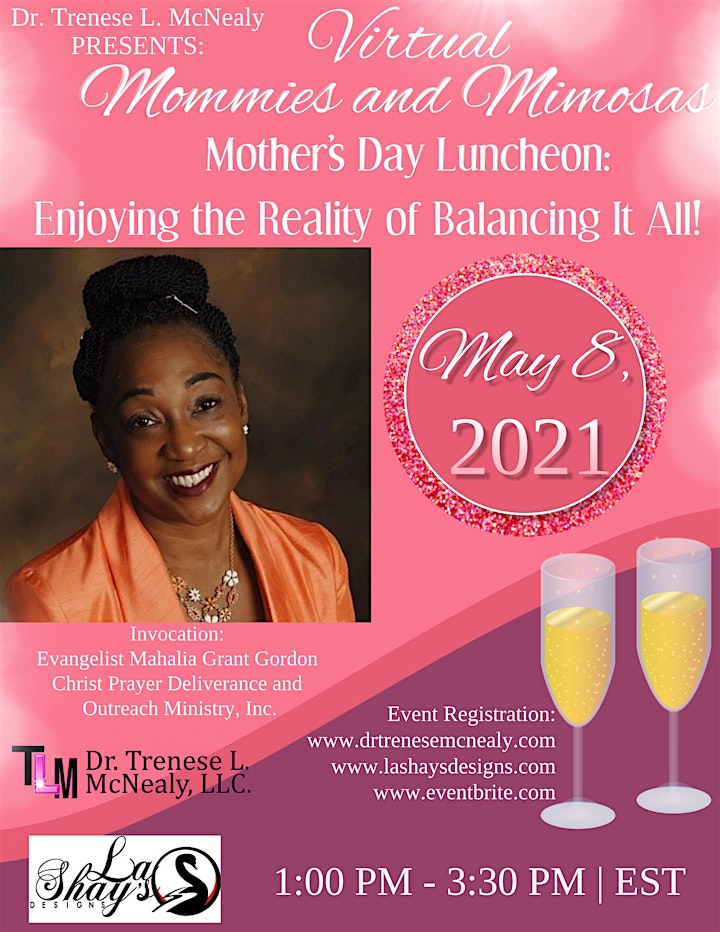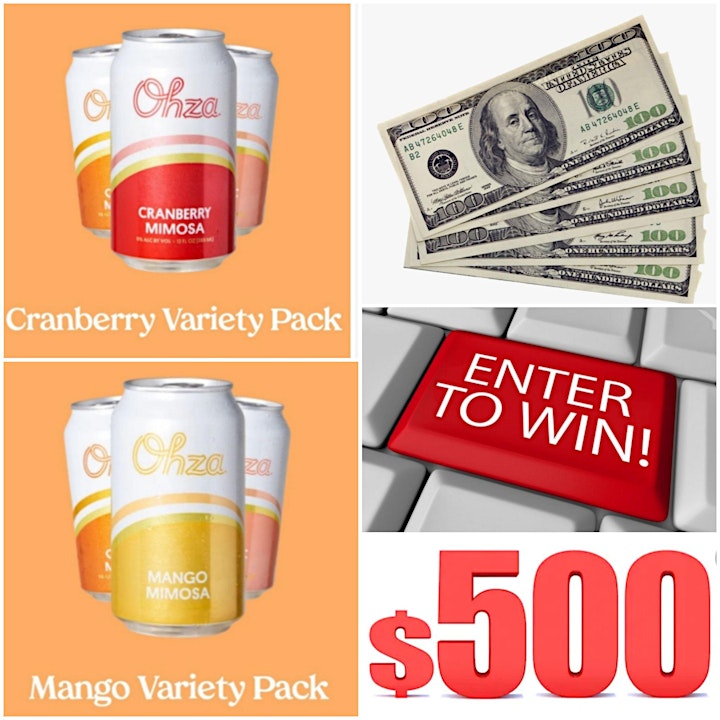 Date and Time
Location
Refund Policy