About this Event
VANESSA COLLIER TICKETS
Pre-sale begins 9:00pm August 21
Tickets on sale 10:00am August 23
Sign up for our weekly newsletter to get pre-sale codes
Seated (GA) - $27
Bar / Standing (GA) - $22
For any wheelchair or ADA needs, please contact the Box Office in advance of the performance at (443) 283-1200.
If you haven't been fortunate enough to meet Vanessa Collier and witness one of her head-turning, fiery, and passionate performances, you should definitely make sure you do. As a master musician and multi-instrumentalist, Vanessa weaves funk, soul, rock, and blues into every powerful performance and she is downright impressive. With soulful vocals, searing saxophone, and witty songwriting, Vanessa is blazing a trail, racking up an arsenal of honours, and has already singled herself out as an artist of distinction and one we would all do well to watch.
It's not simply the accolades she has accumulated so far, although they've been many — three Blues Music Award Nominations (BMAs) for Contemporary Blues Female Artist of the Year (2018) and Horn Player of the Year (2018 and 2017), a Blues Blast Award nomination, the Jammingest Pro Award bestowed by the Legendary Rhythm & Blues Cruise, First Place for lyrics in the International Songwriting Competition, Best of 2014 Blues Breaker on Dan Aykroyd's BluesMobile — it's the fact that she has accumulated all these honours even while her career is still in its infancy. A 2013 graduate of the prestigious Berklee College of Music, she's toured nationally and internationally, released two critically acclaimed albums (2014's Heart, Soul & Saxophone and 2017's Meeting My Shadow), and will release her highly anticipated self-produced third album, Honey Up, in July 2018.
These days, Collier spends much of her time on the road, performing at some of the most prestigious music festivals in the world. Her talents have taken her to the Blues Music Awards Show where, in the words of the Blues Foundation, Vanessa "blew the doors off the Blues Music Awards!"; Ottawa Blues Festival, where she earned two front page newspaper photos and rave reviews after her foot stomping debut there; twice on the Legendary Rhythm and Blues Cruise, where she earned the Jammingest Pro Award and was a featured artist with Tommy Castro's Blues Review; Briggs Farm Festival, where she was the "most popular Briggs Farm act in 2017" (Elmore Magazine), and the list continues. In 2017, Vanessa was also a featured artist in three major tours across Europe as part of Ruf's 2017 Blues Caravan.
As for Collier, she says she's happy performing on stages across the world, hoping that she can make a difference with fans and followers along the way. "I am driven to do this because I find it a total form of expression and connection," she explains. "I love connecting with an audience and feeling their energy and I hope to inspire people to follow their dreams and passions, to find what brings them joy, and then to pursue it doggedly."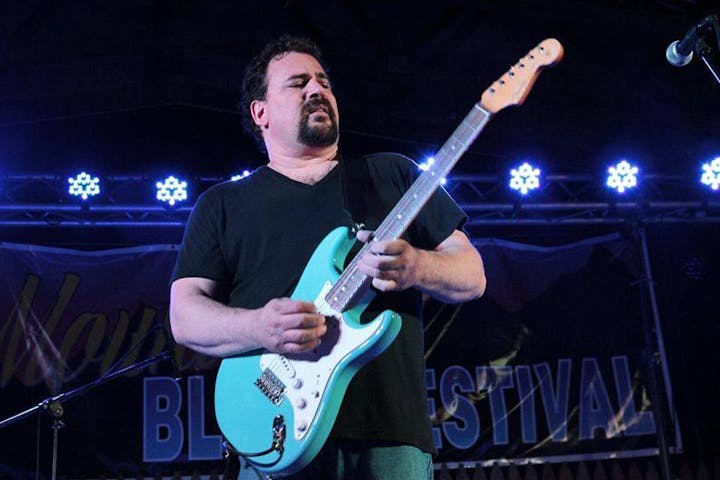 Jeff Fetterman is a self-taught blues/rock guitarist influenced by Jimi Hendrix, Kenny Wayne Shepherd, Stevie Ray Vaughan, and Jimmy Page. Jeff's aggressive style of playing is both passionate and heart-felt. He blends the genres of rock and roll, blues, Motown, and funk, molding them together to create his own driving sound on the guitar. His vocals are gritty and solid, giving his lyrics meaning beyond the paper.
Jeff resume includes an endorsement with Zemaitis Guitars. He was a 2018 Semifinalist at the Memphis International Blues Challenge and has qualified to return for the 2019 International Blues Challenge in January. His 2017 album 9 Miles to Nowhere was named the Best Self-Produced CD by the Blues Society of Western Pa and forwarded to the IBC. The album was also named the 2017 Album of Year by the Rock Erie Music Awards (REMA's) in Pa. The Jeff Fetterman Band was also named the 2017 Best Blues Band of the Year at the REMA's.
His 2016 release Bottle Full of Blues is still receiving critical acclaim both in the US and the UK. "The album is an elegant exercise of songwriting skills and phenomenal music ability, not just by Fetterman himself but by the whole array of musicians…"Southbound" is a rock tune that would have made Chuck Berry and Jerry Lee Lewis ecstatic with joy…incredible guitar ability with some very powerful vocals…" (Gio Pilato, Blue Bird Review, United Kingdom) The album was named the Best Self-Produced CD in 2016 by the Billtown Blues Society of Williamsport, Pa. and forwarded to IBC's.
Jeff has a three-song publishing deal with Transition Music in California, which placed the songs in film and television such as NBC's The Passions, TNT's The Closer and the Spanish film The Tough Guy as well as in Ford auto commercials. Jeff was the winner of the studio awards program scholarship from ASCAP. He was named Best Up and Coming Blues/Rock Guitarist by Ohio radio station WREO.
As the backbeat and foundation of the Jeff Fetterman Band, John McGuire has dabbled in bluegrass, country, psychedelic, and contemporary rock. He has much experience as a studio musician recording with several bands that took him to Nashville. Bassist Ralph Reitinger III has spent twenty years playing across the US, Canada, and the UK, touring with Blind Pig Records blues artist Harper. He toured with Anthony Gomes and has opened for greats like Gary Moore, Van Morrison, Kenny Wayne Shepherd, and Buddy Guy. He was chosen as the Rock Erie Music Awards Best Bass Player in 2010, 2011, and 2013.
Performers
Date and Time
Location
Refund Policy