Description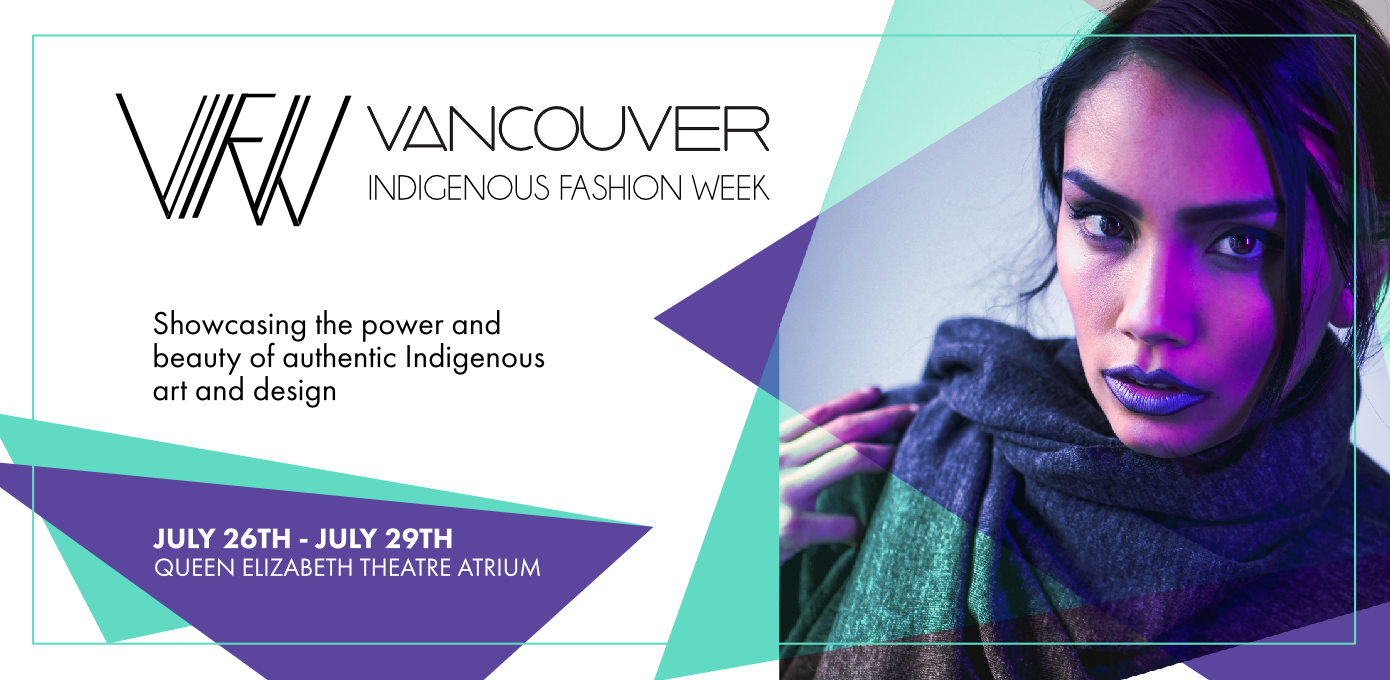 Vancouver Indigenous Fashion Week #VIFW
July 26 to 29th 2017
Welcome to the inaugural VIFW, showcasing the power and beauty of indigenous communities, art and design.
***We are currently *SOLD OUT* of presale tickets for July 27, 28 and 29. There will be limited rush tickets at the door, operating on a first come, first serve basis. Thank you for your support and we look forward to seeing you at the shows!***

UPDATED SCHEDULE
July 26 - Opening Ceremonies @ Larwill Park, 688 Cambie St 6-8pm
July 27 - Street Style - doors open 5pm
July 28 - The Red Dress - doors open 5pm (dresscode: attendees are asked to dress in red in honour of missing and murdered Indigenous women)
July 29 - Closing Ceremonies - doors open open 5pm, event ends 9pm.

Location for July 27-29th: Atrium of Vancouver's Queen Elizabeth Theatre
Showcasing collections from Indigenous fashion designers and models from across Canada. Two shows each day, 5-10pm performing musicians, storytellers, hosts and immersive Indigenous art installations. FULL PROGRAM BELOW.
Please reserve your space today. NOTE Arrival required by 5:15pm - or unclaimed spaces will be released to the general public. Seating is limited - standing room only on some levels.
Learn more at ifwvancouver.com. Or check out some of the coverage we're blessed to be having these past days:
Huy tseep q'u | kinana'skomitin | Miigwech | Thank you
~~ All my relations ~~
VIFW TEAM
Partners:

City of Vancouver
Pacific Association of First Nation's Women
Vancouver Native Housing Society
Vancity Credit Union
Vancouver Foundation
Canada 150+
Designers & Programmers:
Day 1 - WED July 26 OPENING CEREMONIES - Location: Larwill Park 6-8pm

Emcee: Rueben George

Designers

Tyler Jacobs

Michelle George

Loraine Guss

Pam Baker

Performer: Ronnie Harris

Day 2- THU July 27 - STREET STYLE - Location: Queen Elizabeth Theatre

Emcee: JB First Lady

Designers:

Oka/Shop Wrong

Jill Stelah

Teresa Walker

Alano + Manitobah

Autumn Jules

Shannon Kilroy

Sections 35

Performers: Nadine and Madeline

Unofficial Afterparty Delhi2Dublin at Chinese Cultural Centre

Day 3 - FRI July 28 RED DRESS - Location: Queen Elizabeth Theatre

Emcee: Lorelei Williams & Mandy Nahanee

Designers:

Derek Packer

Evan Ducharme + Dominique Hanke

Linda Kay

Mia Hunt

Curtis Oland

Dorothy Grant

Performer: Ronnie Harris

Day 4 - SAT July 29 CLOSING CEREMONIES - Location: Queen Elizabeth Theatre

Emcee: Mandy Nahanee

Designers:

Denise Brillion

Yolanda

Korina Emmerich

Bill Reid

Dahlia Drive and Reg Davidson

Jeneen Frei Njootli

Sho Sho Esquiro

Performers: Linnea Dick

UNOFFICIAL AFTERPARTY

with Kinnie Starr + DJ Shub

at Larwill Park, 688 Cambie
We want your vote on the Best Dress and Most Inspirational Designer!!
#VIFWDress For Best Dress
#VIFWDesigner For Most Inspirational Designer!