Description
Schedule:
6:00-7:00pm: Networking
7:00-7:15pm: Introduction and Announcements
7:15-8:30pm: Presentation


The IBM Bluemix Garage starts every engagement with a design thinking workshop that utilizes IBM Design Thinking and Lean UX to help clients work towards their first Minimum Viable Product. Adam will share how his design journey and the Garage methodology helps him move clients from doubt to certainty.

You will learn:
How to understand the different levels of users using Agile Methodologies.

IBM Design Thinking: Intro to the Principles and Keys that drive IBM Design Thinking

Lean UX: Helping clients understand the experimental software development approach

Enterprise Design: The ongoing effort of aligning Business, Design, Development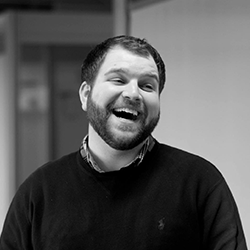 About Adam Williams
Adam Williams is a UX Designer at the IBM Bluemix Garage. He uses IBM Design Thinking and Lean UX to help clients of all sizes ranging from enterprise to startups solve problems using IBM's cloud computing platform, Bluemix. He facilitates design thinking workshops to frame problems, builds prototypes to realize solutions, and works hand-in-hand with Garage developers to build client solutions on the cloud. Adam is a Southerner, a storyteller, and a collector of collections.


This event is produced by:


Cascade SF is a design and technology organization based in San Francisco, CA.
Designers and mentors come together to teach each other the latest tips, tricks and techniques for designing apps and web sites.
Subscribe to our mailing list or join us at meetup.com/cascadesf.


Hosted and sponsored by:



Located in SoMa, Galvanize San Francisco takes collaboration to a whole new level, with five floors of creators, innovators, and passionate learners. And don't forget the rooftop, with gorgeous views of downtown and the San Francisco Bay. From events to workshops to the thriving startup ecosystem, our SoMa campus provides the opportunity to learn, connect and build your startup. This campus is full of energy, intelligence, and motivation – we welcome you to walk through these doors, join our community and be inspired to level up.

Interested in a shared workspace in San Francisco? Visit galvanize.com.
FAQs
Where can I contact the organizer with any questions?
Get in touch with Andi Galpern at andi@cascadesf.com.
Is my ticket refundable?
All tickets are non-refundable. If you can not attend, you can transfer the ticket to your friend.