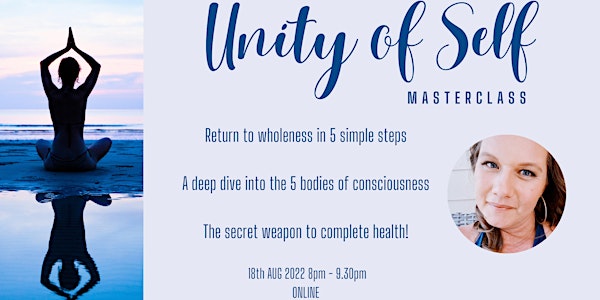 Unity of Self - MASTERCLASS
Return to wholeness in 5 simple steps A deep dive into the 5 bodies of consciousness The secret weapon to complete health
About this event
You may not be aware of this yet:
The human body consists of more than just the dense physical body.
In this free ONLINE Masterclass I will take you on a journey through the 5 bodies of consciousness and teach you the simple steps of how you can integrate them so you can return to wholeness.
Each body responds differently to our environment and in this Masterclass you will find out how you can utilise different techniques to support yourself in becoming more centered and at peace.
The knowledge of the 5 bodies can be a powerful tool in supporting your physical health as well as the awareness around the energetics at play when it comes to your emotional and mental health.
About your host:
Janne is a Certified Master NLP, Emotional Change Technique, Reiki Practitioner & Breathwork Facilitator as well as practitioner of Metatonic Completion Method with a love for Animal Flow. Prior to working with the mind she was a gym owner, Personal Trainer and Rehabilitation Coach. Her love and knowledge around body and mind are what make her approach different. Bringing together science and spirituality and integrating the physical, emotional, mental, energetic and spiritual body.
Janne also knows the challenges of motherhood raising 3 children with her partner while running her business.