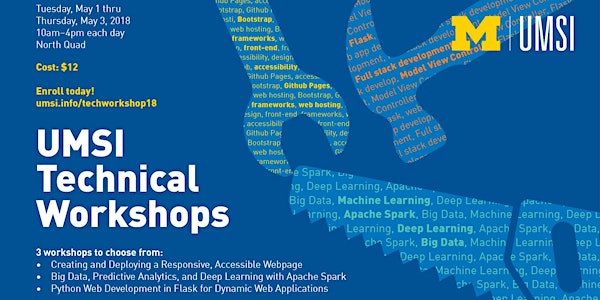 UMSI 2018 Technical Workshops: Big Data, Responsive Sites & Python WebDev
When and where
Location
University of Michigan - North Quadrangle 105 S. State St Ann Arbor, MI 48109
Refund Policy
Refunds up to 1 day before event
Description
Overview
Interested in building up an extra technical skill before the summer? Gaining new competence before you go off to an internship or the job market? Adding to your resume or portfolio to build upon your coursework? For the second year in a row, the University of Michigan School of Information will be offering short technical skill-building workshops taught by expert faculty and graduate students, which can help you do just that!

UMSI is offering three workshops this spring:
Creating and Deploying a Responsive, Accessible Webpage

Big Data, Predictive Analytics, and Deep Learning with Apache Spark

Python Web Development in Flask for Dynamic Web Applications

You'll get to throw yourself into an un-graded, welcoming environment for these three days to develop your technical skills, build your confidence in something new as you proceed to an internship, job, or to the job market -- and allow you to add to your portfolio!
Workshops are open to any University of Michigan student with appropriate prerequisite experience (based on the information below, you may assess your own readiness for each workshop).
Enrollment will be open exclusively to UMSI students and community members until Wednesday, April 18th
These workshops are concurrent, each day from 10:00 am - 4:00 pm (with a 12-1 pm break for lunch), so you may only register for one. Each has its own advisory prerequisites, which you can read more about HERE (full link: https://docs.google.com/document/d/1mtIqOWVJ_9oP3Wz4GKmeiF5rK7DZozL0QmZGREeQ0zI/ ) or read about below.

Provided: Snacks, drinks, informative materials, support, fun
Not provided: Meals, coffee, computers

You should bring your own laptop computer. You will receive more information after registering about what to expect and the specific classroom location of your workshop!
Direct all questions to umsi.technical.workshops@umich.edu.
Specific Workshop Information
Big Data, Predictive Analytics, and Deep Learning with Apache Spark
Have a passion for Big Data? Want to learn about predictive analytics? Want to know how to create analytic pipelines to streamline your workflow? This 3-day workshop will tackle those in three intense days of learning about how to use Apache Spark to do all that (and more)! We'll start with an overview of the main topics before diving in to hand-on practice using the Python interface to Apache Spark. By the end of the first day, small teams will have selected a dataset and will have formulated basic questions that will guide their exploration over the next two days. Day 2 will start with an introduction to Spark data structures and progress to an overview of commonly used machine learning techniques to perform clustering, classification and dimension reduction. Teams will apply these techniques to their data. The final day of the workshop will introduce deep learning and neural nets as well as providing time for teams to finalize their projects, which will be shared with other workshop participants.
Participants should have working knowledge of basic Python. Participants can check their level of preparedness by logging in and working through the Lessons and self-test modules on Dr. Chuck Severance's py4e.com site, paying particular attention to Lessons 3, 4, 5, 6, 7, 9, 10, 11, 12, and 16.
Creating and Deploying a Responsive, Accessible Web Page
Do you need an online portfolio? Would you like to ensure that your site is accessible to the greatest possible audience? This 3-day workshop will introduce the basics of web design, deployment, and testing. We'll start with an overview of the main topics before diving in to create quick sketches for your mobile and desktop site. In the afternoon we will begin with an introduction to the Bootstrap framework and find templates that best match your site. We will end the day covering simple HTML and CSS concepts.
On day two you will modify the Bootstrap template to create your own template. In the afternoon we will use wide-accessible accessibility testing tools to improve your page. By the end of the second day, you will have a basic site deployed on Github pages.
The final day of the workshop will be dedicated to debugging and more testing. Finally, advanced concepts including Inspect Element, WordPress, Jekyll, hosting on other domains, and using CPanel may be introduced (depending upon time and interest).
This workshop is NOT intended to take the place of a course in Web Design but rather help you utilize tools that professionals use.
Python Web Development for Dynamic Web Applications

Want to be able to build and deploy real-world web application like Quora or Pinterest? This 3-day workshop will focus on developing online interactive multi-user applications using Flask, a Python web framework. Over the course of the workshop, we will build towards an application where users can log in, store data in databases, and ultimately deploy the app on Heroku for others to use. The workshop will also give you an understanding of the model-view-controller (MVC) framework, which is one of the most popular frameworks for app development. It is used not only on the web, but also in Android and iOS app development, and can help you build a solid foundation for work at a web development company or for your own web application prototypes.
Participants should be comfortable writing Python programs and be aware of Python object-oriented programming. Should be accustomed to using Python for requests to REST APIs and writing or editing Python programs that use complex data of approximately >=700 lines of code. If you are a UMSI student, this is approximately equivalent to having taken SI 106 (BSI) or SI 506 (MSI). Participants are NOT expected to have any Python web development experience -- this workshop is NOT intended for anyone who has already taken courses that specifically teach Flask development, such as EECS 485 or SI 364.