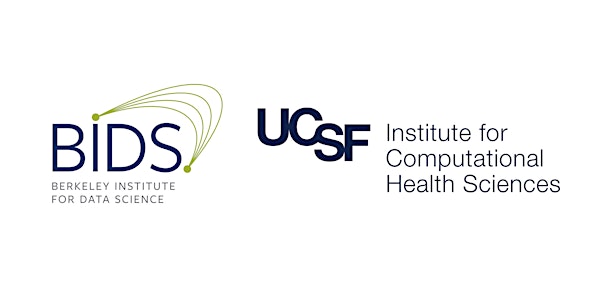 UC Berkeley & UCSF Computational Health Science Symposium
By Co-Hosted by the Berkeley Institute for Data Science and the Institute for Computational Health Sciences
Date and time
Tuesday, April 25, 2017 · 2 - 6pm PDT
Location
UCSF Mission Hall Global Health & Clinical Sciences Building (Mission Bay Campus) 550 16th Street Room 1401/1402 San Francisco, CA 94158
Description
Come and join colleagues from UC Berkeley, UCSF, and LBNL for a discussion on new frontiers and emerging technologies in data science and biomedicine. Hear from thought leaders on both campuses and explore opportunities to incorporate new approaches into your own research. This session is intended to stimulate ideas, provide opportunities to meet and talk with other research scientists, and identify ways to enhance the joint research and educational infrastructure at our campuses.
Please share this invitation widely among interested faculty, staff, and graduate students. We will be organizing a free round-trip shuttle from the UC Berkeley campus. See more information in the "Transportation" section below.
Agenda
2:00-4:00 p.m. — Talks
Opening Remarks

Atul Butte

, Director, UCSF Institute for Computational Health Sciences

Featured Keynote:

Future Directions in Data Science and Implications for Health/Medicine

Michael Jordan

, UC Berkeley Distinguished Professor of Computer Science & Statistics

Panel Discussion:

Future Directions/Hot Topics of Joint Interest in Data Science

Signal Processing:

Rahul Deo, Assistant Professor, Department of Medicine, UCSF

Open Research:

Fernando Perez, Staff Scientist, LBNL, and Founding Investigator, Berkeley Institute for Data Science

Genomics/Biostatistics:

Katie Pollard, Professor of Epidemiology and Biostatistics, UCSF

Computational Imaging:

Dani Ushizima, Head Deputy of Analytics/Visualization and Staff Scientist, LBNL, Computational Research Division, and Data Science Fellow, Berkeley Institute for Data Science

Causal Inference: Mark van der Laan, Professor of Biostatistics and Statistics, UC Berkeley
4:00-6:00 p.m. — Wine and Cheese Reception/Poster Session

Poster Session
We invite research groups to present their work during the reception following the panel discussion. Posters will be displayed from 4:30-6:00 p.m. in the Mission Hall lobby, during which time symposium attendees will have an opportunity to meet and exchange ideas while enjoying some early evening refreshments.
If you are interested in displaying a poster during the reception, please contact Angela Rizk-Jackson for details. We will be able to accommodate a limited number of posters during this session, and priority will be given on a first-come first-served basis.
Transportation

Public transportation to UCSF Mission Bay from Downtown Berkeley BART typically takes 1-1.25 hours each way.
We will be offering a free shuttle to UCSF Mission Bay from the Berkeley campus, departing at approximately 1:00 p.m. from the Berkeley campus and returning between 5:00 and 6:00 p.m. If you think you might be interested, please select the "General Admission with Transportation from/to UC Berkeley" ticket. If you decide to sign up for the shuttle later on, please contact Elizabeth Brashers.
We will send more detailed information about parking and transportation options to all registered participants closer to the event.

More Information
For more information, contact:
This event is brought to you by BIDS, ICHS, the UC Berkeley/UCSF Campus Liaison, and the UC Berkeley Vice Chancellor for Research Office with support from a grant from the Koret Foundation for the development of joint UC Berkeley/UCSF research agendas.
About the organizer
Founded in 2013, the Berkeley Institute for Data Science (BIDS) is a central hub of research and education within UC Berkeley designed to facilitate and nurture data-intensive science.
Our initiatives are designed to bring together a broad constituency of the data science community, including domain experts from the life, social, and physical sciences and methodological experts from computer science, statistics, and applied mathematics. These efforts are anchored by a core group of data science fellows, research fellows, and senior fellows who are representative of the world-class researchers from across campus and are leading the data science revolution within their disciplines.
By facilitating this multidisciplinary collaboration, BIDS aims to enhance the development and application of cutting-edge data science techniques and change the way academic research is undertaken. Our goal is to enhance research continuity, improve the quality of our results and processes, and ultimately advance scientific discovery.
The emerging field of precision medicine demands a new approach to research that harnesses the power of data science. This requires biomedical researchers and practicing clinicians with skills in quantitative and computer sciences as well as modern computing and data infrastructure to support relevant research activities and implement findings in clinical practice. The UCSF Institute for Computational Health Sciences (ICHS) is working to build a foundation of faculty and knowledge assets in computational health sciences and bring together a community of thinkers interested in this emerging field. Our initiatives are focused on enhancing education and infrastructure as well as building community with the goal of advancing computational health sciences in research, practice, and education—in support of precision medicine for all.