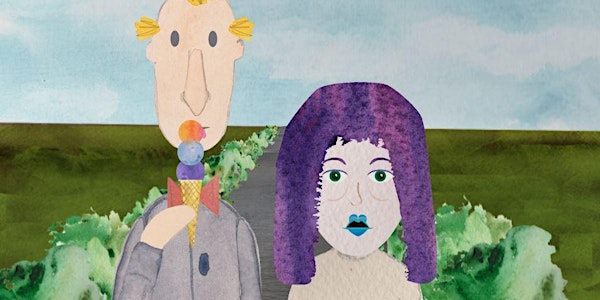 TWFF 2018: Even Stranger Things Shorts Program
When and where
Location
Drexel URBN Annex Screening Room, 3401 Filbert Street, Philadelphia, PA 19104
Refund Policy
Refunds up to 1 day before event
Description
The Women's Film Festival 2018
EVEN STRANGER THINGS SHORTS PROGRAM:
Those odd, menacing, or just downright unexplainable things.

Saturday, March 17th, 2018 at 12PM
Drexel URBN Annex Screening Room
3401 Filbert Street
Philadelphia, PA 19104
MISAPPROPRIATION | 9 MIN | SPAIN
Directed by Maria Ferri

Coco is Sergio's inseparable friend since Carla left. One day Coco takes him to "Láquesis", Carla's favourite shop. It seems to emit a powerful magic.
This is a dark tale about how everything that makes you happy can disappear in the blink of an eye. One moment of distraction is enough for our life to end up in the hands of a destiny that was not ours ... or maybe yes.
THE ONLY THING CERTAIN | 6 MIN | USA
Directed by Shea Allen Borengasser

"The Only Thing Certain" is the short film directorial debut of Shea Allen Borengasser and explores the haunting realities that govern relationships both past and present. A strikingly familiar journey into what trouble comes knocking when we think we still have time.

FRESH BLOOD | 8 MIN | USA, INDIA
Directed by Richa Rudola

When a young South Asian girl is forced into the sex trade, she must choose her path to freedom even if it involves a vampire.

IN CONTROL | 12 MIN | UK
Directed by Andrew Ryland
A hallucinogenic new drug creates incredible new realities within your own subconscious, but when a trial patient experiences terrifying paranoia and nightmares, she begins to doubt who she really is.

#BURNING | 19 MIN | BELGIUM
Directed by Nathalie André
His Sunday is a scorcher. Somewhere in our Ardennes. A road. A gang of kids trying to avoid boredom.

RESISTANCE: THE BATTLE OF PHILADELPHIA | 5 MIN | USA
Directed by Asli Dukan
Set in a dystopian, near-future, West Philadelphia, this prologue episode follows a stealthy hacker's attempts to dismantle the surveillance tools used by the police to control her community after she learns that two young activists have been tracked down and brutally beaten by riot cops.
THE REFUGE | 15 MIN | UK
Directed by Maria Millan
The Refuge tells the story of 4 girls living in a women's aid centre forced to take an antidepressant treatment.

The film stars the actress Lujza Richter Hugo, known for her role as "Princess Mona Braganza" in "Phantom Thread" by Paul Thomas Anderson; and the international model Demi Hannah Scott, known for her constant work at SHOWstudio with Nick Knife, her worldwide campaign for Uniqlo, Fenty Puma and so on

The film is a protest to the current crisis in Britain that these institutions are facing due to government cuts.
VERNON AND VIOLET | 9.5 MIN | USA
Directed by Nikoletta Kanakis
Violet, a taxidermist, falls in love with a mortician named Vernon. Does Violet have the right stuff to preserve their love forever?
For more informations about the films, please visit www.thewomensfilmfestival.org.